Uzbekistan Considers Closer Ties with the Persian Gulf
Publication: Eurasia Daily Monitor Volume: 7 Issue: 206
By: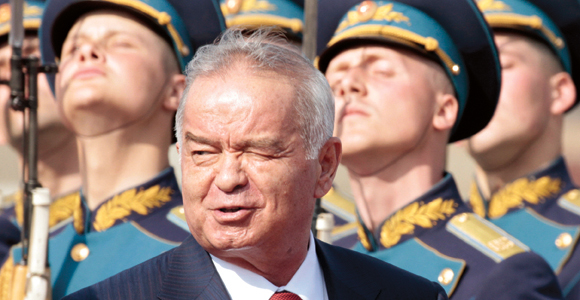 Uzbekistan is increasingly set on expanding regional trade and transport initiatives, which is also part of a wider regional trend. In September, Uzbek President, Islam Karimov, and his Azeri counterpart, Ilham Aliev, agreed to support regional transit projects as part of overall efforts to revive the Great Silk Road and enable the two countries to pursue eastward and westward routes. For Uzbekistan –as a landlocked state– such undertakings could facilitate greater access to foreign markets, while enhancing its ability to balance the interests of great powers in the region. Tashkent is keen on achieving this through its proposed transport project, which Karimov announced during his meeting with Turkmen President, Gurbanguly Berdimuhamedov, on October 19 in Ashgabat.
The scheme seeks to open a transport corridor connecting Uzbekistan with the Persian Gulf via Turkmenistan, Iran, Oman, and Qatar, which would allow Central Asian countries to access world markets. "I am glad that I received full understanding that this corridor can open vast opportunities for our countries to open a much-needed outlet to the world market," Karimov said during the talks in Turkmenistan (www.ru.trend.az, October 20; www.regnum.ru, October 21).
Karimov, however, did not provide details about the plan. The head of the Oil Research Center in Azerbaijan, Ilhamom Shaban, considers that the corridor can hardly be intended for Uzbek energy exports, citing the lack of any need on the part of the gas-rich Qatar and Oman to import or transport Central Asian gas (www.regnum.ru, October 21). Others view the proposal as a way to boost Uzbek cotton exports to the Middle East and Asia, particularly after Western countries have substantially reduced the imports of Uzbek cotton (www.centralasiaonline.com, October 21; www.kazakh-zerno.kz, August 19; www.uznews.net, October 20). Turkmenistan and Uzbekistan are both major cotton producers in the post-Soviet space, with Uzbekistan being the world's fifth largest producer and third largest exporter (www.kazakh-zerno.kz, October 27; www.analitika.org, October 20, 2005).
Whatever the case may be, the corridor, if completed, would facilitate a two-way flow of trade and services between Central Asia and the Middle East. It could also strengthen the so-called "multi-vector" foreign policies of the Central Asian states seeking to balance the interests of Russia, the US, and China.
Berdimuhamedov, who seeks to diversify Turkmenistan's energy export routes, has instructed the country's foreign and transport ministries to assess the Uzbek proposal. Ashgabat currently participates in establishing the North-South corridor linking Kazakhstan, Turkmenistan, and Iran by a railway line extending to the Persian Gulf (www.ru.trend.az, October 20). The Turkmen leader also visited Qatar in October to secure agreements in the gas and trade spheres, which could facilitate the country's entry to markets in the Gulf region and beyond (EDM, October 29).
Karimov has also expressed an interest in Qatar, which he plans to visit in November to conclude agreements on gas and finance. Qatar is the world's largest gas exporter and a key link in the planned transit route (www.thepeninsulaqatar.com, October 8; www.gulf-times.com, October 8). Tashkent thus courts Ashgabat and Doha, which are the starting and concluding points of the proposed corridor. "This project is really not ordinary. Not only our countries but also many other states are interested in this project. Turkmenistan plays an important role in the implementation of this project. If Turkmenistan agrees, all other countries will welcome it," Karimov stated (www.pv.uz, October 21).
The Turkmenistan-Uzbekistan-Kazakhstan-China gas pipeline launched in 2009 and the prospects for expansive Uzbek-Qatar relations offer Tashkent the opportunity to advance its transport plan. According to Ilhamom Shaban, Turkmenistan and Uzbekistan enjoy good prospects in the field of transit. The annual volume of cargo passing through the two countries is about 2.5 million tons (www.regnum.ru, October 21). Furthermore, many of the Persian Gulf countries are likely to commit financial resources necessary to complete the project. Equally, China is keen to expand its trade links and tap into the energy resources of the Middle East and Central Asia (www.centralasianewswire.com, October 20).
Yet, other factors may impede Uzbekistan's vision. Mending traditionally strained Uzbek-Turkmen relations remains a challenge for both Tashkent and Ashgabat. For example, Karimov's visit to Turkmenistan in October resulted in only one declaration as a result of the visit, as well as a cultural exchange program for 2011-2013. "This is not even a complete list of documents that are signed as a result of such visits," a deputy in the Uzbek parliament said on condition of anonymity. "We can say that the negotiations were unfruitful –they have even widened the contradictions," the Uzbek parliamentary deputy asserted (www.uznews.net, October 20). Moreover, the bilateral annual trade does not exceed $200 million, although it did increase by about 40 percent in 2009. The two bordering states also continue to practice tight visa regimes (www.regnum.ru, October 21; www.pv.uz, October 21).
Iran, facing international isolation as a result of its nuclear program, is both a key and an obstacle to the Uzbek proposal. The North-South railway corridor, for instance, has been contemplated for almost ten years. This raises concerns about the implementation of the North-South project and the Uzbek plan (www.regnum.ru, October 21). It is also unclear whether Iran or any other Persian Gulf countries would have genuine interest in the scheme.
If the Uzbek initiative succeeds, it will be yet another catalyst for the ongoing reconnection of Central Asia and the Middle East. Yet, the resulting transport corridor does not only have the potential to link the Central Asian countries with wider regional and continental trade and transport networks, but could also strengthen the sovereignty of the regional states and facilitate the opening of their political and economic systems.