Uzbekistan Determined to Improve Relations With Its Neighbors
Publication: Eurasia Daily Monitor Volume: 13 Issue: 172
By: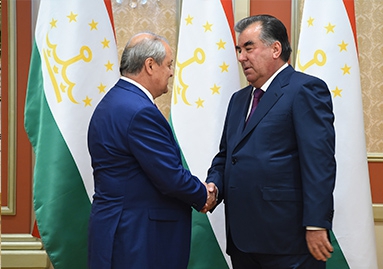 Uzbekistan's diplomats may never have been quite as busy as Foreign Minister Abdulaziz Kamilov has been in just the past several weeks. In addition to attending or hosting a series of routine meetings, Kamilov has also become a goodwill ambassador for Uzbekistan's interim president, Prime Minister Shavkat Mirziyaev. The interim head of state is pursuing a new policy of mending relations with Uzbekistan's immediate neighbors, the Kyrgyz Republic and Tajikistan, as well as intensifying relations with Kazakhstan and Afghanistan. And Kamilov and his foreign ministry have been tasked with executing this policy course.
A truly remarkable breakthrough took place earlier this month. On October 1, a 130-person delegation from Kyrgyzstan, headed by Deputy Prime Minister Mukhammetkalyy Abulgaziyev, was met by Uzbekistan's Deputy Prime Minister Adham Ikromov on the Uzbekistani side of the border, in Andijan (Kyrgyz Television, October 3). The governors of the northern regions of Kyrgyzstan, officials from the border city of Osh, law enforcement personnel, and representatives of Kyrgyzstani educational and religious institutions were invited by their Uzbekistani colleagues to spend a full day filled with cultural events, formal and informal meetings, and various visits organized by Uzbekistan (KyrTAg, October 1; Gazeta.uz, October 2). The event had the appearance of a Kyrgyz-Uzbek reunification day. But most importantly, it was an opportunity for the two sides to connect faces to names in anticipation of future cross-border cooperation. The event concluded with the signing of several memorandums of understanding. These agreements establish monthly reciprocal meetings to discuss and execute plans for cooperation and the resolution of outstanding issues, particularly at the local level. In fact, the first sign of progress in calming bilateral tensions occurred a couple weeks later, when Uzbekistan relaxed its restrictive border-crossing regulations. Previously, citizens of the Kyrgyz Republic were only allowed to freely cross the Uzbekistani border to attend funeral ceremonies. Now the list of allowed reasons to come to Uzbekistan has expanded (Current Time, October 13).
The Kyrgyz-Uzbek reunification day (and what will follow as a result) most likely came out of Foreign Minister Kamilov's side meeting with Kyrgyzstani President Almazbek Atambayev, at the Commonwealth of Independent States (CIS) summit, in Bishkek, on September 15 (President.kg, September 15). The plan to host a meeting in Andijan was probably conveyed then. Another issue Kamilov and Atambayev discussed on the sidelines of the CIS summit was border demarcation and delimitation—perhaps the two countries' most contentious point of disagreement. Although the specifics of these discussions are not known, extensive joint collaboration on border demarcation has ensued since then. Governmental working groups on border delimitation and demarcation met for a cumulative total of two weeks during September 20–October 14 and discussed how to deal with contentious sections of their shared frontier. In its first meeting, the working group discussed 23 sections of the border, and in the second—55 (Gazeta.uz, September 20; Kun.uz, October 14). It is true that border-related intergovernmental meetings between Uzbekistan and the Kyrgyz Republic are not new. But the difference today is that the frequency and duration of these meetings have noticeably increased, and the groups are reportedly focusing on specific disputed areas.
Considering the success of the October 1 visit to Andijan by the Kyrgyz delegation, it is safe to assume that Uzbekistan may soon invite a similar delegation from the bordering regions of Tajikistan. Unlike in the case of Kyrgyzstan, the first steps toward mending relations with Tajikistan were actually taken two years ago by then-president of Uzbekistan, Islam Karimov, who passed away on September 2. Karimov met with his Tajikistani counterpart, Emomali Rahmon, in September 2014, on the sidelines of the Shanghai Cooperation Organization (SCO) summit in Dushanbe. Following this meeting, the two sides decided to divide their long list of bilateral disagreements into immediate-, middle- and long-term issues (see EDM, June 5, 2015). Last month, to set the stage for further developing positive relations in the post-Karimov era, Foreign Minister Kamilov visited President Rahmon on September 29. Afterward, Prime Minister Mirziyaev had a follow-on telephone conversation with the Tajikistani head of state (Gazeta.uz, September 30; Uza.uz, October 5).
Despite these positive trends, Uzbekistan is still in the early stages of mending and restoring relations with the Kyrgyz Republic and Tajikistan. On the other hand, its trade and intergovernmental relations with Kazakhstan are continually growing stronger. Kazakhstan's First Deputy Prime Minister Asqar Mamin traveled to Tashkent on September 23. And soon thereafter, a delegation from Uzbekistan, headed by Deputy Prime Minister Ulugbek Rozuqulov, visited southern Kazakhstan to discuss opening trade zones across several border areas as well as taking further actions to increase bilateral trade (Ozbekiston TV channel, 10 October; Anhor.uz, October 11). Kazakhstan and Uzbekistan are also working on finalizing their final border demarcation. The last meeting devoted to this issue was held on September 29­–30 (Mfa.uz, September 30).
Uzbekistan is also attempting to intensify cooperation with Afghanistan. Foreign Minister Kamilov participated in the Brussels Conference on support for Afghanistan, which was held on October 4–5. Representatives from 75 countries and 26 international organizations met along with Afghan President Ashraf Gani to discuss political, trade and transportation cooperation (Uzreport.uz, October 7). Prior to this conference, Prime Minister Mirziyaev specifically mentioned widening the spectrum of cooperation with Afghanistan when he visited Suxandarya, Uzbeksitan's region bordering on Afghanistan (BBC—Uzbek service, September 12).
Uzbekistan's recent diplomatic blitz aimed at its neighbors is undoubtedly being orchestrated by interim president Mirziyaev. But what effects can this pivot be expected to have on Uzbekistan and the wider region? First, by resolving Uzbekistan's outstanding border disputes with its neighbors, Tashkent will be able to finally eliminate one of the most contentious obstacles to intraregional cooperation at various levels. Increased interstate cooperation in Central Asia, in turn, will presumably contribute to stronger region-level development. A stronger Central Asia will be in a better position to resist and withstand outside pressure—finally being able to negate the divide-and-rule tactics employed by some outside powers, which, some experts argue, the region has for decades been subjected to. Second, by improving relations with its immediate neighbors, Uzbekistan is opening the door to more lasting dialogue, which is necessary for tackling specific outstanding and future issues or conflicts. The development of active cooperation with its neighbors is bound to substantially improve Uzbekistan's reputation in the region—which is unquestionably conducive to Tashkent's foreign policy.