Uzbekistan's Latvia Foray
Publication: Eurasia Daily Monitor Volume: 11 Issue: 105
By: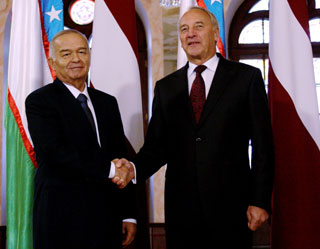 Early in 2014, at a meeting of the Cabinet of Ministers, Uzbekistan's President Islam Karimov declared, "The main goals and priorities for advancing the economy in 2014 are dictated primarily by long-term program objectives of the country, the continuation of the adopted strategy ensuring high rates of economic growth, and the mobilization of available resources and possibilities" (https://www.uzdaily.uz/articles-id-18862.htm). That sentence, in essence, defines the course the country is taking this year and will continue on in the near future, with heavy attention devoted to Uzbekistan's economic development. Meanwhile, the latest developments in foreign trade with the European Union are another step forward in this direction for Uzbekistan.
The head of the EU Delegation in Tashkent, Ambassador Yuri Sterk, in his recent interview to uzreport.uz, said that in 2013 the trade between the EU and Uzbekistan reached 1.6 billion euros ($2.2 billion), lauding it a serious number, but noting that a lot more could be done (https://news.uzreport.uz/news_2_r_119699.html). The two sides will most likely increase their trade turnover in the near future. In the latest (11th) meeting of the EU-Uzbekistan Cooperation Council, held on March 17, 2014, the Council expressed its support for the creation of a Joint Business and Investments Council to promote EU trade and investments in Uzbekistan (Council of the European Union press release 7863/14, March 17). Moreover, the government of Uzbekistan ordered its Ministry of Foreign Economic Relations, Investments and Trade (MFERIT) to study the allocation of $1 million provided by the European Commission in 2013–2015 for the "Assistance to the Process of Uzbekistan's Accession to the World Trade Organization [WTO]." The WTO accession project will identify ways to mitigate any negative effects of Uzbekistan's joining the global trade body by learning from the experience of other WTO members with similar economic conditions. Additionally, the project will work on harmonizing domestic legislation (https://www.12uz.com/#ru/news/show/economy/16717/).
The recent opening of the Uzbekistan Trading House in Latvia by "Uztadbirkorexport," one of four foreign trade companies under the MFERIT, is also set to boost Uzbekistan's successes in marketing and its selling products—not counting cotton—through a trading house arrangement in a foreign country. Latvia was chosen because the country can serve as a gateway to European markets—allowing Uzbekistan to export its goods to Latvia itself and then use Latvia's transport networks to move goods further into the EU. This small Baltic country is a part of the Trans-European Transport Network and is crisscrossed by several strategic EU rail, road and water corridors. Finally, Latvia's simplified customs rules made this Baltic State particularly attractive to Uzbekistani exporters (Economic Review magazine Facebook page, May 19, https://www.facebook.com/ecoboz).
The Uzbekistan Trading House in Riga has so far concentrated on dried fruit and nut exports. But by the end of 2014, the assortment of Uzbekistani goods shipped to the EU through Latvia will include fresh produce and textiles, with up to 50 types of products for a total sum of $2 million, according to Akmalkhon Olimkhonov, Deputy Director of "Uztadbirkorexport." Uzbekistani textiles will be competitive with Chinese products exported to Latvia because the products from Uzbekistan will have a similar quality but can be delivered to European markets in just one week, compared to 60 days from China, according to Olimkhonov (Economic Review magazine Facebook page, May 19, https://www.facebook.com/ecoboz).
Access to good quality fresh fruits and vegetables by Latvians was something the Minister of Foreign Economic Relations, Investment, and Trade Elyor Ganiev promised personally during the business forum that preceded President Karimov's trip to Latvia in October 2013. He said that fruits and vegetables in Latvia taste like rubber and that produce from Uzbekistan can offer better quality to European consumers (https://www.delfi.lv/biznes/bnews/ministr-iz-uzbekistana-ovoschi-i-frukty-v-latvijskih-magazinah-po-vkusu-pohozhi-na-rezinu.d?id=43734352)
During Karimov's fall 2013 state visit to Latvia, the two sides discussed, among other issues, maximizing the "existing transit capacities" between the countries—clearly referring to the Northern Distribution Network, which until now was mainly being used by Western militaries to transport supplies to and from Afghanistan—to reach major regional and global markets (https://www.press-service.uz/ru/news/4536/). On May 27–29, 2014, Latvian President Andris Berzins traveled to Tashkent and was even more direct on this point. "We see great potential for the commercialization of the Northern Distribution Network, which will further contribute to the development of transport between Asia and Europe," the Latvian head of state declared (https://www.baltic-course.com/eng/analytics/?doc=92156). "We are prepared to analyze opportunities for the expansion of the 'Baltika Transit' container train system, he added, "and offer our free ports and special economic zones for the transit of Uzbek goods."
The Latvian-Uzbekistani trade relationship is, of course, not particularly critical for Uzbekistan or, for that matter, Latvia. But the experience that will come out of their bilateral trade initiatives will allow both sides to test the waters of European–Central Asian trade and assist Uzbekistan in learning how to market products other than cotton to foreign destinations directly, without an intermediary. According to MFERIT, the East-West Baltics route is one of seven existing corridors that Uzbekistan—a double-landlocked country—currently uses to export and import goods from global markets (https://www.mfer.uz/ru/export/transportation/). Therefore, Latvia, with its access to the sea as well as multiple transport routes to other European countries, is clearly becoming a useful partner for Uzbekistan.