Uzbekistan's Unrealized Potential in Cross-Border Trade
Publication: Eurasia Daily Monitor Volume: 12 Issue: 8
By: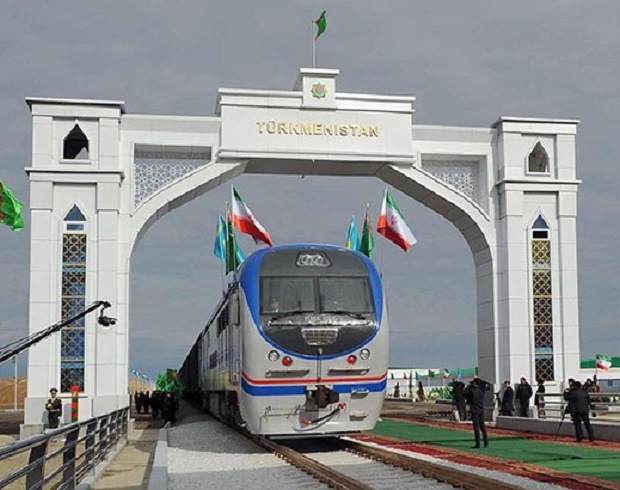 Uzbekistan is conveniently located at the center of Central Asia and borders on all Central Asian countries as well as Afghanistan; moreover, it lies in relatively close proximity to the various prodigiously developing markets of Asia. Nonetheless, Uzbekistan has been slow to embrace or champion significant regional transportation schemes, thus holding the country back from becoming a Eurasian transit hub. Yet, several large transportation projects involving Uzbekistan are currently in various stages of planning.
The Uzbekistan-Kyrgyzstan-China railway project has long had presidential-level backing of two out of the three countries the railroad corridor will traverse. The presidents of Uzbekistan and China, Islam Karimov and Xi Jinping, respectively, often call on speeding up the implementation of this project during their frequent meetings, and they say their countries are ready to start construction at any time. The latest such call came during President Karimov's trip to China in August 2014 (Xinhuanet.com, August 19, 2014). Kyrgyzstan's President Almazbek Atambayev announced back in 2013 that the railroad would be beneficial only to Uzbekistan and that Kyrgyzstan would not participate. But Xi Jinping's envoy Yang Jiechi visited Atambayev this past month (January 2015), prompting the Kyrgyz leader to change his attitude toward the project (Kyrtag.kg, January 9, 2015). If that visit truly bears fruit, it will allow the Uzbekistan-Kyrgyzstan-China railway to move beyond a concept stage.
Kyrgyzstan has now made clear that it is interested in building the "China-Kyrgyzstan" section of the railroad on its own terms; and further negotiations are planned for some time this year (Azattyk.kg, January 9, 2015). However, with Kyrgyzstan under Russia's close watch as a soon-to-be member of the Moscow-led Eurasian Economic Union, any negotiations on this railway project involving Bishkek will most likely also involve Moscow. Given that Russia sees the Uzbekistan-Kyrgyzstan-China railroad as a rival for the transport corridor across Russian territory, which it offers to China to move goods to Europe (Review.uz, December 25, 2014), there are reasons to believe that Russia will attempt to heavily control the project—assuming the Kremlin allows for its realization at all. Nevertheless, it looks like China is particularly interested in the project and is ready to champion negotiations with Kyrgyzstan and, most likely, with Russia as well in order to ensure the success of this railway. Given China's economic importance to both Central Asia and Russia, Beijing's full backing may be enough to bring the Uzbekistan-Kyrgyzstan-China railway project to fruition.
Meanwhile, Uzbekistan is working on developing closer relations with its southern neighbors and signed intergovernmental agreements on a transportation corridor with Turkmenistan, Iran and Oman, in August 2014 (Uzdaily.uz, August 7, 2014). Iran is enthusiastic about the project and has already proposed its intention to start deliveries of oil to Uzbekistan via this planned north-south route. Tehran promises to ship up to one million tons of oil per year "via the Uzbekistan-Turkmenistan-Iran-Oman transport corridor" to cover the supply shortage Uzbekistan normally imports from Kazakhstan and Russia, according to the ambassador of Iran in Uzbekistan, Ali Mardani Fard (12news.uz, August 13, 2014). Ambassador Fard also added that Uzbekistan sits at the heart of Central Asia and that Iran offers the "nearest, secure, and economical" way to access other markets in the Persian Gulf and the Oman Sea. The Uzbekistan-Turkmenistan-Iran-Oman railway, the Iranian diplomat stated, is "the most important prerequisite for the development of economic relations between Iran and Uzbekistan" (Trend.az, February 11, 2014). Nevertheless, the main reason behind Iran's enthusiasm for the railway might be the potential access it would open to sell Iranian raw materials on China's market via Central Asia. Moreover, Tehran is surely looking to gain political clout in Central Asia and strengthen its influence in the region (Review.uz, December 25, 2014).
A number of similarly strategic regional transportation and trade corridors are gaining traction under the championship of Turkmenistan. For example, the Iran-Turkmenistan-Kazakhstan railroad (a part of the so-called International North-South Transportation Corridor), launched in December 2014, has already resulted in the signing of several important import-export agreements among the regional neighbors (Irib.ir, October 15, 2014). Other emerging trade corridors are the Turkmenistan-Afghanistan-Tajikistan railroad, to be finished by the end of this year (Centralasiaonline.com, January 5, 2015), and the proposed Afghanistan-Turkmenistan-Azerbaijan-Georgia-Turkey project (Trend.az, November 17, 2014).
So given Uzbekistan's central geographic position, rich human capital and overall potential, why has the country, to date, not been much more involved in regional transportation links? According to Bakhtiyor Ergashev, of the Center for Economic Research (Uzbekistan), first, Uzbekistan's policy of import substitution makes this Central Asian republic an undesirable destination for foreign goods due to its high duties on imported and transited goods and complicated customs rules and other regulations. Second, Uzbekistan's transit infrastructure remains underdeveloped; whatever investment currently exists tends to be funneled toward renovating existing rail and highway roads, while the construction of auxiliary infrastructure is lagging. Third, the main international road junctions on the territory of Uzbekistan are concentrated in major cities, which does not help reduce cross-country transit costs. Fourth, most roads in Uzbekistan are not fit for the international standard axial load of up to 13 tons. Rather they are being retrofitted for an axial load up to 10 tons, which will cause speedy wear and tear of the roads (Review.uz, December 25, 2014). As a confirmation of the problems listed above, among other issues, in 2014, Uzbekistan was placed last out of 189 countries surveyed for the ease of trading across borders in the World Bank's annual Doing Business report (Doingbusiness.org, October 29, 2014).
Central Asian countries are almost destined to be integrated into major international trade networks in the coming decade through the development of various new transport corridors. The already launched Iran-Turkmenistan-Kazakhstan railway and the incipient Uzbekistan-Turkmenistan-Iran-Oman, Turkmenistan-Afghanistan-Tajikistan, and Afghanistan-Turkmenistan-Azerbaijan-Georgia corridors are laying the ground work for future transit and trade. But locked out of most major regional transportation corridor projects, Uzbekistan, in the meantime, is consumed with developing transportation and rail links within the country—which, granted, can become a precursor for cross-border trade in the future. At the moment, industrial development and overall economic development to increase the annual growth rate are top priorities for the government of Uzbekistan. This leads one to conclude that the country is most likely not interested in becoming a regional leader in transportation linkages. Turkmenistan, on the other hand, appears to be seizing the opportunity to take on and sustain that role instead.