Nursultan Nazarbayev's Ukraine Diplomacy
Publication: Eurasia Daily Monitor Volume: 12 Issue: 8
By: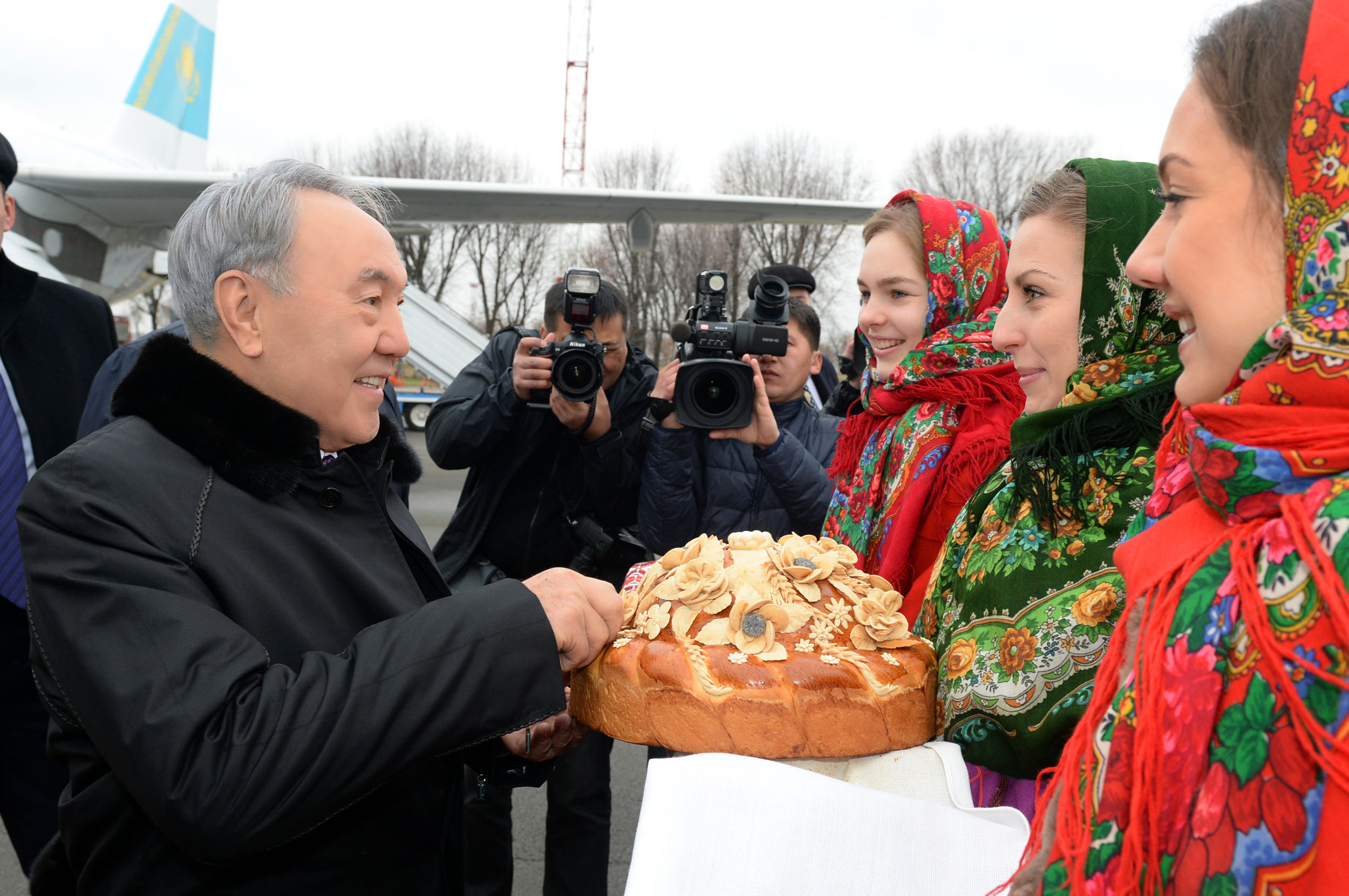 On January 9, Kazakhstan's President Nursultan Nazarbayev met with German Chancellor Angela Merkel and Foreign Minister Walter Steinmeier in Berlin in order to discuss the crisis in Ukraine and to propose hosting a heads of state meeting in Astana between the leaders of Ukraine, Russia, Germany and France (the so-called "Normandy format") (Akorda.kz, January 9, 2015). The multilateral talks were originally suggested for January 15, but have since been postponed for an indeterminate period due to continuing violence in eastern Ukraine (Kyiv Post, January 13, 2015). This possible relocation of conflict negotiations talks from Minsk, Belarus, to Astana, coupled with Nazarbayev's recent dynamic diplomatic efforts, generated much speculation regarding the Kazakhstani president's role in the Ukraine peace process.
In fact, Nursultan Nazarbayev's policy on Ukraine has been pro-active since Petro Poroshenko's presidential inauguration, which was attended by Kazakhstan's Prime Minister Karim Masimov (Nur.kz, June 13, 2014). Notably, just ahead of the August 26, 2014, Minsk meeting on the crisis in Ukraine, Poroshenko thanked Lukashenka for the invitation, but the Ukrainian president also expressed his appreciation to Nazarbayev regarding the negotiations format (Channel Five via YouTube, August 26, 2014). This comment by Poroshenko suggests that even then, Astana may have been floated as a possible location for hosting the multilateral Normandy format talks.
Kazakhstan's president has personally defended his country's mediator role. Just prior to leaving for a state visit to Ukraine, on December 22, he said, Kazakhstan had "equal attitudes" toward both Russia and Ukraine, lacking any conflicts of interest; he called himself an "objective manager" (RBC Ukraine December 22, 2014). In part, Nazarbayev's activism on Ukraine stems from his personal experience and track record in reaching agreements on other post-Soviet conflicts. For example, Kazakhstani analyst Daniyar Ashimbayev pointed to Nazarbayev's diplomatic efforts on the conflicts around Karabakh and Georgia (Kursiv.kz, December 18, 2014). Whereas Ukrainian analyst Yevhen Magda noted that the Kazakhstani leader has a deep personal connection to Ukraine—Nazarbayev graduated from technical college in Dniprodzherzhynsk (Dnipropetrovsk province), in 1960 (Glavred, January 6, 2015).
Still, some Russian commentators have tried to downplay Nazarbayev's role in Eurasian politics by claiming the Kazakhstani president was simply fulfilling Putin's own policies. Russian analyst Innokentiy Adyasov, for instance, believes that Nazarbayev's role is simply to encourage Ukraine's President Poroshenko to take further steps on the implementation of the Minsk accords, reached in September 2014 (RIA Novosti-Ukraina, December 29, 2014).
Still, one should not underestimate the role economics has had on Nazarbayev's policy regarding the Russian-Ukrainian conflict. For one thing, Kazakhstan has suffered due to the reduction of exports from Ukrainian regions affected by the war. Kazakhstani analyst Daniyar Ashimbayev wrote, "the Republic of Kazakhstan's trade with Ukraine's southeast exceeds [Kazakhstan's] combined trade volume with all [other] Central Asian countries. Thus, Astana is resolving very pragmatic issues" (Kursiv.kz, December 18, 2014). Due to the ongoing conflict, bilateral trade has dropped by a third from a high of $4 billion per year—Kazakhstan's imports from Ukraine include, in particular, agricultural and municipal maintenance equipment as well as food (Interfax, December 22, 2014).
Neither Belarus nor Kazakhstan joined Russia's counter-sanctions against the European Union, and consequently both countries suffered a negative backlash from Moscow in the form of Russian trade restrictions on their own exports (Nezavisimya Gazeta, December 30, 2014). Now Kazakhstan is striving to avoid a full-blown economic crisis. Notably, it has been hit both by the falling global oil prices and the contagious effect on its own currency, the tenge, from the depreciation of the Russian ruble. Kazakhstani analyst Shignis Nurlanov strongly defends his country's non-involvement in the sanctions war perpetuated by the Ukraine crisis: "…the sanctions will hit Kazakhstan foremost… Kazakhstan adheres to multi-vectorism in its foreign policy. The country's leadership has built this policy over the years and can hardly afford to destroy all the efforts and funding spent [so far]" (Kursiv.kz, December 11, 2014).
Furthermore, President Nazarbayev is apparently using the momentum of his diplomatic efforts on Ukraine to gain additional economic benefits for his country. In particular, Nazarbayev agreed with Poroshenko on the possible supply of Kazakhstani coal from Ekibastuz (northeast Kazakhstan) to compensate Ukraine for the loss of some three billion tons of coal currently under the control of Russia-supported insurgents operating in areas of eastern Ukraine. Some Ukrainian energy authorities have even suggested that Kazakhstan's coal could eventually replace imports from Russia, on which the war-torn country relies on for the foreseeable future (Tengrinews.kz January 9, 2015; see EDM, January 12, 2015). Realistically, Russia could control the transit of this Kazakhstani coal, which would need to be shipped across Russian territory. But blocking the supply would likely have a negative impact on Russia's relations with Kazakhstan and, potentially, on the newly formed Eurasian Economic Union. Such concerns, therefore, might dissuade any Russian attempts to block Kazakhstani coal from reaching Ukraine.
Whether or not the idea to move the location of the "Normandy format" talks from Minsk to Astana was first posited many months ago, the fact that the issue has been so openly broached now is quite symbolic. As Petr Svoik, a foreign affairs analyst from Kazakhstan, noted, "Nazarbayev is a more attractive figure for negotiations than Lukashenka because the Belarusian leader is an interested party to the conflict by virtue of his country bordering both of the states that are parties to the conflict" (Kursiv.kz, December 18, 2014). But unlike irredentist Russia, Kazakhstan seems to be acting solidly as a status quo power and apparently seeks far more solid agreements than those taken in Minsk in September 2014.
As the third largest economy among the former Soviet republics, and also a partner for China, Kazakhstan could positively contribute toward avoiding a larger war in Eurasia. Admittedly, it appears as if that the various peace process formats simultaneously being pursued could lead to the long-term crystallization of a frozen conflict in Ukraine's east. Nevertheless, the prevention of further Russian interference would still be an important contribution to Ukraine's attempts to rebuild its political, economic and security institutions.