Vano Merabishvili's Arrest: The New Style of Presidential Elections in Georgia?
Publication: Eurasia Daily Monitor Volume: 10 Issue: 98
By: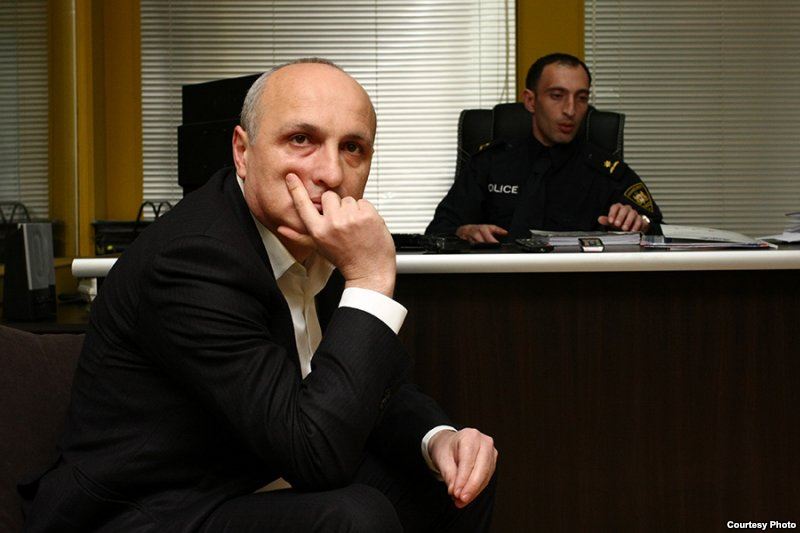 The office of Georgia's prosecutor general announced it had arrested Secretary General of the United National Movement (UNM) Vano Merabishvili after questioning him for five hours (https://www.civil.ge/eng/article.php?id=26090). Merabishvili had previously served as Georgia's interior minister (December 2004–July 2012) and prime minister (July–October 2012). He has enjoyed President Mikheil Saakashvili's full confidence and support and has also been considered the most likely UNM candidate for the presidential elections scheduled for October 2013 (https://www.apsny.ge/2013/pol/1368157676.php).
The prosecution has stated that its decision was not politically motivated. "After a long investigation, we have determined that while in the position of prime minister, Merabishvilli spent over $3.2 million from the state's budget to finance the electoral campaign of the then-ruling party [UNM]. In order to do so, he hired 22,000 social workers who were purportedly compiling a database of the unemployed, but in fact were working for the presidential party's election campaign," the prosecution's spokesman said at the press conference after Merabishvili's arrest (https://www.civil.ge/eng/article.php?id=26090). In connection with this alleged crime, Merabishvili has been charged with the "embezzlement of state funds with the intention of bribing voters." The former healthcare and welfare minister and one of the most successful Georgian diplomats who represented Georgia in the Parliamentary Assembly of the Council of Europe (PACE), Zurab Tchiaberashvili, was also arrested in the same case (https://frontnews.ge/index.php?action=news_read&npid=19969&lang=eng).
Merabishvili is also charged with the "misappropriation of private property," which his associates call "laughable." According to investigators, the UNM leader often had summer vacations with his family at a villa that was confiscated in 2009 from Zurab Lobzhanidze, a businessman who was accused of tax evasion (https://www.civil.ge/eng/article.php?id=26090). Lobzhanidze now resides in Switzerland and has lodged a court appeal to restore his possession of this villa, which currently belongs to the state. "This is an outrageous crime—the Soviet punitive agencies confiscated private property in the same way in 1920s, when the Soviet security officials wanted to live in these houses themselves," the former head of the State Chancellery Petre Mamradze told Jamestown. He said that Merabishvili was not entitled to have a public defender, even comparing the UNM secretary general to Nazi war criminals Hermann Goering and Heinrich Himmler after World War II. However, in support of his UNM associate, David Bakradze, the head of the parliamentary opposition, said "Merabishvili did not live in that villa permanently, it did not belong to him, but to the state."
Vano Merabishvili currently faces corruption charges that may result in a sentence of up to 12 years in prison. Merabishvili's lawyer, Gogita Gabaidze, told the media that investigators searched the former prime minister's home, from which they confiscated about $100,000. "We are prepared to provide documented proof of the legal sources for this money, and we are completely sure of the innocence of our defendant," Gabaidze said on behalf of Merabishvili's legal team.
Two criminal charges will also be brought against Merabishvili in the near future, including the accusation of "abuse of power." First of all, he is suspected of suppressing evidence and attempting to impede the investigation of the kidnapping and homicide of 28-year-old bank clerk Sandro Girgvliani while Merabishvili was interior minister. Top interior ministry officials are believed to have been involved in the crime (https://www.civil.ge/eng/article.php?id=23376), and Merabishvili's spouse, Tako Salakaia, was also circumstantially implicated (https://dfwatch.net/another-witness-questioned-in-girgvliani-case-ministers-wife-88078). Investigators have not announced any proof of Salakaia's involvement in the crime or of malice on the part of the former interior minister for tampering with evidence and putting pressure on witnesses.
Finally, the former interior minister is being accused of ordering the dispersal of the opposition rally on May 26, 2011, which had intended to impede Georgia's annual military parade on the central boulevard in Tbilisi (https://www.civil.ge/eng/article.php?id=23553). Four people died in the clashes that followed. Although investigators do not have evidence that the deaths were caused by the actions of the special police forces, the current authorities still assume that Merabishvili should be held responsible for the grave consequences of his order to disperse the demonstration.
In an interview with Jamestown, Prime Minister Bidzina Ivanishvili's aide Irakly Melashvili, defended the government's prosecution of Merabishvili. "What political motivation are our opponents talking about, when in all four cases we see mere criminal trespasses, including corruption-related ones?" he asked rhetorically. He also dismissed the UNM's reported efforts to quickly nominate Vano Merabishvili as their candidate for the fall 2013 presidential elections before criminal charges are leveled against him (https://www.russian.rfi.fr/kavkaz/20130521-vano-merabishvili-arestovan-kak-kandidat-v-prezidenty-ili-kak-prestupnik). "Let them nominate him," Melashvili stated, "They know perfectly well that neither Merabishvili, nor any other of [the UNM's] leaders have any chances against [Georgian Dream's] candidate—Georgy Margelashvilli."
Despite the government's attempts to deny the political background in Merabishvili's case, independent experts are convinced that the trial over the leader of the opposition party will have political overtones and will harm Georgia's image internationally. "Ivanishvili is trying to neutralize the previous ruling team. It is easier for the new authorities to arrest opponents, than to solve the existing complex problems that the country faces at the time of the economic crisis," analyst Georgy Nodia told Jamestown. According to Nodia, "Merabishvili's arrest will weaken the UNM and significantly affect the outcome of the presidential elections because he was not only a leader, but also an indispensable manager of the party and coped well with his job." Nodia also warned that the court trial over Merabishvili might have far-reaching international consequences. "The prime minister demonstrates that he believes he can afford to ignore the opinion of the West. By doing so he signals that he is prepared to change the pro-Western course of the country. Of course, not as openly as Yanukovich, who arrested former Prime Minister [Yulia] Tymoshenko; but the signs of changing priorities in [Ivanishvili's] foreign policy are evident," the expert said.
UNM parliamentary members plan to send a letter to international organizations and European institutions asking them to pay special attention to "Merabishvili's case." President Saakashvili warned that the opposition figure's arrest may result in Georgia's international isolation. "If Europeans reacted so fiercely to the arrest of Yulia Tymoshenko in Ukraine, their response will be even harsher to the arrest of Merabishvili. This is especially true because they have fewer reasons to have restraint in regard to small Georgia, than in regard to huge Ukraine, which still encountered a very sharp reaction," the Georgian president argued (https://www.civil.ge/eng/article.php?id=26091).