Vladimir Putin, Moscow Mayor and Patriarch Kirill Promote Russian Interests in Ukraine
Publication: Eurasia Daily Monitor Volume: 7 Issue: 145
By: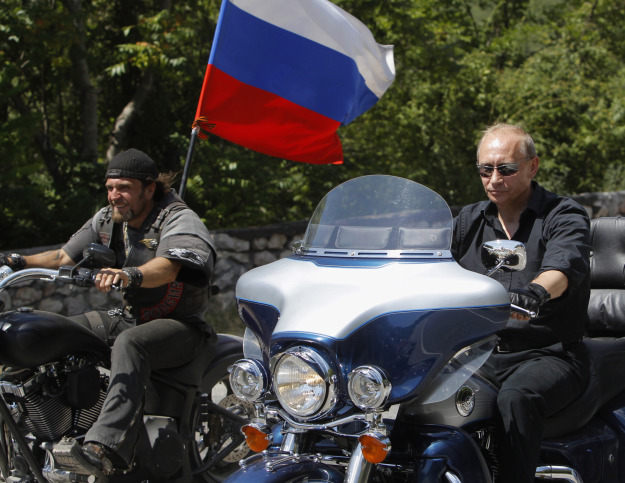 Russian Prime Minister, Vladimir Putin, Moscow Mayor, Yury Luzhkov, and Patriarch Kirill flocked to Ukraine last week. While the official goals of the visits were different, each promoted the Kremlin's ideology of a single Russian worldview and personally congratulated President, Viktor Yanukovych on his birthday, the man who made it possible for them to preach this ideology in Ukraine. His predecessor, the nationalist President, Viktor Yushchenko, and Putin, shunned each other. Relations between Kyiv and Kirill's church were strained, while Luzhkov was persona non grata in Ukraine. These relationships have dramatically changed under Yanukovych. The guests from Moscow literally felt at home during their visit.
Putin's July 24 visit to Yanukovych's summer residence in the Crimea had a rather symbolic meaning. Commenting on a plea by Ukrainian pipe makers to open up the Russian market, Putin nonchalantly dismissed the business dispute as a "family matter," suggesting that his "special relations with Yanukovych" might help solve it (Ukrainska Pravda, July 25). The most spectacular event involving Putin's participation, covered by the Ukrainian and Russian media, was his visit to a bikers' festival near Sevastopol, a city where the Russian Black Sea Fleet will stay until 2042 and possibly beyond (rather than until 2017 thanks to the gas-for-fleet agreement reached with Yanukovych last April). Putin played the macho leader, as he likes to do before a domestic audience. Putin drove a Harley-Davidson and addressed bikers, many of whom arrived from Russia, with a speech praising freedom (www.vesti.ru, July 24; Kommersant-Ukraine, July 26).
Luzhkov's visit raised controversy even before his arrival. He told a press conference in Moscow on July 19 that he would not change his view on the status of Sevastopol which is "a Russian city," adding that "We must never leave either Sevastopol or the Crimea;" since losing Sevastopol which is strategically important "would be tantamount to losing the south of Russia," he told naval officers in Moscow three days later (UNIAN, July 19; Interfax, July 22). The Ukrainian foreign ministry promptly criticized Luzhkov for the statements which "contradicted the recently established atmosphere of constructive and good-neighborly relations between Ukraine and Russia" (Interfax-Ukraine, July 19). This did not prevent him from visiting Sevastopol.
In 2008, Kyiv declared Luzhkov persona non grata for his repeated calls to return Sevastopol to Russia. However, in June 2010, Yanukovych revoked that decision. Luzhkov publicly expressed his gratitude to Yanukovych speaking in Sevastopol's main square. He praised Yanukovych's team for "the atmosphere of friendship and cooperation" and also told the cheering crowd that "the Russian Black Sea Fleet will stay in Sevastopol forever" (RIA Novosti, July 25).
Unlike Putin and Luzhkov, who visited only the Crimea, Patriarch Kirill went to several places including Kyiv. This visit was unlike last year's, when Kyiv protested Kirill and characterized him as an unwanted guest. From among the two largest rival Orthodox churches, the Kyiv Patriarchate and the Moscow Patriarchate, Yushchenko clearly favored Kyiv on the basis that he wanted to establish a single national church independent from Moscow (EDM, August 12, 2009). However, Yanukovych openly sided with the Moscow Patriarchate, whose clergy backed his victorious presidential election campaign in 2009-2010.
From the Moscow Patriarchate's point of view, Kirill's July 20-28 tour of Ukraine was a home visit, because the Moscow church is more popular than the Kyiv church among the Orthodox communities in the densely populated and largely pro-Russian east and south. Kirill pointedly ignored Kyiv Patriarch Filaret who was excommunicated by Kirill's predecessors for setting up the Kyiv Patriarchate in 1992. Last year, Filaret tried to meet Kirill, but was ignored. The current government made it clear that it supports Kirill, allowing him to preside over a mass in St. Sophia's Cathedral in Kyiv on July 26. Prior to his visit, only ecumenical services were allowed there annually, as the cathedral, the cradle of Ukrainian Christianity, has museum status (Kommersant-Ukraine, July 27). Filaret's representatives said they would demand that the government also permit them to serve in St. Sophia's church in the future (Segodnya, July 26).
Yanukovych is unlikely to make such a concession to Filaret, especially after Kirill, who on July 23 decorated him with the Russian Orthodox Church's highest award, the order of the Holy Prince Vladimir, emphasized that his church was "the absolute antipode" to Filaret's (UNIAN, July 24). Kirill also ruled out any reconciliation with the Kyiv Patriarchate during the synod which he chaired in Kyiv on July 26. Instead, the synod called on Filaret's "schismatic's" to "return to the canonical church through repentance." The synod criticized the authorities for interfering in church matters in the past, possibly referring to Yushchenko's idea of an Orthodox Church independent from Moscow It also stated that nothing should now prevent the followers of Filaret from "repentance" (Kommersant-Ukraine, July 27).