Voice of Khorasan Magazine and the Internationalization of Islamic State's Anti-Taliban Propaganda
Publication: Terrorism Monitor Volume: 20 Issue: 9
By: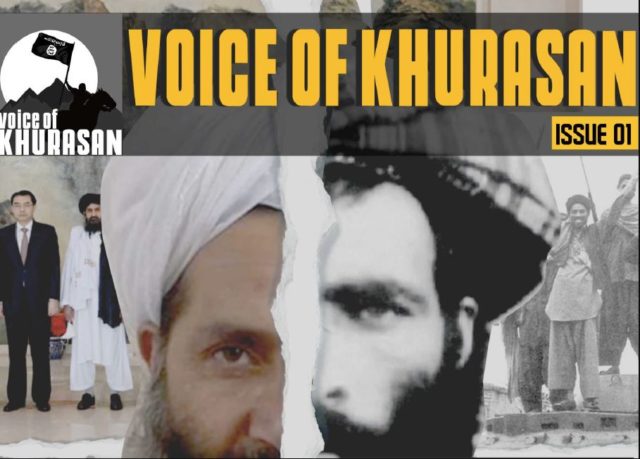 In late January 2022, the Afghanistan-based Islamic State in Khorasan Province (ISKP) premiered its English-language magazine, "Voice of Khurasan (VoK)" (Militant Wire, February 8). The online print series is published through ISKP's official al-Azaim Foundation for Media Production and covers a range of political and religious topics. VoK is intended to promote causes championed by ISKP and the broader Islamic State (IS) movement while also maligning their respective enemies. It, therefore, represents an attempt to build international appeal for ISKP as well as bolster recruitment and incite followers to carry out attacks.
Globalizing ISKP's Regional and Local Narratives
VoK issues tend to include translated ISKP materials from the original Pashto. The goal is to disseminate those narratives and ideas to a broader international audience in English (Twitter/@Valle_Riccardo, March 9). This indicates it is a predominantly outward-facing media project intended to transcend regional cultural and linguistic barriers. It also includes original content as well as translations of past and present IS leadership statements and releases by official IS media organs, which serves to situate regional ISKP propaganda within the overarching mission of the broader global Islamic State movement.
As such, VoK represents the latest publication in IS's history of English language magazines, such as Islamic State Report, Jihad Recollections, Dabiq, and Rumiyah. Moreover, in recent years, a similarly named pro-Islamic State in Hind Province (ISHP) online print series has emerged called "Voice of Hind (VoH)," which, much like VoK, has focused on bringing localized narratives from the IS South Asia discourse to a global audience (Terrorism Monitor, March 11, 2022). However, VoH is more India- and Kashmir-focused, whereas VoK is mostly about Afghanistan-related affairs.
VoK is disseminated on social media and messaging applications, and is also translated into Malayalam, which is a language spoken by tens of millions of people mostly in India's Kerala region. This is notable as ISKP has a track record of recruiting fighters and gaining supporters from these areas (Terrorism Monitor, April 8; The Hindu, March 28, 2020). The magazine's second issue featured a three-page biographical profile of suicide bomber Najeeb al-Hindi, which mentioned how he made hijrah (migration) from India to Afghanistan and "sacrificed his life for Islam" by attaining martyrdom (Hindustan Times, March 11). [1] The I'lam Foundation, which is an online repository and distribution channel for IS propaganda, and pro-ISKP channels, circulate VoK links to allow followers to access and download the magazine at any time (Militant Wire, April 17). Shorter snippets of the issues are also shared on Telegram and elsewhere for easy narrative congestion.
In terms of ISKP's media strategy, the introduction and development of the VoK series is consistent with the increased internationalization of ISKP's overarching propaganda campaign (Times of India, March 12). ISKP's al-Azaim Foundation for Media Production has, for instance, intensified its efforts to reach a broader range of ethnic and linguistic groups (Militant Wire, February 17). ISKP has historically published its materials in Arabic, Pashto, and Dari, but, more recently, it has expanded its linguistic repertoire to include content in at least Urdu, Uzbek, Tajik, Hindi, Malayalam, and English (Eurasianet, March 17). In addition to VoK, for instance, al-Azaim published a 54-page-long book, which was its first in the English-language, titled "Jihad: The Way to Jannah" (Militant Wire, February 24).
Voice of Khorasan's Anti-Taliban Narratives
ISKP is a predominantly Afghanistan-based insurgent group, and thus the Taliban is by far and away its primary rival in the region. Accordingly, the group's media warfare strategy is largely based on efforts to delegitimize the Taliban as a governing body and discredit the group's religious authority (Terrorism Monitor, December 16, 2021; WION, February 4). ISKP purveys its anti-Taliban narratives through various mediums, such as videos, audios statements, e-books, magazines, and more.
VoK launched its attack against the Taliban straight out of the gate in the cover of its premier issue featuring photos of Taliban leaders cordially socializing with officials from China, Pakistan, and the previous Afghan government. All of these countries' governments have been explicitly declared as enemies of ISKP (WION, March 7). Perhaps most notably, the text featured an article aggressively impugning the new Afghan rulers titled "Who are the Taliban?"
The article, which included photos of Taliban leaders and delegates meeting with Chinese and American diplomats and of "Taliban praying with [Pakistan's] ISI Chief," set the tone for the entire magazine series. VoK stated that the Taliban was created by Pakistan's government and intelligence apparatus under the guidance of the CIA and Saudis. [2] The magazine also scorned the Taliban for concealing and lying about the death of Mullah Omar, its involvement in the illicit opium industry, and its "extreme nationalism and tribalism," which "has nothing to do with the Islamic system" and "is ever present within the group." [3]
Further, VoK ridiculed the Taliban for its friendly relations with Shias, particularly Hazaras, and the incorporation of members from Shia communities into the Taliban movement and civil society. ISKP also alleged the Taliban fought directly alongside the Americans against ISKP and chided the Taliban for its dealings with "the biggest enemies of Islam such as China, Iran and Russia," and for ignoring the "eradication of the Uighur Muslims" and the "mass murders committed by the Russian, Iran regime and its proxies" in Iraq and Syria (Hindustan Times, February 4). [4]
In subsequent issues, ISKP celebrated attacks against the Taliban and accused the group of being installed by the Americans in August 2021 and being pushed by the Americans into the "dead and impure pool of democracy." [5] Further, VoK asserted that the leaders of the Taliban and al-Qaeda, through Pakistan's ISI and the control of the U.S, "signed the ultimate deal of treachery with America which was based on prohibition of Jihad in the land, expelling muhajireen [migrant] fighters and fighting Khilafah as America's proxy." [6] ISKP seeks to undermine the Taliban's foreign relations and in its latest issue about the April 18 rocket attack targeting Termez, Uzbekistan, the group proclaimed its "eyes … are fixed on neighboring countries, Iran, China, Uzbekistan, and other nations of kufr [infidelity]." [7]
Conclusion
ISKP's VoK series is emerging as an important medium in the branch's push to expand its reach and gain broader international traction. The magazine's propagandists seek to establish a contrast between ISKP and the Taliban. The former is presented as a pure and pious Islamic movement actively fighting those hostile to their faith and the latter is a morally and religiously corrupt Pashtun ethno-nationalist organization that has friendly relations with the enemies of Islam and is even allied with some of them in the fight against IS. [8] ISKP is considerably weaker than the Taliban and its other nation-state foes. Therefore, the group is looking to make improvements where possible, with one of the identified opportunities being in the media space where ISKP can create added momentum for its campaign to recruit and incite violence against its enemies, especially the Taliban.
Notes
[1] al-Azaim Foundation for Media Production, Voice of Khurasan, Issue 2, March 2022.
[2] al-Azaim Foundation for Media Production, Voice of Khurasan, Issue 1, January 2022.
[3] Ibid.
[4] Ibid.
[5] al-Azaim Foundation for Media Production, Voice of Khurasan, Issue 4, April 2022.
[6] al-Azaim Foundation for Media Production, Voice of Khurasan, Issue 2, March 2022.
[7] al-Azaim Foundation for Media Production, Voice of Khurasan, Issue 5, May 2022.
[8] al-Azaim Foundation for Media Production, Voice of Khurasan, Issue 3, April 2022.