Briefs
Publication: Terrorism Monitor Volume: 20 Issue: 9
By: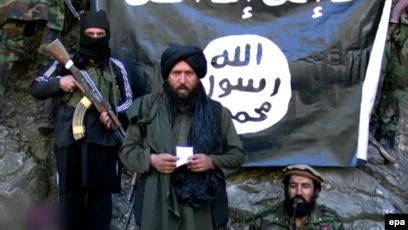 Islamic State in West Africa Province's Unprecedented Expansion in Nigeria
Jacob Zenn
When compared to the Syria and Iraq provinces, Islamic State in West Africa Province (ISWAP) is the Islamic State's (IS) most prolific wilayah in terms of attacks, but it is also undergoing an operational expansion unseen in a decade. In 2012, ISWAP's predecessor, Jamaat Ahlus Sunnah Li-Dawa wal-Jihad (JASDJ), also known as "Boko Haram," began carrying out suicide attacks in central Nigerian states, such as Kaduna, Niger, and the Plateau states and even as far as Sokoto in northwestern Nigeria and the capital Abuja (vanguardngr.com, July 8, 2013).
However, from 2015 onward, JASDJ and then ISWAP, which succeeded JASDJ, conducted virtually no attacks outside of northeastern Nigeria or neighboring parts of Chad, Niger, and Cameroon. Thus, ISWAP's two claims in the Nigerian state of Taraba on April 20 and April 23, 2022 and one claim in the state of Kogi on April 24, 2022, are a notable development (Twitter/@SimNasr, April 20; HumAngle, April 23; thecable.ng, April 24). The Taraba attacks targeted two bars in two different cities, with ISWAP claiming more than 40 total casualties. The Kogi attack targeted a police station, with ISWAP alleging five police officers were killed. IS's al-Naba magazine also attributed previous attacks to ISWAP in Kogi and Taraba that had originally gone unclaimed as well.
Geographically, Kogi is a state in south-central Nigeria and the transit point between Abuja and the southern economic hub, Lagos. Prior to ISWAP's latest attacks, Kogi had been the site of JASDJ prison breaks and bomb-making facilities and the al-Qaeda-affiliated Ansaru's main hub of operations in 2012 (dailypost.ng, February 16, 2012). Ansaru's most notorious attack was an ambush of a Nigerian military convoy whose troops were preparing to deploy to Mali to combat al-Qaeda in the Islamic Maghreb (AQIM) in 2013 (vanguardngr.com, January 20, 2013). However, as a result of JASDJ attacks against Ansaru for splitting from JASDJ, Ansaru itself became weaker and has only begun to revive in northwestern Nigeria in the past few years (Terrorism Monitor, July 28, 2020).
Taraba, meanwhile, is a state situated in central-eastern Nigeria, bordering Cameroon and, like Kogi, is divided between Muslim and Christian populations. The targeting of "Christian" and "un-Islamic" activities in Taraban bars is reminiscent of the bombings in central Nigeria in 2012, which often targeted churches or bars (nationalpost.com, November 25, 2012). Thus, like the Kogi attack, ISWAP's latest activities in Taraba not only represent an expanding area of ISWAP operations, but also a revival of prior JASDJ- and Ansaru-style attacks.
Three possible explanations exist for the ISWAP attacks in Taraba and Kogi. First, all the attacks came as part of the global IS "revenge of the two sheikhs" campaign and ISWAP may have been trying to impress IS with attacks in new locations. Second, these incidents occurred just after a major attack on a train in Kaduna, Nigeria in which hundreds of passengers were abducted by a combination of bandits and jihadists, who may have been from ISWAP (even though the Nigerian government allege it was "Boko Haram") (CGTN Africa, April 19). Thus, ISWAP may have deployed fighters from northeastern Nigeria to Kogi and Taraba to expand ISWAP operations and integrate with the bandits, just as Ansaru has done and JASDJ had done before their leader Shekau was killed in clashes with ISWAP in 2021 (Telegram, June 15, 2020). Lastly, ISWAP may have incorporated some Ansaru or even JASDJ members who had previously been deployed to Kogi or Taraba, which had been respective operation centers for the two terrorist cells.
Whatever the case, the ISWAP insurgency can no longer be considered confined to northeastern Nigeria. In a worst case scenario for Nigeria, ISWAP may simply be activating longstanding sleeper cells that had been operating in Kogi, Taraba, and elsewhere. Perhaps these cells were previously supporting the group logistically, by providing financing, weaponry, and other supplies like computers or drones. Should attacks outside of northeastern Nigeria persist, the conflict will undoubtedly enter a new and more dangerous phase.
*****
Islamic State in Khorasan Province's One-Off Attack in Uzbekistan
Jacob Zenn
On April 18, the Islamic State (IS) released a short video of Islamic State in Khorasan Province (ISKP) fighters firing rockets from the outskirts of Mazar e Sharif, Afghanistan into Termiz, Uzbekistan (Twitter/@Sayedsalahuddin, April 18). If the video and claim are authentic, this attack represents the first ever ISKP attack in Central Asia and would be a natural progression after ISKP propaganda emphasized the incorporation of Central Asians, and especially Uighurs, into its ranks (opindia.com, October 9, 2021). Even though the rockets appear to have struck nothing of significance, the attack and video clip demonstrate ISKP's strategic intention to threaten not only Pakistani targets and Afghanistan's Taliban rulers, but also the entire "Khorasan" region, which historically includes Central Asia.
Uzbekistan denied that any ISKP attack took place on its soil (rferl.org, April 19). This was in lieu of the fact that IS provinces tend to be accurate about their claims, albeit inflating the severity and casualties of their attacks. According to the Uzbek presidency's spokesperson, the reports of the ISKP attack were not "reality" and there were no military operations on Uzbekistan's territory nor any instability along its borderlands (Telegram/@Press_Secretary_Uz, April 18). Despite the official government claims, videos emerged on social media showing increased Uzbekistani air force activity with helicopters conducting patrols along the Afghanistan border after the ISKP claim (Twitter/@TajudenSoroush, April 19).
A more plausible explanation came from the Taliban's deputy spokesperson, however, who asserted that ISKP did launch rockets toward Uzbekistan from Afghan territory, but the rockets failed to reach the Uzbekistan border (farhatnews.com, April 20). As is typical of Taliban foreign policy, the deputy spokesperson affirmed that Afghan soil would not be allowed to be used by any militant group to attack any external country. Video footage also emerged of the Taliban uncovering the ramshackle hideout that ISKP had used to fire the rockets, including the empty rocket launchers (Twitter/@WarFootage, April 20).
On the whole, therefore, it appears ISKP produced a publicity stunt for IS by attempting to attack Uzbekistan, but caused no damage to either the country, its military, or civilians. ISKP remains embattled with the Taliban over Afghanistan and is seeking to jeopardize the Taliban's working, if not necessarily friendly, ties with Central Asian states. If ISKP's intention was to disturb Taliban relations with Central Asian states or demonstrate ISKP's ability to harm Afghanistan's northern neighbors, this operation has proven to be a dud, much like the rockets that were fired.