War in Eastern Ukraine Causing Coal Shortages, Electrical Blackouts
Publication: Eurasia Daily Monitor Volume: 12 Issue: 12
By: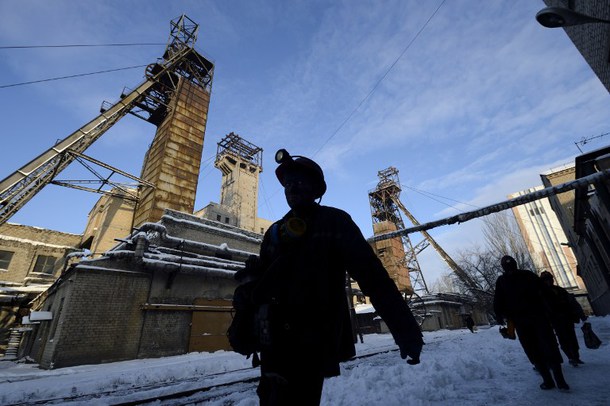 The unrest and ongoing fighting in eastern Ukraine seriously impacts coal supplies and thermal power electricity generation in the rest of the country. On December 28, Ukrainian President Petro Poroshenko ordered the Ministry of Energy and Coal Industry to halt rolling power blackouts, adding that Ukraine had begun importing 1.4 gigawatts of electricity from Russia (Ukrains'ki Novini, December 29, 2014). Two days later, Energy Minister Vladimir Demchishin stated that, in January 2015, Ukraine planned to import about one million tons of coal from various sources, including Russia, to be directly burned in thermal power plants (TPP) rather than being warehoused (Ukrains'ki Novini, December 30, 2014).
According to Ukraine's Ministry of Energy and Coal Industry (Minenergouglia), in 2014 Ukraine imported $1.773 billion in coal, totaling 2.293 million tons, of which 1.839 million tons was imported from Russia (Ekonomicheskaia Pravda, January 14, 2015). Minenergouglia also reported that, until 2014, the country annually mined 4–5 million metric tons of coal before fighting erupted in eastern Ukraine. As of January 6, 2014, Ukraine's total stocks of coal used by TPPs and combined power plants equaled 1.3 million tons, with daily consumption of 80,000 tons (Interfax-Ukraine, January 14, 2015). Ukraine was self-sufficient in power generation until the fighting in the east interrupted coal supplies to TPPs, which generated an estimated 40 percent of Ukraine's electricity.
Much of the infrastructure in Donbas (eastern Ukrainian region encompassing Donetsk and Luhansk provinces), including the power grids and coal mines, has been destroyed in the fighting. Of the 90 coal mines in Donbas, the Ukrainian government currently controls only 37, of which 24 are mining coal at present (V Kulake, January 5).
Ukraine's power shortages are not limited to the mainland, but also affect Crimea (unilaterally annexed by Russia in March 2014), which remains largely dependent on Ukrainian electricity imports. These shortages have somewhat softened Russian attitudes toward Ukraine; on December 28, Russian Deputy Prime Minister Dmitry Kozak stated that Russia was willing to supply Ukraine with electricity at Russian domestic prices and up to one million tons of coal per month (Gazeta.ru, December 28, 2014). The Russian energy imports are needed, as Ukraine's Zmiivska, Tripolskaia, Dnieper and Krivoi Rog TPPs have nearly exhausted their coal reserves, and 7 of Ukraine's 14 thermal power stations burn anthracite coal, of which Ukrainian production has plummeted (KM Online, January 15).
Ongoing energy shortages led Minenergouglia, on January 13, to again announce the suspension of electricity exports to Belarus and Moldova, stating, "The exports of electricity to the Republic of Belarus and Moldova have been suspended to support a balanced regime between consumed and generated power capacity in Ukraine's unified electric power grid and to avoid cutting off the consumers from electricity" (Ukrainska Pravda, January 13). Earlier, exports of Ukrainian electricity to the Belarusian power grid were fully stopped from October 1, and to Moldova from November 28, 2014.
On January 2, Energy Minister Demchishin acknowledged the continuing vulnerability of Ukraine's coal stocks, stating that while the country had about 1.4 million tons of coal stockpiled in reserve as of December 1, it needed an additional one million tons to make it through the winter. Demchishin remarked, "We are incapable of independently supplying our power plants with coal. Money was designated to purchase additional volumes of coal, and negotiations were held with all participants, starting from Australia, South Africa and Kazakhstan, to work on the possibility of shipping coal from far-away countries (Mineweb, January 2).
Among the difficulties underpinning Ukraine's efforts to diversify its coal imports, the first 162,000 tons purchased by Ukrinterenergo from South Africa for $80 a ton, proved unsuitable for Ukraine's TPPs (Ukrainska Pravda, January 8). On January 13, a third collier with 78,000 tons of South African coal docked at Illichivsk port (Interfax-Ukraine, January 13). Addressing the parliament on January 16, Demchishin stated that a fourth collier from South Africa had arrived and earlier quality issues had been resolved, as the caloric value of the latest batches of South African coal, supplied by the British company Steel Mont Trading Ltd. was 5,520 kilocalories per kilogram, more than 10 percent higher than the coal from the first two batches, adding, "The two [latest] batches are fully in line with technical and quality requirements" (Interfax-Ukraine, January 16). Responding to criticism that the contract lacked transparency, Demchishin replied that he does not have the power to disclose confidential contracts signed between commercial companies but noted, "I recommended that key commercial conditions are made public."
Despite Russia's concessionary rates and geographic proximity, Russian energy imports are politically unpopular—indeed, 80 percent of Ukrainians believe their country is clearly at war with Russia (FT, January 21). On January 12, Demchishin told a parliamentary anti-corruption committee meeting that for the period January 1–11 Ukraine had imported only about 70,000 tons of Russian coal, roughly equivalent to a single South African shipload (Den, January 12).
Coal has also become a public relations contest between the Ukrainian government and the Moscow-backed separatists. On January 14, rebel authorities in Donetsk and Luhansk stated that they were ready to start delivering coal to areas of Ukraine undergoing energy shortages, producing photographic proof that freight trains could transit across the conflict's front lines (Rossiya 1 TV, January 14).
While Ukraine can stitch together imports to supplement reduced domestic coal production to tide itself over during the winter, in the longer term the country's mining sector will need long-overdue reform if it is to contribute to a revitalized Ukrainian economy. Two years ago, the International Energy Agency noted that Ukraine's "often inefficient energy production, transportation and supply sectors means that reducing energy demand must be a greater priority" ("Ukraine 2012," International Energy Agency, October 2012, pp. 2, 5). Reform of the country's energy mining sector is imperative, especially as Ukraine still produces roughly 40 percent of its electricity from coal generation. Until a settlement to the conflict in Donbas can be achieved, Ukraine will continue to suffer budget deficits generated by energy imports for a commodity in which it was previously self-sufficient. Accordingly, the unrest in the country's east may actually lead to a reforming of the country's mining sector, initiatives that Ukraine's European partners will undoubtedly find positive.