Warnings and Welcomes: China's Reopening and the Politics of International Travel
Publication: China Brief Volume: 23 Issue: 1
By: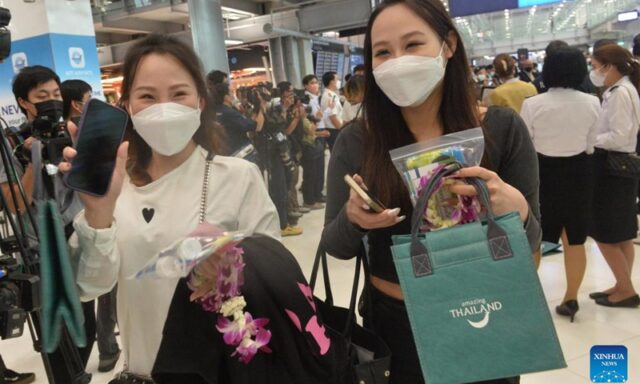 Over the past two months, as the People's Republic of China (PRC) has rapidly rolled back its strict zero-COVID epidemic prevention policy, COVID-19 has spread rapidly throughout the country. The combination of the PRC reopening its borders to outbound travel on January 8 and the ongoing pandemic has put countries that are major travel destinations for Chinese nationals in a bind. Governments have responded differently to the situation, with some imposing testing and quarantine requirements and others declining to do so. In China, official and social media have generally lauded countries that have desisted from testing requirements and opened their doors to Chinese tourists. Thailand, in particular, has been widely celebrated. Not only did Thailand decline to impose testing requirements on inbound travelers from the PRC, but several senior Thai government ministers went to the airport to welcome the first planeload of Chinese tourists following the lifting of travel restrictions on January 8 (Guangming Daily, January 17). Scenes of smiling Thai officials and airport workers greeting the first group of arriving tourists circulated widely in Chinese media.
Several countries imposed COVID-19 testing entry requirements following the PRC's decision to downgrade COVID-19 from a Class-A to a Class-B infectious disease and reopen its international borders on January 8 (CGTN, January 8). The U.S., Italy, Japan, South Korea and other countries implemented requirements for arrivals from China to present a negative COVID test taken within 48 hours of boarding (U.S. Embassy in China, December 29, 2022; South China Morning Post, December 29, 2022). The PRC's official response to these moves has been critical. Following the European Union's decision to strongly recommend that member states require travelers from China to present a negative COVID-19 test taken within 48 hours of departure, Foreign Ministry spokesperson Mao Ning urged the EU to be "rational" and to "view China's COVID response situation in an objective and fair light" (PRC Ministry of Foreign Affairs [FMPRC], January 6). Moreover, China took counteractive measures by tightening its own enforcement of COVID-testing requirements for travelers from several countries that imposed testing requirements on Chinese nationals (Beijing Daily, January 16; PRC Embassy in the U.S., January 16). However, China's frustration has not been evenly distributed. Most of the anger has been directed at Japan and South Korea, even though the PRC itself requires inbound travelers from both countries to show negative PCR tests (PRC Embassy in Japan, December 27, 2022; PRC Embassy in the Republic of Korea, December 28, 2022). Last week, Beijing escalated its retaliation against this alleged "discrimination," halting short, three-to-six-day visas from Japan and South Korea.
The tough responses to Japan and South Korea appeal to nationalist sentiments but also risk detracting from China's recent diplomatic efforts to reduce geopolitical tensions with its neighbors and prevent them from drawing closer to the U.S. Not only does Beijing's cut-off of short-term visa issuances generate unease in Japan and South Korea alike, it also curtails an excellent opportunity for China to revive people-to-people ties with key neighboring states and economic partners that atrophied during the pandemic. These links provide a floor for relationships increasingly characterized by strategic distrust.
An Epidemic Crests
As late as mid-December, despite evidence of large-scale illness and deaths in major cities, senior officials maintained that only a tiny percentage of the population was infected with COVID-19 (China Brief, December 22, 2022). However, in reality, authorities have been well aware of the dire public health situation. Leaked internal minutes from a National Health Commission (NHC) meeting revealed that nearly 37 million people in China may have been infected in a single day in late December (Straits Times, January 8). At a press briefing on Saturday, Jiao Yahui, director of the NHC's Medical Affairs Bureau, stated that from December 8 to January 12, the official death toll was nearly 60,000 people (Rfi, January 14). Although this is an increase on the previous official COVID-19 death toll of 37 for this period, actual deaths are assuredly far higher given the narrow official criteria for citing COVID-19 as a cause of death.
Despite the human toll wrought by the pandemic, the official narrative has remained positive, emphasizing the leading role of the Chinese Communist Party (CCP) in the "people's war against the epidemic" and forecasting a bright future as the economy revives. On January 8, the day that the NHC downgraded COVID-19 from a Class-A to a Class-B infectious disease, People's Daily ran a front page article on "Firmly Grasping the Initiative to Fight the Epidemic: Three Years of anti-epidemic unity—A Summary" (People's Daily, January 8). According to the feature, reclassifying COVID-19 as a Class-B disease marks a new stage in the struggle against the epidemic, from "preventing infection" (防感染) to "protecting health and preventing severe illness" (保健康,防重症). The piece credits the CCP and General Secretary Xi Jinping for always insisting on the supremacy of peoples' lives. The article cites China's increasing average life expectancy between 2019 and 2021, by nearly a year, from age 77 to 78, as evidence of this commitment.
The PRC's narrative that it has successfully handled the epidemic influences official criticisms of foreign countries' entry testing requirements for Chinese visitors. Although the PRC has long imposed similar or more stringent requirements on international travelers, foreign countries' precautions have been derided as driven by faulty scientific assessments as officials seek to defend the dubious official position that the COVID-19 situation in China is "predictable and under control" (FMPRC, January 6).
Praise for Thailand
Thailand declined to impose testing requirements for Chinese nationals and does not require a negative test result for entry. Tourism accounts for a sizable portion of Thailand's GDP and the government has stressed that the country welcomes Chinese tourists. Hours after the PRC opened its borders to international travel on January 8, tourists began streaming into Thailand, with 269 passengers arriving from Xiamen at midnight on January 9 (Xinhuanet, January 10). Suvarnabhumi Airport held a welcome ceremony for the first Chinese arrivals, which was attended by several senior Thai government officials, including Deputy Prime Minister and Minister of Health Anutin Charnvirakul and Minister of Sports and Tourism Phiphat Ratchakitprakarn (Guangming Daily, January 17). Airport staff held a welcome banner reading: "China and Thailand are one family. Marvelous Thailand remains warm and forever welcoming to the Chinese people." Deputy PM Anutin made a particular impression by personally greeting arrivals without a mask on and handing out garlands to tourists. He also released a video using a mixture of English and Chinese to convey Lunar New Year's greetings from the Royal Thai government to the Chinese people and to express the mutual affinity between the two countries (Hunaqiu, January 14).
Chinese state media outlets contrasted Thailand's "welcoming attitude" toward Chinese tourists with the "discriminatory" approaches of  Japan and South Korea. An article in Guangming Daily claimed that "when Japan, South Korea and other countries targeted Chinese tourists, the Thai government firmly stated that no one should discriminate against or treat Chinese tourists differently" (Guangming Daily, January 17). Another article in Xinmin Evening News was entitled, "Thailand welcomes Chinese tourists, what do Japan and South Korea think?" The piece praises Deputy PM Anutin's welcoming of tourists from China, stating that "it is clear that Thailand has made this judgement based on the latest research and has adjusted its policy accordingly" (Xinmin Evening News, January 10). This favorable treatment is contrasted to the approaches of Japan and South Korea, which are described as less welcoming to Chinese tourists than they were before the pandemic. The article directs particular opprobrium at South Korea for purportedly setting up specific airport lines for passengers from China, requiring some Chinese arrivals to wear yellow identification bands and providing subpar, yet expensive, quarantine conditions.
Furor at South Korea, Japan
Since January 5, South Korea has required all incoming travelers from China to show either a negative PCR test result taken within 48 hours, or a rapid test from the past 24 hours, prior to boarding (Korea Herald, January 5). On January 10, South Korea began requiring all planes from Hong Kong and Macau to land at Incheon airport. The state-affiliated Yangtse Evening Post slammed the move stating that "South Korea's "special policy" on entries from China has been further expanded. Putting it bluntly, this is a discriminatory measure" (Yangtse Evening Post, January 11). Moreover, some Chinese citizens were given yellow cards upon arrival, which many Chinese netizens lambasted as evidence of further discrimination by South Korean authorities. One editorial in a leading state-run online portal claimed that some "extreme radical South Korea journalists even secretly photographed Chinese tourists, but the South Korean government has not taken adequate protective measures to address this matter" (China.org.cn, January 11).  On January 11, the PRC National Immigration Administration (NIA) announced the suspension of 72 and 144-hour transit privileges for Japanese and South Korean citizens in response to "discriminatory entry restrictions" on Chinese nationals, (NIA, January 11).
The cutoff of short-term visa issuances risks undercutting China's recent efforts to improve relations with Japan and South Korea, respectively. The 30th anniversary of the establishment of relations between China and South Korea received a high-level of official participation, with then Foreign Minister Wang Yi attending a reception held by the South Korean Embassy in Beijing for the occasion (FMPRC, August 24, 2022). The anniversary followed signs from  President Yoon Suk-yeol that his tough campaign trail rhetoric on China would not translate into major policy shifts, e.g. declining to meet with U.S. Speaker Nancy Pelosi during her trip last summer to South Korea, which immediately followed her visit to Taiwan. Likewise, while Japan is unnerved by the PRC's increasing military assertiveness,  Tokyo has sought to maintain a working relationship. In November, Prime Minister Fumio Kishida met with Xi on the sidelines of the Asia-Pacific Economic Cooperation summit in Bangkok and agreed on a five point consensus to stabilize and develop the bilateral relationship  (FMPRC, November 18). Despite this limited momentum at the leader-level of China-Japan and China-South Korea relations, respectively, curtailing business, academic and cultural exchanges will undercut the people-to people ties that undergird these relationships.
Conclusion 
Japan and South Korea are both close American allies that host large U.S. troop contingents. However, in their relations with China, both countries have historically demonstrated a willingness to disaggregate geopolitical and economic concerns. The intensification of U.S.-China strategic competition has made this balancing act more challenging. For example, with the U.S. recently imposing extensive restrictions that seek to limit China's ability to produce advanced semiconductors, Washington has apparently already asked Japan to cooperate by imposing its own export controls (Japan Times, December 11, 2022). However, China's use of international travel as a political cudgel provides a reminder to Japan and South Korea that Beijing bears much responsibility for fostering a regional environment in which geopolitical and economic considerations are now intertwined. Japan and South Korea are hardly unique in imposing testing requirements on travelers from China, but have nevertheless been singled out for harsh criticism and targeted retaliation. Such arbitrariness, which appears more grounded in nationalist sentiment than policy rationale, is undoubtedly unsettling to Tokyo and Seoul alike.
John S. Van Oudenaren is Editor-in-Chief of China Brief. For any comments, queries, or submissions, please reach out to him at: cbeditor@jamestown.org.