Wartime Approaching in the Caucasus
Publication: Eurasia Daily Monitor Volume: 6 Issue: 48
By: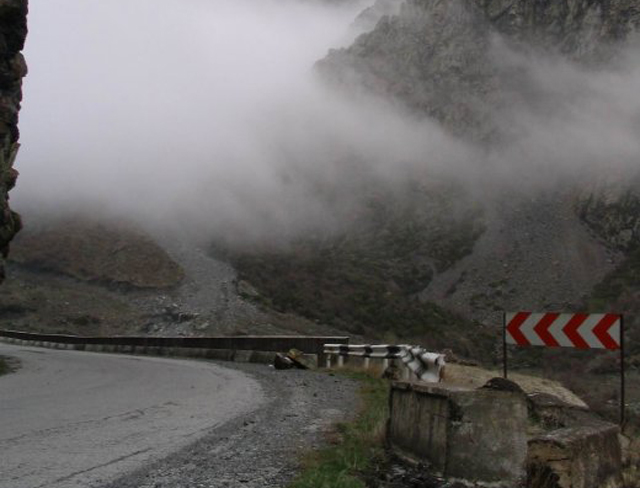 It is early springtime and in the mountain passes separating Georgia from Russia, there is snowfall one day and wet snow or rain the next. Avalanches and mudslides caused by wet snow regularly close down the only road connecting Russia and the breakaway region of South Ossetia through the Roki Tunnel (RIA Novosti, March 9). Low clouds and fog in the mountains keep Russian helicopters and jets grounded for days and weeks. But in two months, the weather will be fine. In May the last snow will melt on the high mountain passes and it will be wartime again in the region.
The period when war was physically impossible in the Caucasus is now almost over, but the halfhearted attempts by European Union mediators to strengthen the ceasefire have accomplished virtually nothing. Last month at Russia's request, the EU-sponsored peace talks in Geneva were suspended until the end of June (RIA Novosti, February 19). Since Moscow refuses to have any contacts with Tbilisi outside the Geneva format, this four-month adjournment is potentially a very bad sign.
The ceasefire continues to be fragile, with both sides trading mutual accusations and sometimes sporadic live fire. The OSCE, United Nations, and unarmed EU observers lack the mandate or the capability to separate the opposing forces or impose a permanent and sustainable truce. The monitors are unarmed; they cannot perform even minimal police functions to prevent banditry and looting in the immediate cease-fire zone. So there is no force disengagement at all-armed Georgian police are deployed at the cease-fire line in direct contact with the Abkhaz and South Ossetian military, which makes constant armed incidents virtually inevitable.
The South Ossetian leader Eduard Kokoity claimed last week, "There are about 2,500 armed men currently deployed and building fortifications within the conflict zone on the Georgian side," while the EU observers were "contributing to the worsening of the situation" (RIA Novosti, March 6). The EU mission has repeatedly stated that it does not see any Georgian force concentrations in the cease-fire zone. The Ossetians respond by accusing the EU mission of "deliberately ignoring Georgian preparations for military aggression" (Interfax, February 9).
These inflammatory statements and intermittent clashes could easily escalate into a new major conflict when the warm wartime season comes to the Caucasus. To make things worse, it has been announced that Abkhazia and South Ossetia will soon begin to implement agreements with Russia to jointly patrol their "borders with Georgia" (Interfax, March 11). This may bring more Russian servicemen into harm's way in the area of intermittent clashes. Any injury of Russian solders that might be attributable to Georgian forces could serve as a casus belli.
There is growing political unrest in Georgia with different opposition factions demanding the resignation of President Mikheil Saakashvili (RIA Novosti, March 10). Giorgi Targamadze, leader of the Christian-Democratic Party, the main parliamentary opposition, is more cautious: "It is dangerous to push Saakashvili into a corner." The nation needs reforms, not a "revolution," and opposition forces lack the resources to actually overthrow the present regime. Targamadze believes that "Russia may attempt to set us against each other to make us do its job" (Civil Georgia, March 6). Other opposition figures are much more outspoken. Former Prime Minister Zurab Noghaideli, called Saakashvili a "traitor and a coward," while the former speaker of parliament, Nino Burjanadze, described his government as "criminal" (Moscow Times, March 10).
On the government side there is also confusion. Last week at a security conference in Riga, Latvia, Deputy Prime Minister and Minister for Euro-Atlantic Integration (as well a former defense minister) Grigori Baramidze told me that he saw a lot of arguments why "Russia may resume its aggression and very little in favor of peace." Baramidze told the conference that "Russia could use internal instability in Georgia for another assault." Defense Minister Davit Sikharulidze announced last week, "We must prepare to defend our motherland against an invasion" (Civil Georgia, March 7).
At the same time, Saakashvili has announced, "The possibility of a resumption of hostilities has been reduced, but nothing is yet fully guaranteed" (Civil Georgia, March 11). The powerful interior minister, Vano Merabishvili, who is in charge of counterintelligence, has publicly "ruled out" any possibility of "a renewal of Russia's large-scale military aggression." Merabishvili insisted that talk of a possible renewal of Russian aggression has been deliberately disseminated by Moscow itself to trigger panic in Georgia and scare off investors. Merabishvili added that peaceful opposition protests would be allowed but that his ministry had "enough resources to prevent any unlawful actions" (Civil Georgia, March 7).
Last August Russian troops invaded Georgia to "enforce peace" and defend the Ossetian and Abkhaz minorities, imitating NATO actions in ex-Yugoslavia. This year, if the Interior Ministry riot police are deployed to disperse protesters, Moscow may go in for "regime change" to liberate Christian Orthodox Georgians from Saakashvili.
There are still several weeks left for the West to recognize the imminent threat and begin a high-level round of shuttle diplomacy to compel or coerce all sides to genuinely strengthen the ceasefire and disengage forces. Moscow must understand all the disadvantages of a new crisis and agree to strengthen the observer mission's mandate. The Georgians must find a way to contain internal political strife. The Ossetian and Abkhaz leaders must stop mindlessly provoking a new war. In short, a miracle is needed.