WAYS TO TRANSFORM RUSSIA'S "PEACEKEEPING" OPERATION IN MOLDOVA
Publication: Eurasia Daily Monitor Volume: 4 Issue: 112
By: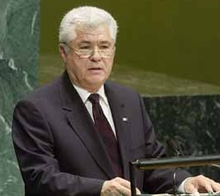 The United States, NATO, and European Union are prepared to negotiate with Russia at an international conference next week about transforming Russia's "peacekeeping" operation in Moldova into a genuinely multilateral operation with Russian participation. They are offering to Russia the "carrot" of ratifying the 1999-adapted Treaty on Conventional Forces in Europe (CFE). Ratification is conditional on full withdrawal of Russian forces from Moldova under the Istanbul Commitments, within the 1999 treaty package.
The solution envisaged for this upcoming conference would at least temporarily allow some Russian troops to remain, embed them into an internationalized operation, ascertain Russian compliance with the Istanbul Commitments, and thus clear the way for bringing the CFE Treaty into force.
The United States took the lead in this initiative publicly on June 5. Overall, it presents a significant opportunity to resolve a major issue of international security on terms consistent with Western interests. This initiative can probably count on a critical mass of support among European countries in this regard.
For its part, Russia will probably try to spin this issue as one of "cooperative security in Europe," implying informal recognition of some Russian "interests" in Moldova — including military presence and de facto veto power on the political resolution of the Transnistria conflict. Russia will look for collaborators with this view in perhaps three or four European chancelleries for this conference.
Any decision that might be reached at this conference will fall short of fulfilling the Istanbul Commitments, which stipulated the complete withdrawal of Russian forces from Moldova without conditions by 2002. Rather, any decision at this conference would allow some Russian troops to stay on in Moldova as part of an international peacekeeping operation. This would entail transforming Russia's existing "peacekeeping" operation into a multinational one. Assuming Moldovan approval of this transformation, the host-country-consent to the presence of foreign troops including Russian ones will have been obtained and the path opened for ratification of the CFE Treaty by Western countries.
A number of devils will hide in the details that are to be negotiated at this conference. Russia will press for: A) cosmetic or nonessential changes to its "peacekeeping" operation; B) a continuing Russian military presence in Transnistria apart from an international peacekeeping mission; and C) linking the troop-withdrawal issue with that of Transnistria's political status for continuing manipulation with both issues.
Russia will come to this conference with prepared traps on the following issues related to a transformed peacekeeping operation:
1. Composition: Moscow will demand the right to provide an inordinately large share of the operation's personnel and, consequently, the right to hold the command of the operation. For their part, Western countries could fall back to the concept prepared in 2006 by the EU's then-special representative to the negotiations, Adriaan Jacobovits de Szeged, which would have limited Russia's share to 30% in an internationalized operation. That concept constituted progress when Western support was very far from certain for internationalizing this Russian operation. Now that such support seems assured, a 30% Russian share appears clearly excessive by comparison with international standards and practice of peacekeeping.
2. Structure: Apart from an inordinately high numerical share for itself, Russia may seek limitations on other countries' shares in this operation, so that Russia becomes by far the largest troop contributor and claims the command. Russia may well also propose some complicated arrangements for sharing the command, so as to discourage the European Union from claiming the right to command the operation in this country neighboring the EU. The likely dispute over command of the operation provides an additional reason for limiting Russia's personnel share below 30%, lest that share dwarf those of other troop-contributing countries. Moreover, as discussed earlier in the EU, any Ukrainian troop contribution would either come at the expense of Russia's 30% share or alternatively could be provided through the joint Polish-Ukrainian battalion.
3. Mandate: Russia would want the OSCE to confer the mandate and exercise political authority on such an operation. Some in the OSCE might welcome the opportunity to revivify a semi-moribund organization, specifically by endowing the OSCE at least on paper with a role in the hard-security sphere. This would also be in line with Moscow's ideas of reforming the OSCE by turning it into a security actor while reducing its role as democracy-promoter. Russia has in the all-too-recent past indicated that it can block or even manipulate the OSCE, specifically on issues related to Moldova and Georgia. A viable security arrangement in Moldova requires a more independent and more viable mandate-giving and supervisory organization. Now is the time for the EU to assume this responsibility on its own border.