West Africa's MOJWA Militants – Competition for al-Qaeda in the Islamic Maghreb?
Publication: Terrorism Monitor Volume: 10 Issue: 7
By: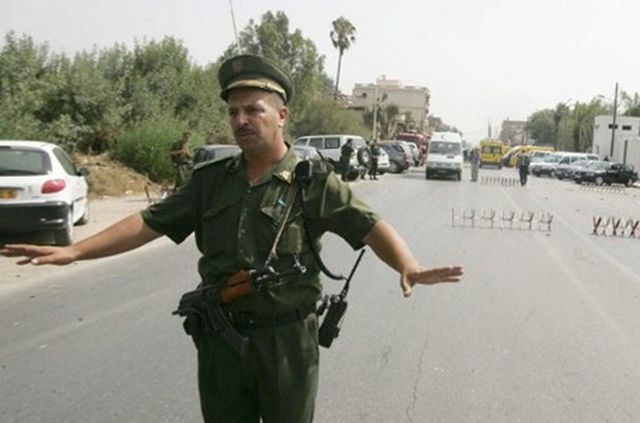 With a deadly suicide attack on a security facility in southern Algeria, a newly formed group of West African militants has demonstrated it is a serious security threat and a potential competitor to al-Qaeda in the Islamic Maghreb (AQIM).
As the gates opened for the daily food delivery to the headquarters of Algeria's gendarmerie in the southern city of Tamanrasset, a second vehicle loaded with explosives rushed in behind. Seconds later a series of blasts collapsed the building's external wall, injuring 23 (La Tribune [Algiers] March 3). After a second pre-planted bomb was defused near the headquarters, Algerian police apprehended a Malian and an Algerian who were trying to flee Tamanrasset with weapons, explosives and €7,000 (El Khabar [Algiers], March 4).
Responsibility for the attack was claimed by the Jamaat Tawhid wa'l-Jihad fi Garbi Afriqiya (Movement for Oneness and Jihad in West Africa – MOJWA), a new group supposedly created after a split within AQIM (Jeune Afrique, March 3). The attack was carried out by two allegedly Malian suicide bombers, using a Toyota with 200kg of TNT (Le Temps D'Algérie, March 6). MOJWA emerged for the first time in December 2011, when it claimed responsibility for the kidnapping of three European aid workers from a Saharawi refugee camp in Algeria in October 2011 (La Repubblica [Rome], March 3; La Tribune [Algiers], March 5). The group is demanding a ransom of about €30 million for their liberation (L'Expression [Algiers], March 3).
In a December 2011 video, six members of the group claimed that their references are Osama Bin Laden, Mullah Omar and several local Islamist historical figures, such as al-Hajj 'Umar ibn Sa'id Tall, 'Uthman Dan Fodio and Amadou Cheikhou, three key figures in the history of West African Islam and the regional anti-colonial struggle (Tahalil [Nouakchott], December 18, 2011). The group also threatened France, given its past as a colonizer in the region and its present role in the local security configuration (Le Figaro [Paris], January 3). MOJWA is allegedly guided by a Mauritanian, Hamada Ould Muhammad Kheirou (a.k.a. Abu Qumqum) (Le Temps D'Algérie, March 4). Mauritanian authorities have issued an international arrest warrant for the MOJWA leader (Carrefour de la République Islamique de Mauritanie., March 4). A possible explanation for this split is to be found in AQIM's resistance to expanding its leadership to fighters coming from countries other than Algeria.
The "Sahelization" of AQIM is the result of a decade-long process that started with the weakening of the now defunct Groupe Islamique Armée (GIA) in the late 1990s and the retreat of its successor, the Groupe Salafiste pour la Prédication et le Combat (GSPC), to two strongholds – the Berber-inhabited Kabylia in the east and the Sahara/Sahel region in the south. However, the shift in geographical focus had more to do with AQIM's financial needs and economic activities than with jihad. The largely ineffective control of the Sahel states offered AQIM a number of illicit business opportunities, the most remunerative being the kidnapping of Westerners and smuggling The changing geography of AQIM, however, did not result in the ethnic pluralization of its leadership. It remained substantially an Algerian group in its command and, although much more "internationalized" in terms of rhetoric and strategic aims following the merger with al-Qaeda, its strategic priority and main target has firmly remained Algeria.
Tamanrasset is somehow different from other Algerian cities, as its historical, cultural, social and political features are much more rooted in Saharan than Mediterranean dynamics. [1] Given its cultural diversity and its strategic importance in controlling this area, Algerian authorities have always tried to boost control over Tamanrasset through a massive security presence, although this control vanishes in the enormous desert region outside the city.
The attack on Tamanrasset is consistent with the self-claimed aim of MOJWA to pursue jihad in West Africa as the city is home to the Comité d'état-major opérationnel conjoint (Committee of Joint Chiefs – CEMOC), the structure for regional counterterrorism cooperation between Algeria, Mali, Niger and Mauritania. Hitting Tamanrasset is a symbolic warning that cooperative regional efforts to face the terrorist threat will be unsuccessful. The attack also demonstrates a strong operational capability – Tamanrasset is a highly militarized city, being the home of the Algerian Army's 6th division. The attack then implies that MOJWA can count on a wide range of connivances and collusions, including the support of loyal tribesmen, an ability to smuggle weapons and explosives into the city and the availability of volunteers from the surrounding areas for suicide missions.
The resurgence in terrorist attacks and clashes between security forces and jihadist militants indicates the greater availability of explosive devices and weapons following the collapse of Qaddafi's Libya. With the largely Tuareg Mouvement National de Libération de l'Azawad (MNLA) seizing the major cities of northern Mali, the security situation in Western Africa is likely to continue to deteriorate in the coming months; Boko Haram has increased its operational profile in northern Nigeria, Senegal had some problems during the electoral process, Niger is facing a serious food crisis and, along with Algeria, is facing new flows of refugees from northern Mali. Given the structural weakness of states in the region and the permanent instability characterizing these territories, it is possible that one of the ambitions of this new group might be to exploit this situation in order to enhance its operational profile.
Marking a clear dividing line between conjecture and factual evidence is always particularly troublesome when dealing with the jihadist phenomenon in this region. According to the claim made by MOJWA, it differs from AQIM in strategic priorities, internal organization and ideological foundations. The attack in Tamanrasset and the non-Algerian leadership are consistent with this claim. The real question is whether this group has truly severed itself from AQIM, representing a potential regional competitor in both in the jihadist domain and more mundane smuggling activities, or is it simply another sub-group of the already internally fragmented AQIM, working more specifically in the territories of western Africa?
If MOJWA is truly independent of AQIM, it may be competing with AQIM for scarce resources in the region by increasing its jihadist profile through operations like the attack in Tamanrasset. It could also prove to be a competitor in terms of recruitment, as it would be much more attractive to those West African fighters who want to fight their own governments rather than focus specifically on Algeria. Fragmented groups could, in some ways, be a more difficult threat to handle in the short term, as the possible competition among them could trigger a race to enhance their respective operational profiles by carrying out attacks to show their strength. In the long term, however, this fragmentation could represent a smaller strategic threat, since a larger and more geographically widespread group can represent a more serious strategic threat.
If, however, MOJWA is merely an arm of AQIM, that would mean the end of the simple "economic functionality" of the Sahelian space, so far fundamental as an area of wealth production and training, but whose importance was neglected operationally In this case, this group will enhance the operational profile of AQIM in the region. Given the developments in northern Mali and northern Nigeria, as well as the wider regional increase in instability since the deterioration of security conditions in several countries of the area, then an enhanced operational jihadist profile in Western Africa will bind together these several scenarios of crisis into a greater arc, stretching from Nigeria to the Mediterranean coast of Algeria.
Dario Cristiani is a PhD Candidate in Middle East and Mediterranean Studies at King's College London. Previously, he has been a teaching fellow in Political Science and Comparative Politics at the University of Naples "L'Orientale" and a political analyst with the Power and Interest News Report (PINR).

Note:
1. See Geoff D. Porter, "Curtailing Illicit and Terrorist Activity in Algeria's Tamanrasset," CTC Sentinel, August 15, 2008, https://www.ctc.usma.edu/posts/curtailing-illicit-and-terrorist-activity-in-algeria%E2%80%99s-tamanrasset.