West's Renewed Focus on Solidarity and Coordination Perturbs Kremlin
Publication: Eurasia Daily Monitor Volume: 18 Issue: 29
By: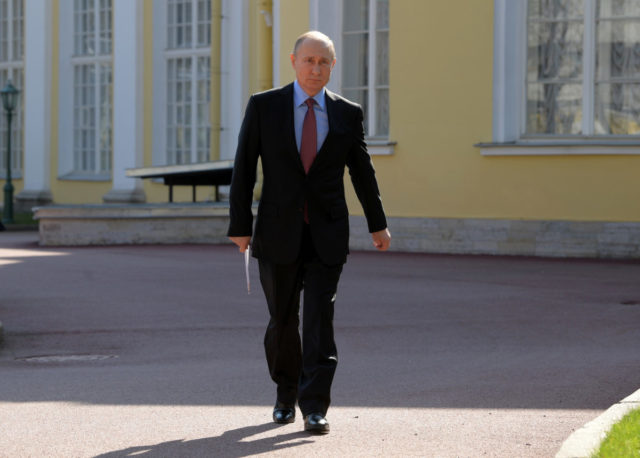 The disastrous visit to Moscow of the European Union's top diplomat, High Representative for Foreign Affairs and Security Policy Josep Borrell, on February 4–6, followed in quick succession by three major international events last week, together served to illuminate Russia's resolute but hopeless self-isolation on the global stage. The February 17–18 meeting, in Brussels, of North Atlantic Treaty Organization (NATO) defense ministers elaborated the Alliance's new strategic concept (to be approved next month), in which Russia is defined as a key source of threat rather than as a partner, as the previous concept wishfully articulated (Kommersant, February 18). On February 19, the special edition of the Munich Security Conference acclaimed the restoration of the United States' international leadership and reconfirmed Transatlantic resolve to contain the Russian challenge (Izvestia, February 19). And that same day, the virtual summit of the G7 discussed the unprecedented complexity of global problems, while clearly signaling that Russia was not a part of the solution (Nezavisimaya Gazeta, February 19). Russian leaders used to be meaningful contributors to such deliberations, but now Moscow is left on the uncomfortable receiving end of Western efforts at reconstituting solidarity.
Just a week prior (in the wake of the Borrell visit), Russian Foreign Minister Sergei Lavrov created headlines by threatening to cut relations with the EU, and Russian mainstream commentators were eager to add to this stance (Carnegie.ru, February 15; see EDM, February 11, 15, 18). Now, however, Lavrov has been reduced to complaining about prejudices inside the European bloc that paint Russia as an outsider and an enemy (RBC, February 19). The key assessment underpinning Russia's diplomatic two-step seemed to have been the presumption that the West is divided and (as a corollary) that the EU cannot formulate and execute anything resembling a common foreign policy (Rosbalt, February 17). Responding to the new contrary evidence, the Russian foreign ministry now tries to argue that NATO's work on a new concept is driven by the deep crisis in the West, which is being camouflaged by the search for a common enemy (RIA Novosti, February 19). Russia's mainstream media, thus, jumped to publish profiles of French President Emmanuel Macron, who dared to argue during the Munich debates on the need to maintain dialogue with Russia (Rossiiskaya Gazeta, February 20).
What Russian official discourse seemingly cannot comprehend is that Western unity necessarily involves differing opinions and a careful accounting of particular interests. Macron, despite his bitter experience from multiple conversations with Putin, finds it essential to insist on keeping the channels for dialogue open; yet he also welcomed the reinvigoration of US leadership and contributes to the upgrade of NATO's containment capabilities (VTimes, February 19). Lavrov was quite surprised by Finnish Foreign Minister Pekka Haavisto's firm reiteration of the EU's common condemnation of human rights violations in Russia by, since Helsinki usually prefers to underscore good-neighborly relations (Kommersant, February 16). Russia's opportunities to exploit the differences inside the EU and between Europe and the US are much reduced—not only because of President Joseph Biden's commitment to promote Transatlantic endeavors but also because of the demarches and threats issued by Moscow (Novaya Gazeta, February 17).
Finding its self-isolation uncomfortable and incompatible with aspirations for a higher global profile, Russia is now looking for new means to split Western solidarity. Discovering that NATO defense ministers adopted an ambivalent position on troop withdrawals from Afghanistan, Moscow immediately tried to reactivate its own talks with the Taliban (RIA Novosti, February 18). This channel will hardly add value to the peace process, but it can complicate and confuse its still uncertain progress (Republic.ru, February 18). Courting the Taliban on the one hand, Moscow simultaneously recycles threats regarding the extermination of militants in Syria's Idlib province (TASS, February 18). Russia also convened a meeting of the dormant "Astana format," seeking to revive its joint patronage with Turkey and Iran over the bargaining between the Bashar al-Assad regime and some more pliable groups of the Syrian opposition (Kommersant, February 17). Additionally, Russia recently held multiple exchanges with Israel, including a phone conversation between Putin and Prime Minister Benjamin Netanyahu—ostensibly prompted by Israeli air strikes on Iranian targets in Syria, but motivated, on the Russian side, by the interest in exploiting the apparent pause in US-Israeli relations (Rosbalt, February 20). Russia's leadership assumes that the threat of domestic terrorism has been effectively eliminated, so it is possible to play with the problem of international terrorism with negligible risk (Nezavisimaya Gazeta, February 17).
Moscow can cause trouble for the West via its Middle Eastern intrigues, but the most impactful interface is still in Russia's immediate western neighborhood, comprised foremost of Belarus and Ukraine. In the former, mass protests are on hold as the opposition seeks to regroup and reorganize around a non-violent but more effective strategy (Lenta.ru, February 18). The internationally ostracized Belarusian leader, President Alyaksandr Lukashenka, tries simultaneously to present this pause as a victory and to extract more direct support from Putin by depicting aggressive interference from a hostile NATO (Nezavisimaya Gazeta, February 19). Putin loathes spending money on backing his bankrupt neighbor, but he fears the consequences of a sudden collapse of Lukashenka's regime (Carnegie.ru, February 12).
The permanent crisis in relations with Ukraine presents Russia with the easiest but also riskiest opportunity to put pressure on the West (see EDM, February 18). Moscow is worried about the EU's expanded support for economic reforms in Ukraine and the US's intentions to increase military aid to modernize the Ukrainian Armed Forces (Izvestia, February 20). Putin's recent promise, "We will not abandon Donbas," may signal dissatisfaction with the costly but increasingly unpopular occupation of parts of eastern Ukraine (Rossiiskaya Gazeta, February 17). Renewed escalation of hostilities is, thus, being prepared with the dual aim of scaring the EU about possible Russian war-making and mobilizing domestic jingoism (Ezhednevny Zhurnal, February 18). Despite all propaganda efforts, however, Russians' attitudes toward the US have improved to the point where positive and negative perceptions are about equal (Levada.ru, February 19).
The idea of a declining, divided and leaderless West is comforting for the Russian elites, who preside over the degradation of their own country. So any signs of renewed Western solidarity or possible recovery from the global crisis disturb Moscow. Much like the National Aeronautics and Space Administration's (NASA) spectacular achievement of landing the Perseverance rover on Mars has exposed the backwardness of Russia's own space program, the renewed commitment of Western leaders to work together to uphold and protect democracy has shown the futility of Moscow's pretenses to leadership in defiance of Western institutions and values. The dynamism of Western societies is ensured by embracing innovations and debating differences; while Russia's decline is driven by a corrupting autocracy, growing militarism and suppression of dissent.