Russian Aerospace Forces Journal Recommends Preventive Strike Against NATO
Publication: Eurasia Daily Monitor Volume: 18 Issue: 24
By: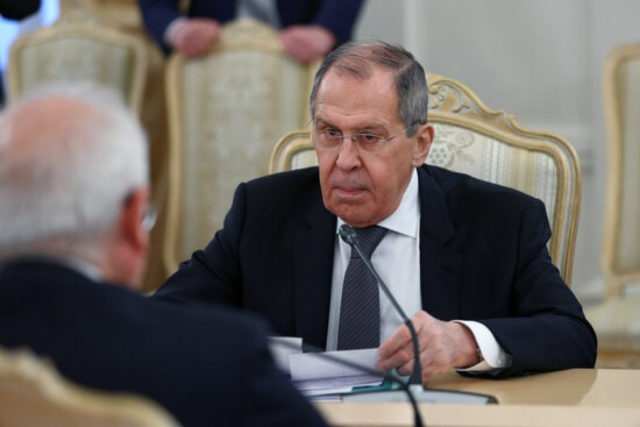 Josep Borrell, the European Union's high representative for foreign and security policy, visited Moscow in person last week (February 5)—still highly unusual during the continuing global COVID-19 pandemic. Borell's face-to-face talks with his Russian counterpart, Sergei Lavrov, initially aimed at finding ways to reverse the continuing downturn in EU-Russian relations, summarily collapsed, leading to public scandals in Moscow, Brussels and other European capitals (see EDM, February 8). Soon after the European official arrived in Moscow, news broke that Russia was expelling local diplomats from three EU member states—Germany, Sweden and Poland—allegedly for taking part in the protests against the arrest of opposition leader Alexei Navalny. The Western diplomats were apparently observing the street rallies in Moscow and St. Petersburg and filming them using mobile phones. The Russian authorities qualified this as interference in Russian internal affairs, punishable by declaring them persona non grata. News of the expulsions was leaked to the press, and Borrell's delegation learned of them from the internet in the middle of the talks with Lavrov, who confirmed the story but rebuffed his guest's plea to reconsider. A Western diplomat who was present at the table noted that after the news of the expulsions broke, the prepared agenda of the Lavrov-Borrell encounter crumpled and was instead dominated by an unconstructive discussion of the Navalny case. Afterwards, Lavrov described the EU as an "unreliable partner" as well as repudiated its anti-Russian sanctions and interference in Russia's internal affairs. Borrell was severely criticized in Europe for being too polite and accommodating while in Moscow. Speaking at the European Parliament, Borrell decreed EU-Russian relations as bad and accused Moscow of showing no interest in improving them. The high representative announced he will support new sanctions against Russia because of Navalny, declared that Russia had failed to build a modern democracy, and observed that the West and Russia are drifting apart. Germany, Sweden and Poland responded with tit-for-tat expulsions of three Russian diplomats (Interfax, February 8; Kommersant, February 10).
The EU is Russia's main trading partner, and there are serious economic problems on the horizon not directly connected with human rights or Navalny. One of these is the European bloc's new border tax on carbon, which may, in two to three years, erect a barrier for Russian oil and natural gas exports with devastating economic/financial effects that would dwarf any Western sanctions adopted in connection to Navalny or Crimea. But at the Kremlin, President Vladimir Putin's priorities are apparently shaped more by his intelligence services and generals, who insist that Navalny is part of a Western conspiracy to carry out regime change and stage a "hybrid" war against his regime (see EDM, February 4). Borrell's visit was, thus, a disaster. The opportunity to find a way to productively discuss mutually important issues was wasted, and the diplomatic atmosphere became significantly worse. Moscow never much liked or appreciated the EU's main executive body, the European Commission (of which Borrell simultaneously serves as the vice president), preferring to make deals with individual Western countries while seeking to amplify intra-bloc differences. And now, as EU-Russian relations slip back into Cold War–style zero-sum thinking, the Borrell fiasco is being promoted in Moscow as a Russian success (Vzglyad, February 8).
This new cold war with the wider West is still cold, but nonetheless a war as far as Moscow is concerned. Speaking at a press conference in the capital city, on February 11, Russia's main arms control negotiator, Deputy Foreign Minister Sergei Ryabkov, praised both Moscow and Washington for the prolongation of the New START strategic nuclear limitation treaty for five years and announced plans to continue further arms control negotiations. At the same time, however, Ryabkov announced Russia will constrain through deterrence "cynical and constant attempts by the United States to meddle in our internal affairs." According to Ryabkov, the US is aggressively interfering in Russian domestic concerns and Moscow will use military means to stop and deter that (Interfax, February 11).
Ryabkov's remarks apparently alluded to the threat of force up to and including a nuclear strike as part of a classical Cold War–era deterrence policy; but the Russian military offered more radical ideas. One retired Russian admiral, Piotr Svyatashov, told journalists, "We must stop the American navy intruding into our waters. They have been doing it in the Pacific, and now they are in the Black Sea, which is ours and nothing to do with them. We may use electronic warfare weapons and other ways to teach the US Navy a lesson" (Ura.news, February 2). The Russian embassy in Washington followed up by calling out the US Navy: "Stop reckless saber-rattling and mind your own business in US territorial waters. Peace and security in the Black Sea region does not require foreign intervention." The embassy accused the US 6th Fleet of searching for an enemy in the Black Sea by participating in exercises with the Turkish navy (Militarynews.ru, February 11).
Aerospace Forces: Theory and Practice, a military scientific journal published by the Russian Aerospace Forces (Vozdushno-Kosmicheskiye Sily—VKS), printed in its December 2020 issue an article by two Russian military analysts describing the scenario of a possible massive preventive joint Ground Forces and VKS attack against Europe. Such an assault, using cruise, ballistic and hypersonic missiles, drones, bombers, and anything Russia could deploy into battle, is described as an "integrated massive air strike." This preventive blitz must foil a US-led "multi-sphere operation" by the North Atlantic Treaty Organization (NATO) that could decimate Russian defenses. Washington has been abandoning international arms control treaties, interfering in Russian internal affairs and preparing massive aggressive actions, which Moscow must prevent by all means, Russia's political-military leadership contends. Since nuclear deterrence may not work, a preventive "integrated massive air strike" led by the Aerospace Forces is warranted. This massive preemptive blow would devastate Europe and turn NATO inept. Enemy nuclear installations and satellites in space might also be targeted. Exotic weapons like war lasers could be employed to permanently blind enemy soldiers. Despite some misgivings expressed in Moscow about such a proposed VKS "integrated massive air strike" contradicting Russia's officially purely defensive public military doctrine, the authors of the plan dismiss such concerns. They quote the first deputy defense minister and chief of the General Staff, Army General Valery Gerasimov, who calls on the Russian military to overpower its enemies by always being "one or two steps ahead" and striking first (Vva.mil.ru, RIA Novosti, February 8). A failure of diplomacy often leads to war.