What Does Russo–Serbian Strategic Partnership Mean?
Publication: Eurasia Daily Monitor Volume: 9 Issue: 179
By: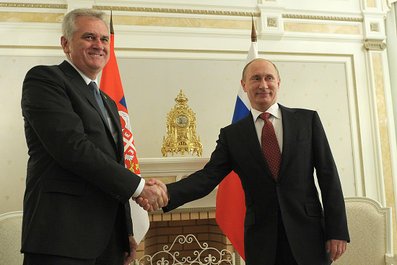 Serbia is the key target of Russian foreign policy in the Western Balkans, as Moscow's main strategic objective remains forestalling the European democratic integration in the Balkans and Eastern Europe as a whole. In that context, keeping Serbia out of NATO and the EU preserves a major outpost of Russian influence and perpetuates an unresolved status quo in the former Yugoslavia, most notably with respect to Kosovo. Meanwhile Serbia benefits from Russian trade and investment even as it becomes more dependent on those instruments of Russian policy, while other Balkan countries are struggling to break with Moscow. Although the main instruments of Russian foreign policy remain economic and connected with energy revenues and pipelines, the recent visit of Serbian President Tomislav Nikolic to Russia shows that defense collaboration is also beginning to play a role in the relationship with Russia. Nikolic clearly was looking for help from Russia in Serbia's present difficult economic environment and by all accounts he got it (Tanjug, September 10).
As a result, Nikolic indicated the existence of a strategic partnership with Russia, a vague term, because its meaning is so elastic (Tanjug, September 10). In enthusing about relations with Russia, Nikolic cited the mutual love of the two nations and the fact that a new dynamism seems to have entered into the relationship. He also indicated his dissatisfaction with Serbia's relationship with the EU (Tanjug, September 10). It is easy to see why Nikolic espouses so rosy a view about Russia. Serbia got a $1 billion loan to assist with its budget and pay for salaries and pensions. All told, Serbia will get a $300 million loan this year and $700 million next year. And this is on top of an $800 million loan to the Serbian railways negotiated by Serbia's previous government, which has not yet been implemented (Press, September 12).
Putin also negotiated cooperation on ten projects in total and discussed building the South Stream pipeline as well as more investment opportunities for Russian companies and banks in Serbia (Press, September 13). In this connection Russia is willing to support Russian companies acting as partners in the further modernization of Serbia's energy sector (Balkan Insight September 12). Putin also extolled Serbia as a good location for a transit country for European energy and stated that Moscow is looking for investment opportunities in Serbia's energy sector besides the Bantatskiy Dror underground gas reservoir (kremlin.ru, September 12). Not surprisingly, Serbian experts see these deals as strengthening Serbia's economic position and assuring its energy supply, thus rendering it less vulnerable to economic pressure (Tanjug, September 12). It has not been explained how greater dependence on Russian energy supplies will make Serbia more independent or enable it to negotiate better terms with Gazprom.
President Putin has pledged to find out why bilateral trade with Serbia declined in the first half of the year (Interfax September 11). Russia is also prepared to expand cooperation with Serbia in the fields of justice and public administration (Tanjug, September 13). Putin supported Serbia's position on Kosovo independence, which is that any attempt to proclaim such independence outside of the framework of the UN, where Moscow has a veto right, would be opposed. Resolution 1244 is therefore the only acceptable framework for resolving this issue and Russia will continue to not recognize Kosovo's independence (RIA Novosti, Interfax, September 11). Indeed, Nikolic stated at his joint press conference with Putin that Serbia still cannot accept the end of Kosovo's supervised independence or allow any change of status through the use of force as occurred in 1999 (kremlin.ru, September 12).
Finally, the defense cooperation will lead to Russian assistance to Serbia's defense industry and help it place its products in markets hitherto inaccessible to Serbia. As Rosoboroneksport pushes the sales of Serbian weapons abroad, both states will apparently collaborate in producing an armored vehicle that could then be manufactured in third countries. Since Russia is now importing armored vehicles, because its own are substandard in the eyes of its own military, it is difficult to see what Serbia would gain here. Moreover, Serbia does not have the money to modernize its defense plants to make them competitive, therefore much of this talk of cooperation appears to be wishful thinking (Vecernje Novosti Online, August 25).
A closer look at Serbia's deals demonstrates that it may be slipping into greater dependence on Russian energy and defense investment at a time when other states are beginning to or seeking to break free of that investment. Worse yet that investment brings not only dependency, but also further retards Serbia's competitive profile in the defense sector. Neither will Russian support win Kosovo back for Serbia or resolve the problem. And Moscow's self-serving invocation of UN principles is a well-known tactic. Ultimately it is difficult to see what Serbia gains from its strategic partnership with Russia other than continued backwardness and isolation.