When Will Mikheil Saakashvili Return to Georgia?
Publication: Eurasia Daily Monitor Volume: 12 Issue: 113
By: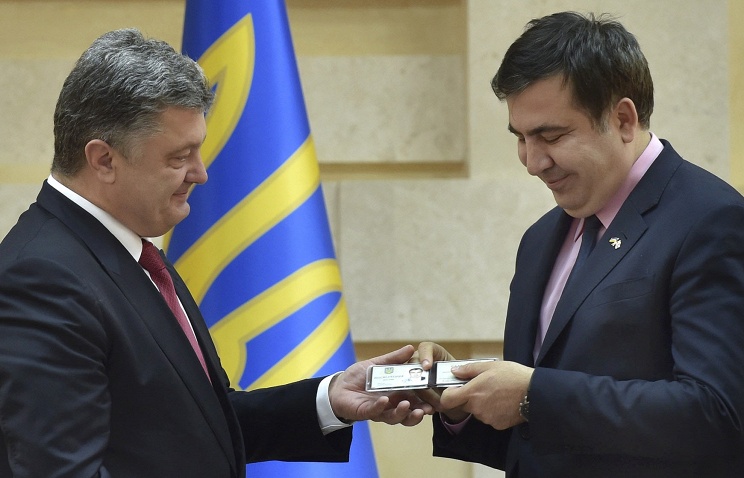 The appointment of former Georgian president Mikheil Saakashvili as the head of government administration (governor) of Odesa province in Ukraine produced a wave of speculation about his future plans in Georgia. Immediately after taking office in Odesa, Saakashvili gave several interviews for Georgian media outlets, including Rustavi 2 and Imedi. However, governor Saakashvili did not answer two key questions: whether he knew about the ongoing conflict in his party, United National Movement (UNM), and why several of its leaders had unexpectedly left (see EDM, June 5). Speaking about this topic, Saakashvili only said that "a party is a live organism—some cells die out and others replace them" (Rustavi 2, May 27).
Yet, according to this author's sources in UNM, Saakashvili had, in fact, held lengthy consultations with some leaders in his party about his possible political appointments in Ukraine. Saakashvili allegedly eyed the positions of first deputy prime minister, the head of the anti-corruption bureau and of governor of one of Ukraine's provinces. UNM leaders warned Saakashvili that if he had to renounce his Georgian citizenship to take a position in the Ukrainian government, it would be hard to explain such a move to party members. However, after the scandalous split in UNM earlier this month, Saakashvili felt he now had a "free hand" and could justify his decision "to leave Georgian politics for the time being."
The former president emphasized in his interviews for the media that he was leaving Georgian politics only "temporarily." In particular, Saakashvili said that he did not intend to apply for the revocation of his Georgian citizenship even though he has received a Ukrainian passport (Myvideo.ge, June 5). Georgian law unequivocally forbids holding dual citizenship. Former chairman of the Constitutional Court Avtandil Demetrashvili told Jamestown: "Formally, Mikheil Saakashvili can be stripped of Georgian citizenship only by a special decree of the president on the basis of a report of the Public Service Agency. The agency, in turn, is obliged to provide an official reason for why it appeals to the president with such a request" (Author's interview, May 26).
Only official evidence proving that a Georgian citizen acquired the citizenship of another state may prompt the government to strip such an individual of his or her Georgian citizenship. The law seems clear, but Minister of Justice Tea Tsulukiani said that her ministry, of which the Public Service Agency is a part, "will not hurry with such a request to President [Giorgi] Margvelashvili." Tsulukiani explained that the threat of stripping his citizenship "should hang over Saakashvili like a sword of Damocles" (Ekhokavkaza.com, June 1). Moreover, this way Georgian authorities can reserve the right to request that Kyiv "extradite Mr. Saakashvili back home" since four criminal cases were launched against him on charges of embezzlement and abuse of power (Zn.ua, April 6).
However, judging by Saakashvili's own statements, he is even less concerned about these criminal charges than about losing his Georgian passport. Saakashvili pointed out that when former Minister for Foreign Affairs of the Soviet Union Eduard Shevardnadze returned to Tbilisi from Moscow on March 7, 1992, he was stripped of his Georgian citizenship by Zviad Gamsakhurdia, the first president of the newly interdependent country (Rustavi 2, May 31). However, considering that since a military coup had taken place in Tbilisi in January 1992, the majority of political parties and public elites demanded Shevardnadze's return home and nobody cared about whether he had a Georgian passport. "Bidzina Ivanishvili also was not a Georgian citizen in 2011, when he set up the coalition Georgian Dream, launched public protests and became the prime minister," Saakashvili reminded journalists. Saakashvili had stripped billionaire Bidzina Ivanishvili of his Georgian citizenship as soon as the Public Service Agency informed him that Ivanishvili held a second, French passport (Mir24, October 11, 2011).
Thus, Mikheil Saakashvili clearly signaled that he was not rejecting the idea of returning to Georgia at some point. But this would happen only after "people demand his return" (Rustavi 2, May 31)—in other words, when an extraordinary situation takes place in Georgia and no one can afford any longer to pay attention to such formalities.
Saakashvili apparently is hoping that such an extraordinary situation may come about in the nearest future, so he decided not to drop his Georgian citizenship, yet. "Ukrainian laws allow [an individual] to retain a second citizenship for two years," the former Georgian president noted, implying that he expected to see big changes taking place in his country over this period of time. "Georgian citizenship for me now means six square meters of a prison cell. I do not intend to be in prison when I can be useful to Ukraine, Georgia and all Europe," Saakashvili said. At the same time he refuted assertions that he was "lowering his rank" after accepting the post of governor of Odesa. "Former presidents either write memoirs or are forgotten by all. I became a governor. Is that really a lowering of rank?" Saakashvili asked rhetorically (Imedi, May 31).
While speaking to journalists, he also signaled in a variety of ways that he would not back down from his reformist program in Odesa and would attempt to implement reforms, analogous to the reforms he had passed in Georgia during his presidency. "It smells of the Soviet Union in here," the new governor said when he entered his new office in front of TV cameras. "But I promise to change everything; the icon of Saint George will hang on the wall of my office, and there will be fewer telephones on my desk," he declared (Rustavi 2, May 31).
Saakashvili plans to use his powers as governor of Odesa region to help Georgia establish a new transportation corridor to Europe via ferry link between Poti and Odesa city and to construct a new highway to Bucharest, Romania (Rustavi 2, May 31). With this announcement he sends another message to his compatriots in Georgia that he has not forgotten his "little homeland," but may return there only if the government is changed through another revolution. Only then, presumably, all presidential decrees about stripping him of his Georgian citizenship and the criminal cases against him will be dropped.