Why Did the Chief Prosecutor of Georgia Step Down?
Publication: Eurasia Daily Monitor Volume: 10 Issue: 206
By: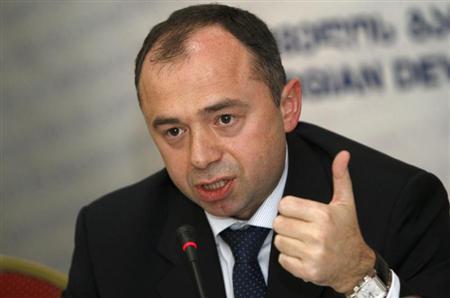 The resignation, after November 17, of Georgia's chief prosecutor, Archil Kbilashvili, was to be expected: all top officials in the government will have to step down following the inauguration of the newly elected president, Giorgi Margvelashivili (https://www.civil.ge/eng/article.php?id=26665). According to the Georgian constitution, after the new president takes the oath, the ruling government is obligated to resign in order to give the parliamentary majority and the prime minister the opportunity to form a new government. Kbilashvili, as a member of the cabinet, would therefore also need to step down. But the chief prosecutor apparently wanted to make a sensation out of his resignation.
Kbilashvili called a special press conference in advance, on November 7, where he declared: "I am stepping down from the position of Chief Prosecutor. I want to state that I have no differences with the future Prime Minister Irakli Garibashvili, but we have differences in terms of priorities and actions that need to be taken in the law enforcement sphere" (https://www.civil.ge/eng/article.php?id=26665).
Moreover, Kbilashvili told reporters that he failed to reach an agreement with Prime Minister Bidzina Ivanishvili about the speed of reforms in the prosecutor's office in order to complete its transformation into a "truly European institution." However, the resigning chief prosecutor apparently has a peculiar understanding of the role of this state institution in Europe. In the same remarks to journalists, he said that he wanted to "strengthen the supervisory authority of the prosecutors' office," thereby effectively returning the office to the role it played in the Soviet Union.
The background of Archil Kbilashvili and the story behind several criminal cases that were initiated by the prosecutors' office in the past year shed light on the true motives of why he wants to step down. Kbilashvili, considered by many observers to be one of Georgia's most successful lawyers, was Ivanishvili's chief legal counsel until the latter entered politics in the fall of 2011. After assuming an active political role, Ivanishvili included his lawyer in the vanguard of his movement, Georgian Dream, which proclaimed the need to oust President Mikheil Saakashvili in a peaceful way through democratic elections.
In his first political statement as a member of Georgian Dream, Kbilashvili made a strange remark suggesting that politicians have to be not only sufficiently wealthy, but also possess a certain level of "sexual maturity" (https://news.ge/ge/news/story/4299-archil-kbilashvili-ivanishvilis-partiashi-seqsualurad-momwifebuli-mivida). Georgian experts are still wondering what exactly Kbilashvili meant by that statement and why he made it during his first speech as a politician.
After the victory of the Georgian Dream coalition in the parliamentary elections on October 1, 2012, Ivanishvili appointed his lawyer to serve as Georgia's chief prosecutor. In many countries, such a transition would have compromised the person professionally. However, Prime Minister Ivanishvili wanted to entrust the execution of his most important electoral promise—"restoring justice"—to the lawyer whom he trusted most of all.
But this burden appeared to be too heavy for Kbilashvili. Thousands of former officials in the administration of President Eduard Shevardnadze (in office from 1995 to 2003), as well as many businessmen who considered themselves unjustly oppressed during Saakasvhili's presidency, started to demand from the prosecutors' office a "restoration of justice." The petitioners wanted to reclaim their property that was confiscated within the framework of "legal deals" with the previous prosecutor's office (https://www.apsny.ge/2013/soc/1384035578.php). In the majority of cases, these agreements were well-crafted as part of investigations into the embezzlement of government funds or tax evasion. Altogether, the claimants demanded restitution payments of about $5 billion, which was more than the budget of the country for 2013. The government prosecutors failed to solve even one case in several thousands, thereby evoking the claimants' ire.
Additionally, the prime minister openly expressed his displeasure with Kbilashvili's decision to exempt the former chief of Prison Number Eight in Gldani, Vladimir Bedukadze, from criminal prosecution. The prison chief filmed the torture of inmates and then handed these videos to political groups opposed to President Saakashvili. Ivanishvili reckoned that pardoning Bedukadze gave another reason to Saakashvili's team to accuse the Georgian Dream coalition of conspiring with the prison chief. The video from Gldani prison played a significant role in the victory of the coalition in the 2012 parliamentary elections (https://www.civil.ge/eng/article.php?id=26255).
Kbilashvili was also accused of being unable to present any hard evidence against those of Saakashvili's closest associates who were charged with serious crimes. A Georgian court refused to apply any sanctions against the mayor of Tbilisi, Gigi Ugulava. Moreover, the former minister of defense and former minister of interior affairs, Bacho Akhalaia, was exonerated on several charges (https://www.civil.ge/eng/article.php?id=26655).
Finally, as chief prosecutor, Kbilashvili also failed to fulfill his public promise to reveal the details of the death of former Prime Minister Zurab Zhvania, who was found dead on February 3, 2005, at a safe house in the central part of Tbilisi (https://www.civil.ge/eng/article.php?id=26589). Kbilashvili had repeatedly stated publicly that within a few days he would reveal new sensational details uncovered in the investigation of Zhvania's death; but time and again, including at his last press conference, he provided nothing new.
Analyst Iosif Tsiskarishvili told Jamestown that "it is unlikely that only Archil Kbilashvili should be held responsible for the failures of the prosecutor's office [under the government to of Prime Minister Ivanishvili]. There are more influential people that were above the chief prosecutor, and he could not do anything without their support" (Author's interview, November 10).
Kbilashvili probably agrees with this conclusion himself. He understands perfectly well that the political order to "neutralize" Saakasvhili's team, including questioning of the former president himself (https://www.civil.ge/eng/article.php?id=26589), was impossible to implement in a lawful manner because many of the Ivanishvili government's accusations were superficial and had the character of "selective justice." So, Kbilashvili's public resignation—rather than quietly stepping down—can be regarded as the former chief prosecutor's diplomatic protest against Prime Minister Ivanishvili.
A final point is notable specifically for its absence. At his November 7 press conference, Kbilashvili at no point said that he would be returning to his job as a lawyer for the "most successful Georgian"—the expression that supporters of the Georgian millionaire Ivanishvili use to refer to him. So far it is unclear what Kbilashvili's future career or political plans will be.