Will the EU Slap Sanctions on Central Asia?
Publication: Eurasia Daily Monitor Volume: 20 Issue: 81
By: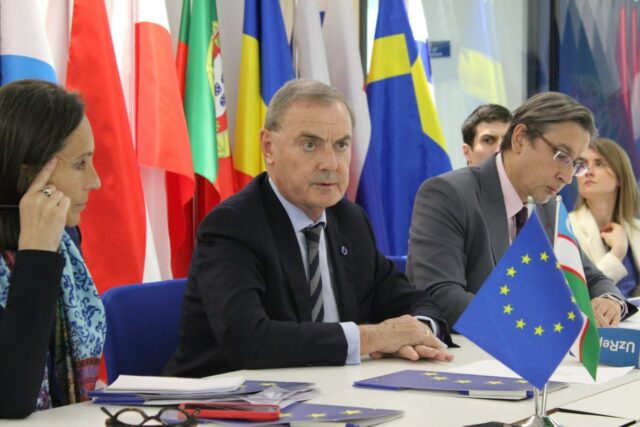 As the European Union prepares to deliver its 11th set of sanctions against Russia, the Central Asian states cautiously await the details of this next round of measures. On May 10, it was reported that the new EU package will target companies from third-party countries that are helping Russia bypass sanctions. The countries on this list include Iran, China and two Central Asian states—Kazakhstan and Uzbekistan (Gazeta.uz, May 10).
On May 5, some reports revealed that the new measures will close loopholes within the current sanctions regime and strengthen the EU's ability to enforce existing ones by targeting the Central Asian states, among others. (Kursiv Media, May 5). For her part, European Commission President Ursula von der Leyen partially confirmed these reports when she recently stated: "If we see that goods go from the EU to third countries, and then get to Russia, we could propose to member countries to sanction the export of these goods" (Gazeta.uz, May 10).
In the past few months, Kazakhstan, Kyrgyzstan and Uzbekistan have each become primary destinations for sanctions officials from the EU, United States and United Kingdom, who visited these countries to warn these governments against helping Russia circumvent sanctions (State.gov, February 28; Radio Free Europe/Radio Liberty, March 28; May 3). Some saw these visits as the EU's last non-coercive resort before levying secondary sanctions. Thus, the threat of falling under Western sanctions has become one of the biggest foreign policy concerns for the Central Asian states this year.
Moscow's war against Ukraine has opened up new opportunities in trade between Central Asia and Russia. In 2022, the trade turnovers between Russia and Kazakhstan, Kyrgyzstan and Uzbekistan grew significantly. Kazakhstan's exports to Russia saw a 25-percent increase (Masa Media, April 3). Kyrgyzstan's exports increased by 150 percent, reaching a historic high. And Uzbekistan's trade with Russia also saw a boom. By means of a 47-percent increase in exports, Russia became Uzbekistan's largest trading partner in 2022 (Current Time TV, April 1). These three countries along with others, such as Turkey and Armenia, were vital in helping Russia maintain similar export levels to 2021 throughout 2022.
However, this increase in trade volume between Russia and Central Asia is not what brought the specter of sanctions to the region. The EU and US have insisted that the problems are related to the export of particular goods that are aiding Russia's invasion of Ukraine. David O'Sullivan, the EU special envoy for sanctions enforcement, reiterated during his recent visits to Kazakhstan, Kyrgyzstan and Uzbekistan that the EU is concerned about the export of items containing microchips to be used in the production and repair of military equipment (Radio Free Europe/Radio Liberty, March 28; Astana Times, April 25; Tashkent Times, April 28).
On April 27, during his visit to Uzbekistan, O'Sullivan stated: "Any legal export to Russia is an internal affair of these [i.e., Central Asian] countries; it's none of our [i.e., EU's] business" (Kun.uz, April 27). The reports suggested that Brussels is primarily concerned about the re-export of washing machines and automobiles from Central Asia to Russia, where these products are dismantled and their parts are used for repairing tanks and military drones (Orda.kz, March 30).
These reports gained clarity when US Assistant Secretary of the Treasury Elizabeth Rosenberg, US Assistant Secretary of Commerce Matthew Axelrod and UK Office of Financial Sanctions Implementation Director David Reed visited Kazakhstan and Kyrgyzstan in April 2023. Axelrod stated that it is not the export of "iPhones and washing machines that are causing Western countries to consider sanctions," but rather "specific elements of computer technology that are used for power supply, as well as for navigating missiles and drones" (Ulys Media, April 24).
In this Axelrod is quite right, as there are plenty of reasons for concern regarding Central Asia's exports of such technologies to Russia. In 2022, Kazakhstan exported $30 million-worth of washing machines to Russia; before that, it was zero. Additionally, the country's export of monitors increased by 300 times, whereas the value of exported semiconductors jumped from $12,000 in 2021 to $13.7 million in 2022 (Current Time TV, April 1).
In 2022, Kyrgyzstan began exporting to Russia electric detonators, detonating cords and percussion caps, which can be used in anti-personnel mines and in the production of cartridges for pistols and machine guns. It also exported 4,000 tons of spare parts for airplanes, helicopters and unmanned aerial vehicles, which have both civilian and military purposes. Moreover, Kyrgyzstan began to supply Russia with telescopic sights for weapons as well (Kaktus Media, February 24).
Overall, these are the primary exports that have drawn the attention of the EU, US and UK to the Central Asian states as possible targets of secondary sanctions. Thus far, Brussels has limited itself to issuing cautionary statements and raising awareness among the Central Asian authorities on Western sanctions and their application. And this is a delicate balancing act, as it is clear that sanctions risk alienating Central Asia and pushing it further into Russia's, or for that matter China's, orbit.
The threat of Western sanctions is being perceived differently in each country. Kyrgyzstani Economic Minister Daniyar Amangeldiev has promised to follow the sanctions regime with the caveat that Bishkek cannot always guarantee that sanctioned goods are not being re-exported to Russia by private entities (Kloop.kg, April 1). Kazakhstan has gone a step further, when, on April 1, the government launched a system that will monitor the import and export of all goods and thus complicate the re-export of sanctioned items (Reform.by, May 10).
Ultimately, the common thread in these varied reactions is the fact that the Central Asian states are between the hammer and the anvil when it comes to complying with Western sanctions and trading with Russia, their largest trade partner and primary security guarantor. All existing evidence suggests that these states may soon fall victim to secondary sanctions if they do not stop aiding Russia's war efforts. However, measures seems to be underway to right the ship, as the worst-case scenario of eventually levying these sanctions could significantly damage political and economic ties between Central Asia and the West.