Will the Return of Ethiopia's Military to Somalia Destroy al-Shabaab or Revive It?
Publication: Terrorism Monitor Volume: 9 Issue: 44
By: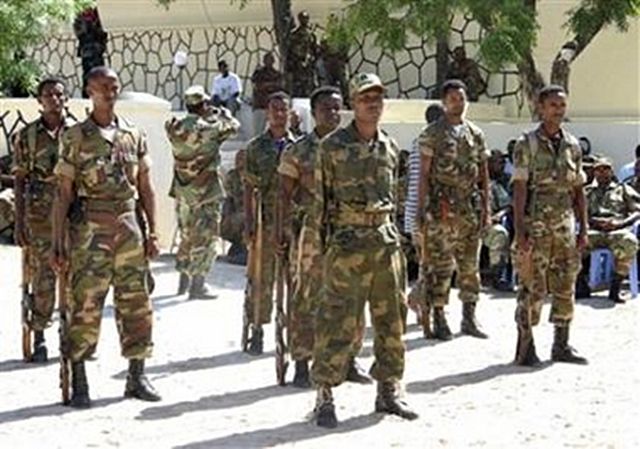 Just 40 days after Kenya's military intervention against the militant al-Shabaab group began in Somalia there are indications that the Kenyan effort may become part of a joint operation with African Union and Ethiopian military forces to eradicate terrorist elements in the Horn of Africa. The African Union has backed the Kenyan invasion of southern Somalia and has also invited the Ethiopian army to join the African Union Mission in Somalia (AMISOM), currently consisting of military contingents from Uganda and Burundi.
The Ethiopia army crossed the border into Somalia on November 19, with more than 20 Ethiopian military vehicles supported by helicopters immediately seizing towns in central Somalia close to al-Shabaab bases. Ethiopian forces created a large military base on the outskirts of Guri'el, Abduqwaq and Balanbal near the Somalia-Ethiopia border (Reuters Africa, November 19; Somalia Report, November 19).
The Ethiopia intervention began before the African Union invited Ethiopia troops to join African Union peacekeepers in Somalia in stabilizing Somalia. Ethiopia's current involvement is intended to create a new front against al-Shabaab in the Ethiopia-Somalia border region by working with local clans and factions.
Knowing the results of Ethiopia's bloody invasion of Somalia in 2006, the AU's invitation to dispatch Ethiopia troops to Somalia will be another counterproductive and undiplomatic move according to Abdihakim Aynte, a Somali political analyst in Nairobi. "The African Union seems to ignore the last experience of Ethiopian's business with Somalia," Aynte told the Jamestown Foundation. [1] The U.S. State Department also seems wary of the outcome of another Ethiopian invasion. Johnnie Carson, the State Department's top Africa policymaker, said: "Ethiopia went into Somalia some four and a half years ago and stayed for approximately two and a half to three years. That effort was not universally successful and led in fact to the rise of Shabaab after they pulled out" (McClatchy Newspapers, November 22; The Standard [Nairobi], November 22).
Ethiopia's military intervention in Somalia will not please the current Transitional Federal Government (TFG) president Shaykh Sharif Shaykh Ahmad, a former leader of the Islamic Courts Union (ICU), ousted by the Ethiopians in 2006. Abdihakim Aynte says President Shaykh Sharif Shaykh Ahmad and the TFG do not have a choice in the matter. Somali Defense Minister Hussein Arab Isse welcomed the entrance of Ethiopian forces to eradicate al-Shabaab but warned Ethiopia against having any other objectives that damage the reputation of the country: "We welcome Ethiopian troops…and any other country that contributes forces to fight against the Shabaab militants, as long as they do not violate our sovereignty" (AFP, November 21).
However, Aynte fears that Ethiopia might strengthen al-Shabaab, which he believes is currently at its weakest point. Because of Ethiopia's bitter history with Somalia, Aynte said that al-Shabaab might start to engage nationalist fighters who consider Ethiopia an old enemy.
All foreign interventions in post-independence Somalia, including Ethiopia's 2006 invasion, have ended in a bad way. This is unsurprising as Somalis are notoriously xenophobic in terms of intervention in their own affairs, especially interference from Ethiopia, which they view inherently as their arch nemesis. Al-Shabaab has appealed to these nationalist sentiments since 2007.
Macharia Munene, Professor of International Relations at Nairobi's United States International University (USIU) said that some al-Shabaab members might raise the unforgiving and bloody wars between the two countries as a rallying point: "Somalia is currently a big mess. For me, the Somali people are wiser than that and such sentiment will not work for al-Shabaab." [2]
Admitting that Ethiopia's 2006 invasion had helped the creation of the Islamic insurgency by giving it a strong popularity, Professor Munene said the times have changed. "Since then al-Shabaab has done nothing good for Somalis other than [inflict] severe suffering. Ethiopia withdrew from the country and they still keep [mounting] suicide attacks and killing innocent Somalis and that is why Somalis will not support al-Shabaab in this war." According to Munene, the AU does not have a good reason to deny Ethiopia's help in improving the Somali situation because the AU doesn't have enough resources and manpower to confront the current situation: "Ethiopia wants to do the job as a volunteer so the AU should be happy to use the Ethiopian army and military equipment."
However, Munene's colleague Hannah Macharia, international relations lecturer at USIU, said the Ethiopia invasion might complicate the conflict. She noted that in 2006 al-Shabaab existed mainly as a militia, but the Ethiopia invasion radicalized them as they felt that their country was under occupation. As a result of that, al-Shabaab was able to begin recruiting Somalia across the world. [3] "Partly, the Ethiopia invasion will complicate the whole process because the two-year Ethiopian presence in Somalia was unpopular and coalesced support for al-Shabaab because of indiscriminate mortar fire in the towns," she observed.
Professor Munene said that the previous aim of the AU was to maintain the position of the Somali TFG, but the common goal now is to defeat al-Shabaab militants. Munene believes the defeat of al-Shabaab will require the effort of every country and state.
Al-Shabaab responded to the Ethiopian action by saying the incursion was required after the
Kenyan Army, a "non-combat tested yet highly bumptious force," had failed in its attempt to secure southern Somalia due to fierce resistance from the mujahideen of al-Shabaab. The movement further appealed to Somali nationalism to increase its numbers: "We… urge the Muslims of Somalia to set their differences aside and unite against their common enemy as they have done in the past in order to defend their country as well as their religion from the aggressive invasion of the allied African crusaders. You are facing a barbaric enemy that has no appreciation for the sanctity of human life; be firm and steadfast against them and fight them with all your might." [4]
With troops from four African nations now operating on Somali soil backed by the military power of the United States, al-Shabaab is certain to try to capitalize on traditional Somali xenophobia and nationalism to preserve and even expand the radical Islamist movement.
Muhyadin Ahmed Roble is a Somali journalist who writes for The East African, AfricaNews and Eurasia Review as a correspondent based in Nairobi.
1. Author's interview with Abdihakim Aynte, Nairobi, November 22, 2011.
2. Author's interview with Professor Macharia Munene, United States International University, Nairobi, November 24, 2011.
3. Author's Interview with lecturer Hannah Macharia, United States International University, Nairobi, November 24, 2011.
4. "A Call for Unity against Occupation of Somalia by Crusaders," Press Office, Harakat al-Shabaab al-Mujahideen, November 26, 2011.