Will the West Bail out Ukraine?
Publication: Eurasia Daily Monitor Volume: 12 Issue: 37
By: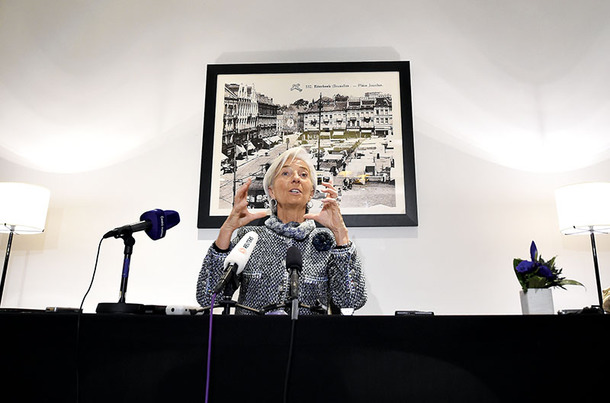 The war in Ukraine's eastern provinces of Donetsk and Luhansk did not stop when 2014 came to a close. Therefore, the $27 billion two-year assistance package, promised to Ukraine by the West last May, has turned out to be insufficient to keep the country afloat. In mid-February 2015, the leading industrial nations and international financial institutions came up with a new package to the tune of $40 billion. However, Ukraine may need even more than that: The Kremlin continues its hybrid war unabated, and the hostilities, in turn, are destroying the Ukrainian banking sector and the national currency, along with infrastructure in Ukraine's industrial heartland, scaring investors and impoverishing the Ukrainian people. Moreover, if the conflict escalates, Ukraine may fail to receive the much-needed international aid.
On February 12, the International Monetary Fund (IMF) announced it had reached a preliminary agreement with the Ukrainian government on a four-year Extended Fund Facility (EFF) worth $17.5 billion. If the IMF executive board approves the new loan, which is expected on March 11, it will replace the $17 billion Stand-By Arrangement approved last spring, of which Ukraine received $4.6 billion last year. In order to qualify for the new loan, Kyiv has to adopt laws to speed up structural reforms, amend the state budget for this year so as to make it more realistic, and cut the deficit of the state-owned oil and gas behemoth Naftohaz Ukrainy through increasing utility tariffs for households several fold (Segodnya.ua, Imf.org, February 12). The government has, thus far, been on track to meet those conditions.
With the new loan from the IMF, a total assistance package for Ukraine is likely to reach $40 billion over four years, IMF head Christine Lagarde said (Imf.org, February 12). The package is to include 2.1 billion euros ($2.4 billion) from the European Union; $2 billion in loan guarantees from the United States; several billion dollars a year from the World Bank, the European Bank for Reconstruction and Development, and the European Investment Bank; as well as hundreds of millions of dollars from the governments of Canada, Japan, Switzerland and possibly several other rich countries.
Contrary to expectations, the announcement of the new assistance package did not strengthen confidence in the national currency, the hryvna, which lost almost half of its value last year. Between February 12 and February 26, the hryvna's official exchange rate depreciated from 25 hryvnas per dollar to 28 (Bank.gov.ua, accessed on February 26). On the black market, the exchange rate fell to almost 40 hryvnas per dollar by the end of February. This is an indication that local firms are transferring their funds to safer countries, and foreign investors continue leaving Ukraine. Last year, the total volume of foreign direct investment in the country since independence fell by $11 billion to $46 billion (Ukrstat.gov.ua, accessed on February 25). The hryvna is likely to stop falling next month if Ukraine receives the IMF's first EFF tranche on time, but that will most likely not be enough to restore confidence.
Along with convincing the West that it is serious about reforms in order to qualify for the assistance, the Ukrainian government will also have negotiate hard with creditors to restructure its debt. The $40 billion package mentioned by Lagarde includes $15 billion of debt to be restructured over four years, Ukraine's US-born Finance Minister Natalie Jaresko revealed in a recent interview (BBC News, February 19). Some creditors may be less willing to help Ukraine than others. In particular, Russian Finance Minister Anton Siluanov has ruled out restructuring, making it clear that Russia expected Ukraine to repay its $3 billion loan to Moscow on time. Furthermore, he recalled that Russia was entitled to demand early repayment if Ukraine's debt exceeded 60 percent of GDP, which has likely happened (RIA Novosti, February 10). Ukraine is scheduled to repay the $3 billion next December. It was borrowed by former President Viktor Yanukovych at the height of the Maidan revolution in December 2013.
Ukraine's central bank reserves fell to just $6.4 billion by February, the lowest since 2000, from the peak of $38.4 billion, accumulated in spring 2011. Losses of commercial banks reached record highs last year, and more than 30 banks went out of business (Bank.gov.ua, accessed on February 26). Even if Ukraine eventually receives the promised $40 billion, that amount may not be enough to restore the country after the war, which is continuing despite the ceasefire. So Ukraine is forced to spend more money on defense, and more of the country's local infrastructure continues to be destroyed.
George Soros estimated recently that Ukraine needs $50 billion in assistance (The New York Review of Books, February 5). In addition, the IMF may withdraw its support if the militants take more territory or if an open conflict with Russia erupts, according to a recent report by Bloomberg (Bloomberg, February 26). It is not clear if the West has a Plan B to fall back on if the war is not stopped soon.