Will There Be War? A View From Belarus
Publication: Eurasia Daily Monitor Volume: 19 Issue: 20
By: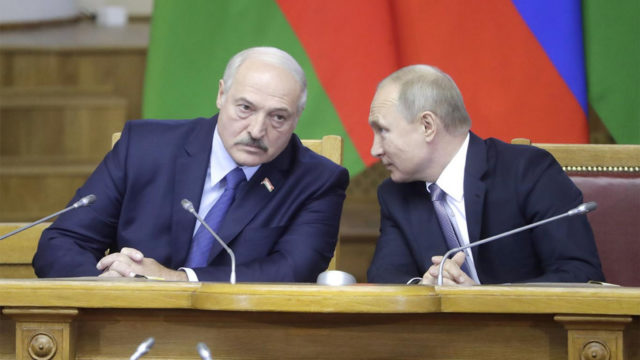 The showdown over Ukraine continues to keep experts guessing. On the one hand, warnings that the invasion could start at any time emanate from Washington. On the other hand, there are multiplying suggestions that such a development remains a low probability; this accumulating evidence comes mostly from Europe, including Ukraine's northern neighbor, Belarus.
One such example originated directly from Belarusian President Alyaksandr Lukashenka, in his February 4 interview to leading Russian television showman Vladimir Solovyev. The latter asked, "Do you see the probability of a large war in Europe? First with Ukraine, then with the rest of Europe?" "No," retorted Lukashenka. In his opinion, the West would not sacrifice its living comfort; and then "before they turn around and send some troops here, we will already be at the English Channel; at that point, our shaggy friend [apparently referring to the United Kingdom's Prime Minister Boris Johnson] will cross the Channel on a schooner" and raise his hands up in surrender. "And they know this in advance," the Belarusian leader underscored (YouTube, February 5). Several days later, Josep Borrell, the European Union's chief diplomat, also expressed his utmost doubt that war was looming (Deutsche Welle—Russian service, February 9). And pointedly, Belarusian Foreign Minister Vladimir Makei underscored on Wednesday (February 16) that "[n]ot a single soldier, not a single piece of military equipment from the Russian Federation" will stay behind in Belarus after the conclusion of their joint Allied Resolve 2022 exercises, scheduled to end on February 20 (TASS, February 16).
"It looks very much like the Kremlin and Washington are waging an unspoken, coordinated campaign to pressure [Ukrainian President Volodymyr] Zelenskyy into complying with the so-called Minsk agreements. The United States is playing the role of a […] provocateur, inflating hysteria around a possible Russian invasion of Ukraine, and Russia's role is to create a picture that confirms […] the possibility of a military conflict," wrote Arseny Sivitsky of the Minsk-based Center for Strategic and Foreign Policy Research (For Strategy, February 2). Artyom Shraibman, a non-resident scholar with the Carnegie Institute for International Peace, shared a similar idea. In an interview with the Belarusian Service of Radio Liberty, he observed that "if Zelenskyy had changed his position on the Minsk agreements in response to pressure from Paris or Berlin, he would have been devoured by political opponents. It would be a shameful surrender under pressure… But it is a different thing to do this against the backdrop of Russian troops at the border." Shraibman also thinks that those troops will leave the territory of Belarus no later than one week following the end of the ongoing Russian-Belarusian drills (Svaboda.org, February 10).
Yet another non-resident scholar at Carnegie, Andrei Movchan, cites a February 9 report by the Swedish Center for Russian Studies, which suggests that Russian forces based near the border with Ukraine do not include special logistics or electronic warfare and engineering units, and that few units of the Russian air force are there. These and other considerations make invasion unlikely (Facebook.com/andrei.movchan, February 10).
One recurring factor giving additional credence to the low-probability-of-war thesis is Сhina. Late last year, as a result of a dispute between Kyiv and Warsaw over trucking permits, Ukrainian Railways introduced a ban on the transportation of goods from Russia, Kazakhstan, China and other countries to Poland, effective December 1, 2021 (RailFreight.com, February 1). Two days later, the restrictions were lifted for the transport of coal from Russia. As of early February, those restrictions have been canceled altogether. According to Zbigniew Tracichleb, who presides over Polish Railway Lines (PKP), that decision had everything to do with transit to and from China—that is, to the investment surge related to China's Belt and Road Initiative (Polskie Radio, February 10). Definitely not by accident, Ukraine's decision to reopen its rail network to cargo trains from China coincided with news of a pending Chinese investment into a large logistical center in Poland (Business Insider—Polish service, February 2) and with the launching of the modernization project of the M1 highway in Belarus worth $2 billion–2.5 billion (Sputnik.by, February 9). It is unlikely that China would make all these regional investment decisions under the threat of imminent war in neighboring Ukraine. Contacts with Russian leadership apparently have not compelled the Chinese to change their mind.
Finally, a recent phone call by General Mark Milley, the Chairman of the Joint Chiefs of Staff of the US Armed Forces, to Belarus's Chief of the General Staff of the Armed Forces Major General Viktor Gulevich (Mil.by, February 10) is hardly a sign of imminent war either. Regardless of the content of the conversation, one can interpret the call as the US paying respect to Belarus's sovereignty. Moreover, Belarus promptly responded to a request from Lithuania, Latvia and Estonia to explain the military activity on its territory and provided answers within the framework of the Organization for Security and Cooperation in Europe's (OSCE) 2011 Vienna Document. Minsk's official response claims that the total number of troops and weapons participating in the current Allied Resolve exercise does not exceed the notification thresholds set by that document. The response also pointedly notes that all Russian military units are to leave the territory of Belarus after the exercise, and "the order for the withdrawal of troops is in the process of coordination." According to the Belarusian authorities, they provided sufficient information about the drills and invited observers and media outlets from 17 countries. The respective invitations to all three Baltic States were sent on February 9 (Svaboda.org, February 11).
In summary, as viewed from Belarus, there are at least as many signs that there will be no war as there are to suggest that large-scale hostilities are inevitable.