Xi's Dilemma: The Risk of Waging War Against Taiwan
Publication: China Brief Volume: 23 Issue: 18
By: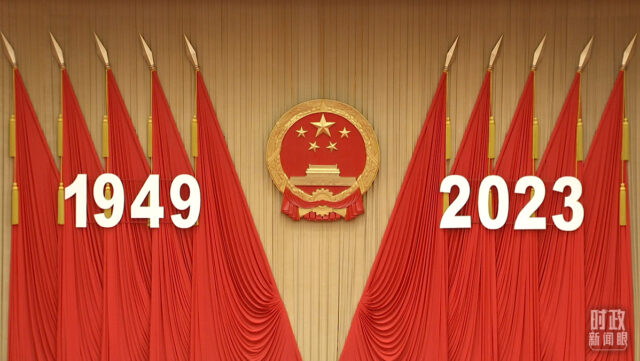 Chinese President Xi Jinping (习近平) faces a dilemma. Around a dozen of his protégés have been found to be so corrupt that the Chinese Communist Party (CCP) General Secretary and Commander-in-Chief is no longer sure of the efficacy of the PLA's trump-card weapons (BBC Chinese, September 22; VOAChinese, September 17). These men populate the upper echelons of the People's Liberation Army's (PLA) Rocket Force and the Central Military Commission Equipment Development Department, which handle China's missile and nuclear hardware and the procurement of top-level equipment for ICBMs, nuclear submarines, and spatial vehicles.
State-of-the-art armaments under the control of the Rocket Force include the Dongfeng-41 intercontinental ballistic missiles which are capable of hitting the US mainland, and the Dongfeng-26 "aircraft-carrier–killers." This is significant, as such ships are expected to converge on the Taiwan Strait theater in the event of a Chinese invasion of the self-ruled island (USSC.edu.au, May 23; 163.com, April 28). In the past month or so, military disciplinary authorities have "disappeared" Defense Minister General Li Shangfu (李尚福) (a former head of the Equipment Development Department), along with a number of senior officers in the Rocket Force. Other victims of this apparent purge in departments handling procurement and logistics include Rocket Force Commander General Li Yuchao (李玉超) and Political Commissar General Xu Zhongbo (徐忠波) (BBC Chinese, September 15; SCMP, July 31).
Chinese social media also contains reports that a sizable number of generals in the Rocket Force and other military divisions are reluctant to follow Xi Jinping's repeated calls for "war preparations" against Taiwan (Zhihu, May 16; Rfa, June 13). The reason is simple: China's leadership cannot guarantee a triumph over Taiwan's fast–modernizing forces, due to the doubtful effectiveness of the PLA's top-tier arsenal. This is exacerbated by the compounding factor that both the American and Japanese militaries would be directly involved in thwarting any Taiwan–bound PLA forces. The Philippines, Australia, and potentially other Asian countries would also provide logistics support to US forces, such as allowing US vessels and fighter jets to use their naval and air force bases (ISW, March 13).
The PRC military seems to have toned down its aggressiveness for now. When the Philippine navy dismantled a huge meshwork of floating obstacles that Chinese maritime militiamen had placed around the contested Scarborough Shoal (also known as Huangyan Island, 黄岩岛) to bar the activities of Filipino fishermen, Beijing's reaction was relatively non-combative. While the Party hotly protested Manila's actions, the PLA stopped short of confronting the Filipino navy, avoiding a head-on collision (Al Jazeera Chinese, September 27; Radio French International Chinese, September 25). This incident took place shortly after a massive war game not far from Taiwan that was jointly conducted by the United States, the Philippines, Australia, and Japan (News.USNI, September 5; The Daily Tribune, September 3).
Xi Wants a Speedy Solution to the Taiwan Issue
Paramount leader Xi is eager to absorb Taiwan into the motherland while he remains healthy and in command of the Party-state-military apparatus. This is despite the deterioration of China's local security environment, which the PRC views as due to US-led-containment. In theory, Xi could delay military action until the end of his expected fourth five-year term in office—which would expire at the 22nd Party Congress in 2032. However, Xi's preference is towards earlier action, before the Biden administration can further consolidate its "encirclement" of China (Radio French International Chinese Edition, April 29).
On Thursday, September 28, President Xi delivered a message at a banquet celebrating the 74th anniversary of the establishment of the PRC. In it, he pledged to "expand job creation, prevent major risks, and to bring more resilience and vitality" to the country's economic development (China Daily, September 29; Xinhua, September 28). However, trends in China's domestic economy have demonstrated its failure to rebound after three years of pandemic-related lockdowns (VOAChinese, September 12; BBC Chinese, August 31). Unemployment is rising even as the birth rate is declining; banks have lent so much money to overleveraged real-estate developers that they don't allow depositors to easily withdraw their money; multinationals are leaving the country in droves, resulting in fast-declining FDI; and an increasingly stringent American technology boycott is expected to deal a further blow to PRC economy (White House, August 9). However, Xi is yet to signal a change of course on economic policy that might help relieve these issues.
Time is clearly not on Xi's side, something which is also apparent in Taiwan. Part of the ebbing support for unification is due to the dwindling demographic of its traditional supporters: the rapidly ageing—if not already deceased—generation of mainlanders who came to the island in the wake of China's civil war. Most island-born Taiwanese have no sentimental attachment to the notion of a "Chinese mainland," let alone for the PRC government, which is widely perceived to be excessively authoritarian (Wilson Center, September 5). This is a structural factor that will persist irrespective of the results of the island's upcoming presidential election in January, 2024.
The Advantages and Disadvantages of Waging War
Hostilities against Taiwan will plunge the regional and global economies into crisis. Nevertheless, Xi could use such an action to harness the long-cultivated nationalism of the PRC's disgruntled public. He will be able to declare martial law, which will give an even freer hand to the supreme leader to lock up real and potential enemies. These would include increasingly large numbers of protesting, unemployed blue-collar workers, as well as unpaid civil servants, and bank customers unable to withdraw money from their deposits.
Equally important, a takeover of Taiwan would contribute to the attainment of the supreme leader's "Chinese Dream," which consists of raising China's status as the final arbiter of a "new world order." (VOAChinese, September 27; The Atlantic Council, June 21). This would put Xi's achievements at least on a par with those of his idol, Mao Zedong. It is for this reason that Beijing unveiled a document at the recent inauguration of the 78th session of the UN General Assembly called "A Global Community of Shared Future: China's Proposals and Actions," which supposedly testified to the PRC's contribution to world peace and prosperity (Chinese Foreign Ministry, September 26; Xinhua, March 23).
The conviction that "the East is rising and the West is declining" seems to have convinced the quasi-Maoist Xi that China's prestige among members of the so-called "axis of autocratic states" would be enhanced by the PLA's success in Taiwan. Xi's eagerness to win the support of non-democratic countries was evidenced by the lavish global ceremony that was organized for the opening of the Asian Games in Hangzhou, Zhejiang Province earlier this month. Except for South Korea's Prime Minister Han Deok-soo, only senior officials from small countries of minor geopolitical influence sent representatives to Hangzhou. In an apparent effort to win global attention, Beijing went so far as to send an aircraft to Damascus to fly Syrian dictator Bashar al-Assad out to the PRC. The welcoming ceremony was promptly followed by Xi and Assad signing a treaty affirming their "strategic partnership" VOAChinese, September 25; Radio French International Chinese, September 22).
The issue here is that the ire from scores of countries whose economy will suffer due to a Taiwan Strait flare-up will surely deal a big blow to Xi's efforts to build a "universe of common destiny." The Belt and Road Initiative (BRI), the expansion of the Shanghai Cooperation Organization (SCO), and the BRICS Bloc (which undergirds the China-led "axis of autocratic states"), could become collateral damage in any irrational misadventure in the Taiwan Strait by Beijing (Radio Free Asia, July 28; Newstatesman.com, March 23). Moreover, the economic damage that would be unleashed by an invasion would also be hugely counterproductive to China achieving its ends.
Conclusion
A lavish extravaganza is about to be held in Beijing to celebrate the tenth anniversary of the BRI, the sprawling global brainchild of the Chinese despot (Global Times, August 31; Hindustan Times, August 31). Few heads of state from wealthy Western countries are expected to attend the BRI bash. And while Xi may see much to celebrate, the initiative is now facing competition from the Indo-Middle East-Europe Corridor (IMEC), established at the recent G20 summit (The Diplomat, September 21; The Indian Express, September 10). Many leaders, particular in developed nations, have criticized Beijing of resorting to "debt trap" diplomacy—as well as bribery of local officials—to push grandiose BRI-related schemes. While there is debate about the validity of the "debt-trap" label, it is undoubtedly the case that some BRI projects have become white elephants (those whose ballooning costs far outweigh their utility), and that several developing countries are now heavily indebted to the PRC.
Uncertainty about what lies ahead could push Xi to launch an invasion for two reasons: first, he could be compelled by a sense that his window of opportunity will not be open for much longer; and second, uncertainty from the rest of the world is something that Xi might attempt to take advantage of. However, it is the uncertainty at the top of the PLA  Rocket Force and the Equipment Development Department which are currently most determinative, suggesting that such an event is at least not an imminent possibility. Should Xi eventually feel emboldened to take such a drastic step, even if the PLA's missiles were able to prove their worth in a relatively swift conquest of Taiwan, it could take several decades before Taiwanese will cower before the harsh dictatorship of the CCP regime. Without a victory over Taiwan, Xi's status as the "Mao Zedong of the 21st Century" in the CCP pantheon could be threatened. The likelihood would then increase that the Party core responsible for country's failure to improve the economy, expand its global clout, and upgrade its military prowess could be driven from power some time in the coming decade, though how that might unfold cannot be predicted at present. Much therefore hinges on Xi's choices, and his ability to execute them, in the next few years.
Dr. Willy Wo-Lap Lam is a Senior Fellow at The Jamestown Foundation, and a regular contributor to China Brief. He is an Adjunct Professor at the History Department of the Chinese University of Hong Kong. He is the author of seven books on China, including Chinese Politics in the Era of Xi Jinping (2015). His latest book, Xi Jinping: The Hidden Agendas of China's Ruler for Life, was released by Routledge Publishing in September 2023.