Yanukovych and Tymoshenko: Foreign and Security Policies
Publication: Eurasia Daily Monitor Volume: 7 Issue: 13
By: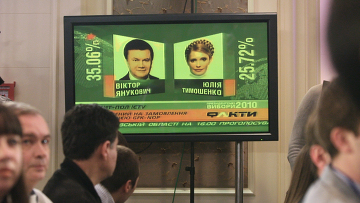 Viktor Yanukovych and Yulia Tymoshenko will face each other in round two of the fifth Ukrainian presidential elections on February 7. In foreign and security policies there are seven key differences between both candidates.
1. The Black Sea Fleet based in Sevastopol. Yanukovych's election program proclaims support for Ukraine's neutrality and opposes Ukraine's membership of military blocs. Nevertheless, on many occasions Yanukovych has stated his readiness to discuss prolonging the Black Sea Fleet's (BSF) base in Sevastopol beyond 2017, when the twenty year treaty expires.
Is this a contradiction? Of course, but this is nothing new, while Tymoshenko has never supported the prolongation of the BSF base.
2. Relations with Russia. Both candidates are seeking to improve relations with Russia, but in very different ways. First, Yanukovych has repeatedly stated that he supports Russia's proposals for a new European security architecture that NATO has received with skepticism (UNIAN, January 12). Second, Tymoshenko has never mentioned the Russian proposal nor has she ever endorsed it.
Yanukovych supported the abusive criticism in August 2009 in President Dmitry Medvedev's letter to President Viktor Yushchenko. Tymoshenko, like Yushchenko, criticized the Medvedev letter. Yanukovych's Party of Regions has a long-term cooperation agreement with the Unified Russia party unlike Tymoshenko's Batkivschina party. The Party of Regions has also supported the CIS Single Economic Space (SND YES) Customs Union, which Tymoshenko has again not mentioned. No country can be in two customs unions (SND YES and a Free Trade Zone with the EU), but such contradictions are quite common for the Party of Regions.
3. Yanukovych and the Party of Regions have financially gained from and supported gas intermediaries such as RosUkrEnergo (RUE) and the gas lobby that took over the party in 2006-2008. Tymoshenko was involved in cleaning up the energy sector during the last decade and is the only member of the Ukrainian elite who has been imprisoned for battling energy corruption (February 2001). In 2009 Ukraine had no gas intermediaries, because of the contract negotiated by the Tymoshenko government. A Yanukovych victory may return RUE and the resultant massive corruption in Ukrainian politics. Yanukovych has strongly supported a gas consortium with Russia to receive gas subsidies (Ukrayinska Pravda, January 19). Tymoshenko has never done so.
4. Yanukovych has always adopted a hard-line on NATO membership, opposing any Membership Action Plan (MAP). President Leonid Kuchma and Prime Minister Yanukovych requested MAP's at the Prague and Istanbul NATO summits in 2002 and 2004. Tymoshenko signed a joint letter with Yushchenko and then Parliamentary Speaker Arseniy Yatseniuk in January 2008 requesting that NATO offer Ukraine a MAP at the Bucharest summit.
The Party of Regions' two Crimean allies, extremist Russian parties in the For Yanukovych bloc, launched anti-American-NATO protests that blocked (after a decade of no interruptions) joint military exercises with NATO. Ukraine's cooperation within NATO's Partnership for Peace may only return to Kuchma era levels following Tymoshenko's election.
5. Yanukovych is seeking to embolden his pro-European credentials (Ukrayinska Pravda, January 19), but there is strong suspicion that the rhetoric is as empty of content as it was under Kuchma. The Party of Regions has not shown itself to be a pro-European political force by turning, for example, its back on the election fraud five years ago. Yanukovych continues to argue that there was no fraud and that he was legitimately elected in November 2004.
The Party of Regions has a cooperation agreement with Unified Russia, but not with any other political group in the European Parliament. Batkivschina, the party that Tymoshenko has led for 11 years, is the most active Ukrainian party in the European Parliament. The center-right European Peoples Party, in which Batkivschina is a member, issued a statement in support of Tymoshenko calling upon all "Ukrainian democratic forces" to back her in the second round (https://vybory.tymoshenko.ua, January 18). Ultimately, what is important is which of the two candidates will reset relations with the EU and NATO after three years of Ukraine-fatigue? This is more likely to be Tymoshenko, than Yanukovych in whom there is still lingering suspicion in Brussels that he represents the ancien regime.
6. The Tymoshenko government was instrumental in ensuring that Ukraine completed its entrance into the WTO in 2008. When in opposition in 2005-2006, the Party of Regions aligned itself with the Communists in voting against the legislation required to enter the WTO. WTO membership is the major stepping stone to the signing of a Free Trade Zone agreement with the EU in 2010 or 2011. Ukraine's oligarchs see the Free Trade Zone and visa free regime in a positive light, as opening up a large market and trading area, while looking aghast at the huge number of Copenhagen criteria-style requirements that Ukraine will be forced to undertake. Yanukovych cannot decide in which customs union he wishes the country to join: the SND YES or the EU Free Trade Zone.
Since the onset of the global financial crisis, the Tymoshenko government has proven its commitment to work with the IMF when it negotiated a $16.4 billion standby agreement. In December 2009, its fourth tranche of funding was delayed after the Party of Regions initiated populist legislation that increased social payments and undermined the budget parameters negotiated with the IMF.
7. The Party of Regions backed separatism within the Crimean and Ukrainian parliaments (alongside the terrorist organization Hamas, as well as Nicaragua and Russia), while the Tymoshenko bloc (BYuT) supported Georgia's territorial integrity. In the 2010 elections, the Party of Regions protested over the appearance of 2,011 Georgian observers, whom it described in Russian-style tones as a pro-Tymoshenko paramilitary force seeking to emulate the democratic revolutions of 2000-2004 (Ukrayinska Pravda, January 18, 19).
These seven points show the deep seated differences between the foreign and security policies of both candidates. Yushchenko and Tymoshenko both hail from the Orange Revolution camp and the only difference between them is that their approaches to the above seven issues reflect those commonly found between western and central Ukraine.