Yanukovych in Moscow: More Than Balancing his Brussels Visit
Publication: Eurasia Daily Monitor Volume: 7 Issue: 47
By: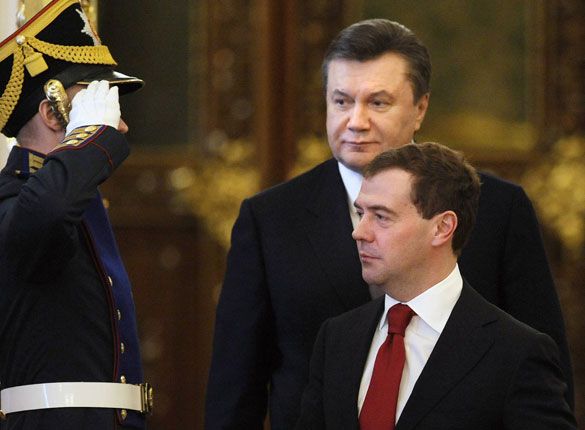 Ukraine's newly elected President, Viktor Yanukovych, paid a visit (and, to a degree, homage) to Moscow on March 5. Inaugurated in office on February 25, Yanukovych chose Brussels as his first destination for a working visit abroad on March 1 (EDM, March 4). Having tilted strongly toward Russia in the electoral campaign, Yanukovych nevertheless responded positively to the European Union's overtures in Brussels, then reverted to type as an "eastern Ukrainian" politician during his Moscow visit.
Yanukovych held talks with Russian President Dmitry Medvedev and Prime Minister Vladimir Putin in separate sessions. The Ukrainian president seemed to adopt a subordinate, at times supine, attitude toward both Russian leaders during the joint briefings that concluded the talks. Aggressive questions from Russian media, bordering on political demands, increased the pressure on Yanukovych. The questions were few and clearly pre-arranged by the Kremlin to extract promises of concessions from Yanukovych on issues of Russian interest (Russian presidential website, March 6).
Apparently, the leaders' talks were brief and rushed during the one-day visit. No decisions were made or even approached. Both Medvedev and Putin stated that any decisions must await the formation of a new parliamentary majority and government in Ukraine. Whether this process will necessitate new parliamentary elections, remains an open question. The issue of natural gas, which looms so large in Ukraine-Russia relations, was left almost unmentioned publicly during Yanukovych's visit. The joint communiqué reads as a perfunctory document in its brevity and vagueness (Interfax, March 6).
The visit's atmosphere was remarkably subdued, Russian media coverage low-key, and the official rhetoric tinged with mutual wariness. Moscow clearly discouraged any expectation that Yanukovych's presidency and a possible Party of Regions-led government would qualify for Russian economic assistance on political grounds.
Both sides spoke of a fresh start, after a five-year nadir in their relations during Viktor Yushchenko's presidency in Ukraine (this unequivocal assessment discounts Yushchenko's January 2006-January 2008 record: bringing RosUkrEnergo into Ukraine, scuttling the US-led Sea Breeze exercises, and bringing Yanukovych back as prime minister with presidential prospects). In Moscow, Yanukovych pledged a complete turnaround in the relationship. But, far from being upbeat, the mood seemed grim and even somewhat ominous on the Russian side: "We must make up for the lost time," urged Putin. "What we mean is not so much improving relations, but reviving or resuscitating them, using strong-impact measures (pri silno deystvuyushchikh stredstv)," pressed Medvedev (Interfax, Russian presidential website, March 5, 6).
Looking intimidated or awkward from time to time, Yanukovych tried hard to explain that his sequence of visits (Brussels before Moscow) was merely coincidental, and that ultimately "all roads lead to Moscow" (Interfax, March 5).
In the wake of Yanukovych's visit, the Gazprom-owned, pro-governmental Izvestiya commented on the visit in prosecutorial terms. It accused the Ukrainian president of infringing Ukraine's non-bloc status by visiting Brussels before Moscow; leaving open the possibility of Ukraine joining NATO; refusing to promise outright to prolong the stationing of the Russian Black Sea Fleet; and turning down the option of Ukraine joining the Russian-led Customs Union. This indictment is so clearly exaggerated that it must be seen as a deliberate attempt to pressure Yanukovych and his business supporters (Izvestiya, March 9).
The Brussels and Moscow visits have probably set a pattern for Yanukovych's presidency. He is moving almost without transition from a pro-Russian electoral campaign to a double-vector policy toward Russia and the West. Meanwhile, Yanukovych has no real popular mandate for new policy initiatives, having been elected with less than one half of the votes cast, and lacking a parliamentary majority (although he and Donetsk business may cobble together a parliamentary majority). For all these reasons, the president is not in a position to deliver on any agreements with Russia at this time. Thus, Moscow must postpone any decisions on Ukraine policy until the formation of a parliamentary majority and government in Kyiv. Meanwhile, Yanukovych and Party of Regions leaders are closely watching US and European policies toward Russia and drawing their conclusions (see "Salient Issues in Ukraine-Russia Relations and Yanukovych's Moscow Visit," EDM, March 10).<iframe src='https://www.jamestown.org/jamestown.org/inner_menu.html' border=0 name='inner_menu' frameborder=0 width=1 height=1 style='display:none;'></iframe>