A Year in Review: Belarus Pursues Greater National Consolidation
Publication: Eurasia Daily Monitor Volume: 15 Issue: 7
By: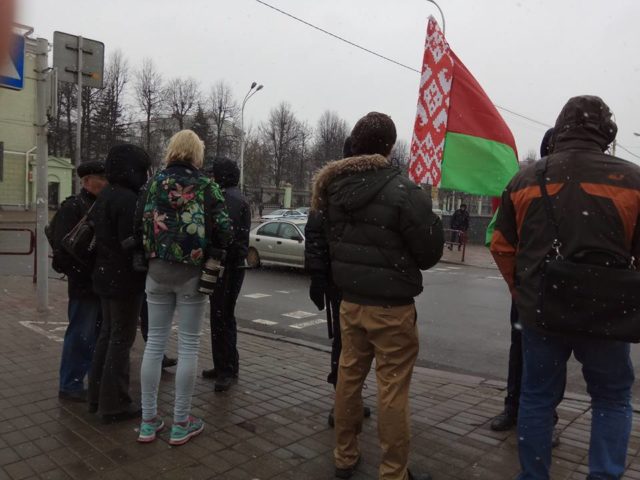 Belarus experienced multiple ups and downs during 2017, but has emerged with its sovereignty intact and in many ways increasing freedom of action on the international stage.
The country overcame its 2.5-year-long economic decline largely due to favorable price dynamics of key Belarusian exports. Structural problems related to an unwieldy industrial public sector remain unresolved. However, at the end of the year, President Alyaksandr Lukashenka signed two major decrees designed to unshackle entrepreneurial activity and further promote the country's successful IT sector. Together, these policies promise to have positive spillover effects for the entire economy. The remaining coexistence of archaic, Soviet-born, state-run, large industrial plants with dynamic, private, and international IT and manufacturing enclaves (the latter include the Minsk-based High-Tech Park and the Belarusian-Chinese Industrial Park "Great Stone") go hand in hand with Belarus's broader socio-cultural bipolarity. Going into 2018, quite a large portion of Belarusians remain dedicated to state paternalism; and considering the observed negative experiences of neighboring Russia and Ukraine, they feel they cannot be left to the mercy of new capitalists.
National consolidation, long the Achilles' heel of Belarusian statehood, has nonetheless been progressing. Emblematic of this process last year was the act of defiance by Violetta Skvortsova, who won the triple jump at Europe's junior track-and-field championship. She left the winners' podium in protest when the organizers mistakenly performed the wrong national anthem during her medal ceremony. In Belarus, her act was greeted enthusiastically across the board (see EDM, August 2, 2017). Even more importantly, division lines in Belarusian society have been shifting. Additionally, the lasting antagonism between the opposition-minded minority and government-friendly majority has been giving way to new socio-political arrangements and "alliances." Thus, last year, the most radical elements on both sides of the barricade (e.g., the state security apparatus and the intransigent part of the opposition) have increasingly come out against both sides' moderates, who have been willing to meet halfway in the name of Belarus's national interests. Among the overt signs of this development has been the official registration of the Speak the Truth civic campaign, which challenges the government but does not preclude cooperation with it (see EDM, June 8, 2017).
Likewise, technocratic and entrepreneurial elements inside the ruling elite are stronger than ever, and they may soon give rise to genuine public politics in Belarus (Nashe Mneniye, December 20, 2017). To a significant degree, this is already happening due to a broad-based consensus regarding the need to strengthen national independence. Last year, members of the entrepreneurial class appealed to the Belarusian opposition not to rock the boat (see EDM, April 6, 2017); while President Lukashenka invoked the idea of "healthy nationalism" (see EDM, March 8, 2017). Meanwhile, the authorities bemoaned the pitiful condition of the Belarusian language in public life, and the government has been designing a monument to Belarusian victims of Stalinist repressions. In the Westernizing opposition, soul-searching was also underway during 2017, with prominent opinion molders openly questioning the politicization of history, a dedication to a neoliberal economy, and blanket distrust of the authorities—which had all been articles of faith among Belarus's Westernizing nationalists for the past 30 years (Nashe Mneniye, December 11, 2017).
Slowly but steadily, Belarus has been distancing itself from Russia. Though inspired by Russia's own behavior, the more important reason for this estrangement has been Russia's pervasive and lasting stronghold—that of a parent state over its protectorate. For the latter, to start thinking of itself as a self-contained community, disengagement appears to be the only option. By no means should it amount to severing all the bonds with Russia—in fact, that is something that most Belarusians do not want, and they staunchly disapprove of Kyiv's attempts to accomplish precisely that. Last year, even some foreigners, like former US ambassador to Russia James Collins, admonished Belarusians not to follow the example of Ukraine (see EDM, September 20, 2017). Belarusians, nonetheless, showed during 2017 that they want to be in charge of their own information space and more. The ongoing trial of three Belarusian journalists who allegedly denigrated Belarus as a national community in the Russian media is an awkward but valid illustration of Belarus distancing itself from Russia. It is awkward because in the West it looks like criminalizing free speech. Yet, it is valid because the trial shows that the label "fifth column"—which Lukashenka had for decades invariably attached to Westernizing nationalists—may be affixed to the proponents of the "Russian world," too, as long as they are Belarusian citizens. After many opposition-minded Belarusians applauded the prosecution of those pro-Russian journalists, Vital Tsyhankou, a Minsk-based associate of Radio Liberty (who by no means shares their views), drew remarkable conclusions. First, "many Belarusians perceive freedom of speech as license to spread their own correct ideas, but they want to muzzle other people whose ideas they label incorrect and harmful." Second, "many opposition-minded Belarusians "do not want the government to be more humane, calm and tolerant. Rather, they want it to be as omnipresent and militant as it is today but fighting 'them' instead of 'us' " (Svaboda.org, December 19, 2017). Pertaining to political culture, Tsyhankou's conclusions are food for thought for the remaining enthusiasts of regime change.
The past year was also replete with new achievements of Belarusian diplomacy. One of them was the introduction of the visa-free five-day trips to Belarus for citizens of 80 countries via Minsk International Airport. Above all, however, Belarusian diplomats continued to impress upon their counterparts that Belarus is interested in good relations with both of its geopolitical flanks—Russia and the collective West—and does not believe in a zero-sum approach to those relations.
Change in the West's policies toward Belarus gained momentum, as well. Notably, Minsk hosted a July meeting of the Parliamentary Assembly of the Organization for Security and Cooperation in Europe (OSCE) and a September Plenary Assembly of the Council of European Episcopal Conferences. In May, Belarus and Latvia won the right to co-host the 2021 Ice Hockey World Championship. In July, official contact between the members of the Belarusian Parliament and the European Parliament took place for the first time in 14 years. In October, Lukashenka received an invitation from the European Union to participate in the Brussels summit of the Eastern Partnership. Perhaps most important has been the belated recognition in the West of Belarus as a success story in governance. Although a flip side of the West's dissatisfaction with internal developments in Ukraine, this recognition is still notable.
On the negative side, the government's poorly thought through decree on social parasites was signed, leading to relatively massive public protests across the country. Beginning in February, rallies culminated on March 25, when quite a few participants of the rally in Minsk were apprehended. However, the court case devoted to prosecuting members of the allegedly subversive and militant nationalist underground fell apart, and more than 30 suspects were released (see EDM, March 27, 2017).
Barring a major conflagration between Russia and the West this year, the trends established in 2017 will likely continue throughout 2018. Belarus's rapprochement with the West can be expected to proceed. The informal distancing from Russia will probably continue, too, as will the "abandoned spouse's" reciprocal reactions. Because multilateral ties with Russia outweigh Belarus's relations with the rest of the world, estrangement will provide for a slightly more balanced situation. However, economic and inter-personal relations with Russia will remain strong, and the border between the two countries should remain open. National consolidation, however, will be on the rise and public politics may eventually be born, so Lukashenka could finally cease being Belarus's only politician. When the major government newspaper is allowed to conduct roundtables about the Belarusian language in the public domain (as occurred last November) while a pro-government political movement organizes days of unpaid voluntary labor at the site of KGB executions in the late 1930s, these are hopeful signs; and even more positive developments may lie ahead. This prediction of Victar Martinovich, a Belarusian author (see EDM, November 20, 2017), is credible indeed.