Yemen's War Tests Oman's Neutrality: Focusing on the Saudi Footprint in al-Mahra
Publication: Terrorism Monitor Volume: 18 Issue: 20
By: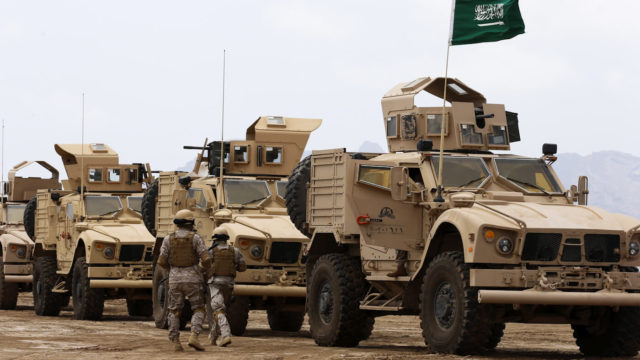 Neutrality is one of Oman's greatest assets. Under the leadership of the late Sultan Qaboos bin Said, Oman successfully navigated the fall of the Shah in Iran, the Cold War and its end, the U.S.-led War on Terror, and the Arab Spring. Through all these global and region shape events, Oman has maintained its neutrality and independence. Oman, for example, maintains longstanding relationships with the United States and Great Britain while, at the same time, it enjoys constructive relations with Iran. Moreover, although Saudi Arabia and the United Arab Emirates (UAE) are aligned against Iran, Qatar, and Turkey, Oman has managed to work with all of these countries to address regional issues.
The foreign policy charted by the late Sultan Qaboos resulted in Oman's becoming a valuable intermediary between rival countries in the Gulf and world powers with interests in the Gulf. In its role as an intermediary, Oman has facilitated negotiations between warring parties, and has secured the release of prisoners held in Iran, including three American hikers in 2010 and 2011 (Times of Israel, November 29, 2013). Numerous countries, including the United States, have availed themselves of Oman's trusted position as an interlocutor for conducting backchannel negotiations with Iran as well as with political and military factions like the Taliban and Yemen's Houthis (The National, October 16, 2017; Inside Arabia, October 12, 2018).
However, the ongoing war in Yemen poses a growing challenge to Oman's neutral foreign policy. This is due to Saudi Arabia's ambitions in the Yemeni governorate of al-Mahra, which borders Oman. Yet, Oman's role as a mediator is critical to ending the war in Yemen. The involvement of multiple powers, including Saudi Arabia, the UAE, and Iran, has made the war in Yemen a stage on which regional tensions are being violently acted out. All sides in the war are emboldened, funded, and armed by outside powers, and it may be increasingly difficult for Oman to remain neutral.
Saudi Moves and Omani Counter-Moves
Before Saudi Arabia launched its March 2015 military intervention in Yemen, Sultan Qaboos and his senior advisers repeatedly warned the most senior members of the House of Saud about the dangers involved in such an intervention. [1] Neither the Saudis nor the allied Emiratis heeded these warnings. Both countries asserted that their military intervention would rapidly defeat the Houthis and restore Yemen's internationally recognized government headed by President Abd Raboo Mansur Hadi. Now, nearly six years into their war, the UAE and Saudi Arabia seek a face-saving end to the conflict.
Ending the war—or rather overlapping wars—in Yemen in a way that achieves at least some of Saudi Arabia's security goals is no easy task. Ironically, the Saudi-led intervention that sought to defeat the Houthis and eliminate Iranian involvement in Yemen has instead strengthened the Houthis and allowed Iran to deepen their relationship with them (see Terrorism Monitor, November 11, 2016).
Oman comes into play because it facilitates backchannel negotiations between the Houthis and Saudi Arabia. The Omani government, under the leadership of Sultan Haitham bin Tariq al-Said, the late sultan's cousin, recently played a pivotal role in negotiating a prisoner exchange between the Houthis and Yemen's internationally recognized government (al-Jazeera, October 17). [2] Sultan Qaboos and his senior advisers also previously warned Saudi Arabia and the UAE that there is no military solution to the war in Yemen because no party, including the Houthis, has the capability to fully defeat the other parties. Without de-escalation and a workable and realistic framework for peace, the war in Yemen risks becoming a medium to low intensity conflict that persists for years or even decades.
The Importance of Al-Mahra Governorate
Oman, which shares a rugged 183-mile border with Yemen, is keenly aware that the war in Yemen will not stay in Yemen if it continues. Oman has already dealt with thousands of displaced Yemenis moving across Oman's borders, increased smuggling, and the expense of providing vast amounts of critical humanitarian aid. This all comes at a time when Oman faces a financial crisis induced by low oil prices, debt payments, and the global economic fallout from the responses to COVID-19.
Al-Mahra, the Yemeni governorate that shares Oman's border, had been a bastion of stability throughout much of the war. This stability was largely due to the cohesiveness and traditions of the tribes in al-Mahra, whose territory encompasses most of the governorate. [3] The Omani authorities are well-placed to mitigate conflict in al-Mahra because they have long enjoyed good relations with tribal elites, whose territory extends into the neighboring Omani governorate of Dhofar. [4]
Control of the border with Yemen is critical to Omani security. However, controlling the long border, which traverses mountains and deserts, is challenging even with Oman's well-trained and equipped Border Force, which is a mechanized infantry brigade. Smuggling along the border, which has been long a mainstay of the al-Mahri economy, is still rife. [5] To help control smuggling and maintain stability and security, Oman has relied on its longstanding relationships with al-Mahra's tribal elders, many of whom are dual Yemeni-Omani citizens. Oman views al-Mahra as an important buffer between it and the chaos that has engulfed most of Yemen.
Saudi ambitions in al-Mahra now threaten the stability the governorate once enjoyed. Over the last two years, Saudi Arabia has become involved in the governorate's tribal politics and has also established a military presence in the capital of the governorate, al-Ghaida, and allegedly in the district of Hawf (Middle East Monitor, October 1, 2018; Middle East Monitor, October 6). In addition to hard power, the Saudis have tried to exert soft power by establishing Salafist-inspired madrassas in al-Mahra. Through protests and some armed confrontations, people in al-Mahra are fighting back against what many view as a Saudi takeover of the governorate (al-Jazeera, February 18).
Saudi Arabia views al-Mahra as valuable real estate. Control of or influence in al-Mahra would allow the Saudis access to the Gulf of Aden. Saudi Arabia has long wanted to construct a pipeline through Yemen that would allow it to decrease its dependence on the Strait of Hormuz. [6] The Saudis also view their military and influence operations in al-Mahra as a way of exerting pressure on Oman at a time when Oman is perceived as vulnerable due to its weak economy and the recent death of Sultan Qaboos in January. Saudi Arabia and the UAE want to force Oman out of what they view as the Iranian and Qatari orbit.
Prospects for Saudi Arabia and Oman
Saudi Arabia's plans for al-Mahra are unlikely to succeed. Al-Mahra's tribal society militates against sustained foreign influence. At the same time, it is imperative that Oman continue to do what it can to manage the situation in al-Mahra via its well-established ties with tribal elders and other elites in the governorate. At some point Oman may be compelled to take sides in the war in Yemen at least as far as it concerns Saudi Arabia's moves in al-Mahra. If it does take sides, Oman risks compromising its role as a neutral and trusted intermediary. Such a move would not only harm Oman, but also the prospects for stability in the broader region.
Notes
[1] Author's interview with Yemen analyst and former member of the Yemeni government, conducted remotely, October 19, 2020.
[2] Author's interview with a former member of the Yemeni government, conducted remotely, October 27, 2020.
[3] See Ahmed Nagi, "Eastern Yemen's Tribal Model for Containing Conflict," (Carnegie Middle East Center: March 2020)
[4] It was in Dhofar that Oman fought a thirteen year (1963-76) long insurgency against Communist-inspired rebels, who were aided by what was then the People's Democratic Republic of Yemen (PDRY). The rebels moved between Dhofar and bases in al-Mahra, then a part of the PDRY. With assistance from Great Britain and Iran, which was then ruled by the Shah, Oman defeated the rebels and asserted control of its border with Yemen. See J.E. Peterson, Oman's Insurgencies: The Sultanate's Struggle for Supremacy (Saqi: 2007)
[5] There have been numerous claims made about arms and materiel being smuggled across the Oman-Yemen border for the use by the Houthis. Oman has denied these claims, and little or no evidence has been provided to substantiate the charges (Gulf News, October 15, 2016). It should be noted that almost all the territory between the Oman-Yemen border and Houthi-controlled northwest Yemen is controlled by forces nominally allied with Yemen's internationally recognized government. These areas include the northern half of the governorate of Hadramawt and much of the governorate of Marib. If weapons are being smuggled via the Oman-Yemen border, they must transit nearly 300 miles of territory that is not under the control of the Houthis. Far easier routes exist for weapons smugglers. Yemen's lengthy coast along the Gulf of Aden is unpatrolled, and there are well-established smuggling routes that connect the coast with north Yemen.
[6] See Yahya al-Sewari, "Yemen's al-Mahra: From Isolation to the Eye of a Geopolitical Storm," (Sana'a Center for Strategic Studies: July 5, 2019)