Yerevan and Tehran Strengthen Economic Cooperation
Publication: Eurasia Daily Monitor Volume: 6 Issue: 82
By: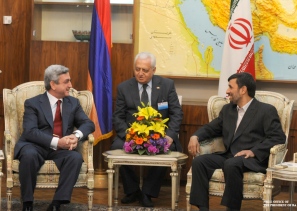 Armenia and Iran have agreed to deepen their already close relationship by pressing ahead with several large-scale commercial projects, mostly related to energy supplies. The two neighboring states formalized these plans during Armenian President Serzh Sarksyan's recent official visit to Tehran. Iranian leaders used the trip to reaffirm, in unusually strong terms, their commitment to enhance political and economic cooperation with Yerevan.
"The Iranian government and nation have enthusiastically welcomed the expansion of amicable ties with the Armenian nation and government," Iran's Supreme Leader Ayatollah Ali Khamenei said on April 14 as he received Sarksyan and Iranian President Mahmoud Ahmedinejad after their two-day negotiations (IRNA news agency, April 14).
Speaking at a joint news conference with his Armenian counterpart earlier that day, Ahmedinejad described those ties as "very deep-rooted, friendly and developing" and predicted a "very bright and promising" future for them. "Throughout their history the two nations have always trusted each other and enjoyed amicable ties," he said. "We are going to broaden our cooperation at regional and international levels," Ahmedinejad added, according to the official Iranian news agency.
The two presidents spoke to journalists after signing eight Armenian-Iranian memorandums of understanding. The most significant of those agreements fleshed out an ambitious idea to construct a railroad connecting the two countries -which will transform Armenia's transport and communications links with the outside world. The lack of such a rail link is considered a major hindrance to the development of Armenian-Iranian trade, which amounted to a modest $226.6 million in 2008. It also complicates the use of Iranian territory and accessing the Persian Gulf ports.
According to the two governments, the 470-kilometer railroad, with the bulk of it passing through Armenian territory, will cost between $1.2 billion and $1.8 billion and take at least three years to build. The Armenian Transport and Communications Minister Gurgen Sargsian revealed on April 20 that Iran will allocate a $400 million loan to Armenia for the planned railroad construction. Yerevan hopes to attract the rest of the necessary funding from international lending institutions and, in particular, the World Bank and the Asian Development Bank (ADB). The ADB provided $1.5 million last fall for the first feasibility studies on the project. A delegation of the Manila-based bank is scheduled to visit Yerevan in May for further talks. Speaking on the eve of his visit to Iran, Sarksyan said that work on the railroad will start in 2010 at the latest (www.regnumonline.com.ar, April 10).
Another agreement signed in Tehran, envisages the construction of two large hydro-electric plants on the river Aras on the Armenian-Iranian border. The Armenian Energy Minister Armen Movsisian told journalists that they will be built by Iranian companies and that Armenia will finance its share of the $240 million project with electricity supplies to Iran (Arminfo, April 17). It remains unclear however, as to precisely when the construction will begin.
The two sides also formally agreed to start building a 300 kilometer pipeline to deliver petrol and diesel fuel from an oil refinery in northern Iran to Armenia. In December 2008 another pipeline project was inaugurated, which is designed to pump up to 2.5 billion cubic meters of Iranian natural gas to Armenia. With Russian gas already meeting Armenia's domestic energy needs, the bulk of Iranian gas is expected to be used for producing electricity, which will then be exported to Iran. Two of Armenia's three thermal power plants are currently undergoing a multimillion-dollar reconstruction -which may explain why Iranian gas deliveries have yet to start. Large-scale Armenian electricity exports also require the construction of a third and much more powerful high-voltage transmission line linking the Armenian and Iranian power grids. According to Movsisian, it will start in May and take at least two years.
The Armenian-Iranian agreements underscored just how far the Islamic Republic has gone in cooperating with its sole Christian neighbor since the collapse of the Soviet Union. Despite sharing a religious affinity with fellow Shia Muslim Azerbaijan and periodically signing statements by Islamic nations denouncing "Armenian aggression," Iran has essentially maintained neutrality in the conflict over Karabakh. Not only has it refused to join the Azerbaijan's and Turkey's economic embargo of Armenia, but it has actually helped the latter to mitigate the adverse affects of these sanctions. "An advanced and developed Armenia will be beneficial to the entire region," Ahmedinejad was reported to tell Sarksyan (Iranian Press TV, April 13).
This stance, seen as "pro-Armenian" by many in Azerbaijan, is at odds with the notion that religion is the main driving force behind Iranian foreign policy. "That does not mean Islam plays no role in Iran's foreign policy," said Arax Pashayan, an Islamic expert at the Institute of Oriental Studies of the Armenian National Academy of Sciences. "It is just that in its relations with Armenia, Iran does not use the religious factor and is solely guided by its national interests" (Interview with EDM, April 27). Limiting the Turkish influence in the region has clearly been among those interests -a goal shared by Armenia.
In Armenia, maintaining a warm rapport with its large Muslim neighbor and one of its few commercial conduits to the outside world is a rare issue of national consensus. Armenia's leadership uses every opportunity to praise Iran's "balanced" position on the Karabakh conflict and showcase its support for closer Armenian-Iranian ties. "Armenia attaches special importance to the dynamic expansion of relations with Iran," Sarksyan was quoted by his press office as saying in Tehran on April 13. From Yerevan's perspective, that will also significantly benefit the Armenian energy sector and somewhat offset the country's exclusion from regional energy projects led by either Azerbaijan or Turkey.