Yevkurov Acknowledges Difficult Security Situation, Offers Amnesty
Publication: North Caucasus Weekly Volume: 10 Issue: 10
By: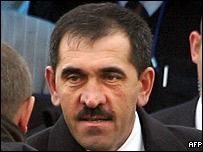 Ingush President Yunus-Bek Yevkurov has acknowledged that rebel attacks, which have claimed the lives of 18 members of the security forces in Ingushetia this year alone, are the republic's most serious problem. "The biggest problem we are facing is the problem of criminals who carry out terrorist actions," Agence France-Presse (AFP) quoted him as telling foreign reporters in the republican capital Magas on March 12. "This is the main problem for our stability. The fact is that there are forces working to destabilize Russia's regions in the Caucasus like Chechnya, Ingushetia and Dagestan, and now they have chosen Ingushetia." According to AFP, Yevkurov said the militants have "bases in the mountains and towns" and foreign support. "Which countries are behind this, I cannot say," he added.
Yevkurov further said that the situation in Ingushetia is "under control" but "complicated," AFP reported. "If people say this is a war, then I can understand this, but in fact what we have is a criminal situation, a fight with local and international crime," he said. AFP quoted Ingushetia's chief prosecutor, Magomed Merzhiev, as saying that 16 members of the security services and two army servicemen have been killed in rebel attacks so far this year. Echoing Yevkurov, Merzhiev said the rebel groups are seeking "to cause instability in Ingushetia and the region" and "are being funded from abroad," adding that they are trying to "spread Wahhabi ideas and ideology."
RIA Novosti on March 12 quoted Yevkurov as saying he is ready to declare an amnesty for members of the republic's "illegal armed formations" if they surrender voluntarily and have not been involved in grave or especially grave crimes. "We asked the leadership of the country about the given proposal and received a positive response," he told reporters in Magas. "It is planned to declare an amnesty for militants who have not been involved in grave or especially grave crimes." Yevkurov said he is ready for "dialogue" with the rebels. "The main goal is for them to stop their criminal activities and return to peaceful life."
On March 5, Yevkurov declared a financial amnesty for corrupt officials who voluntarily return the money they stole from the government's coffers.
Meanwhile, there were few signs of any letup in the violence that has become virtually a daily occurrence in Ingushetia. Bomb disposal experts used a controlled explosion to destroy a homemade bomb discovered in the center of Nazran on March 12, Itar-Tass reported. Also on March 12, Interfax reported that a police officer was shot and wounded in the neck, apparently by a sniper, while on duty at a traffic police post on the Kavkaz federal highway in the village of Yandar.
Unknown attackers fired a grenade launcher at a police checkpoint in the village of Surkhakhi on March 11, slightly damaging the checkpoint building but causing no casualties, Interfax reported. On March 10, an unidentified attacker fired a grenade at the house belonging to the Troitskaya village administration head, causing damage but no casualties.
On March 7, a Russian serviceman was killed by an improvised explosive device while on a reconnaissance mission in a forest near the village of Dattykh in Ingushetia's Sunzha district, Interfax reported. Also on March 7, an Ingush policeman was wounded by a booby-trap device employing a grenade that had been attached to the door of his house in Nazran.