YUSHCHENKO WANTS TO ERECT NEW BARRIER FOR RIVALS
Publication: Eurasia Daily Monitor Volume: 2 Issue: 164
By: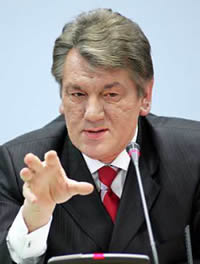 Preparations for next spring's parliamentary election have de facto started in Ukraine, as President Viktor Yushchenko came up with a proposal for raising the barrier that parties and blocs of parties will have to overcome to get into the legislature. This plan should further weaken his opponents and prompt those allies who are still hesitant to join a bloc being formed by him to make their final choice in favor of Yushchenko.
President Yushchenko's first Independence Day address to the nation on August 24 demonstrated that the upcoming polls are his top priority at the moment. The speech was quite short and all about consolidation. It climaxed in two sentences: "I hope that the Verkhovna Rada [parliament] will have enough patriotism to increase the election threshold. This is the only way we can get a truly representative legislature and not a club of political party owners."
The previous election in 2002 was held according to a mixed system, according to which half of the seats in the 450-seat Rada were contested by individual politicians in first-past-the-post regional races, and the other half went to party lists, whereby parties or blocs of parties had to secure at least 4% of the popular ballot to get through to the Rada. The upcoming polls will, for the first time in Ukraine, see a competition between political parties and blocs only, according to the proportional system. The threshold was lowered to 3% earlier this year as a concession to weaker parties and as part of the constitutional reform that provides for a redistribution of control over the Cabinet of Ministers between the Rada and the president in favor of the Rada. The reform takes effect on January 1, 2006, and Yushchenko naturally wants to have more of his people in a stronger parliament when his own powers become somewhat curtailed.
One day after Yushchenko's speech, a bill that provides for increasing the electoral threshold to 7% for parties and blocs of parties was submitted to parliament by Mykhaylo Pozhyvanov, an ally of Yushchenko,. By September 1, two more bills were submitted by Prime Minister Yulia Tymoshenko's faction in parliament, one suggesting that the barrier should be raised to 5% for both parties and blocs, and the other to 5% for parties and 7% for blocs. Pozhyvanov's bill was probably a tactical move, a threat made in order to persuade Yushchenko's opponents to accept a less drastic 5%.
Increasing the barrier even by two percentage points may radically change the political landscape, prompting a great number of small Ukrainian parties to join forces with stronger players. The smaller opposition parties, such as the Social Democratic Party-United of former presidential administration head Viktor Medvedchuk or Labor Ukraine of Valery Konovalyuk, stand no chance over overcoming a 5% barrier on their own, so they should think of negotiating a union with the Party of Regions (PRU) of former prime minister Viktor Yanukovych. With 14.2% popular trust, the PRU is the most popular opposition party and second-strongest party in the country after Yushchenko's People's Union-Our Ukraine (NSNU), according to a public opinion poll conducted by the Razumkov think tank in early August. Furthermore, the Communists should start to fear for their future, as popular support for them hovered between 3.5% in May and 5.5% in August, according to the same poll.
If the new rules are approved by parliament, Speaker Volodymyr Lytvyn should accept Yushchenko's proposal to set up a trilateral bloc consisting of the NSNU, Tymoshenko, and Lytvyn's People's Party (formerly the Agrarians). Lytvyn has so far been reluctant to do so, and he opposes raising the electoral threshold. But if it is raised, Lytvyn's position may change, as his party's rating is 4.1%, according to the Razumkov poll. Finally, a higher threshold should persuade the small nationalist parties like Yuriy Kostenko's Ukrainian People's Party to stop thinking about a bloc of their own, which would hardly score more than 5%, and join the trilateral bloc on Yushchenko's conditions and as junior partners.
Meanwhile the personal popularity of Yushchenko, Tymoshenko, and Lytvyn has started to fall. According to a poll conducted jointly by Socis and the Kyiv Center for Political Studies and Conflicts on August 4-14, popular trust in Yushchenko fell from 60% in May to 42% in August; Tymoshenko's popularity dropped from 61% in May to 43% in August; and Lytvyn's from 51% to 40%. This is natural, given the exceptionally high expectations in the wake of the Orange Revolution, but this is also a matter for concern for the Ukrainian leaders. Ahead of the crucial parliamentary polls, falling popularity is prompting them to seek consolidation more actively.
(UT1, August 24, 27; Ukraina TV, Interfax-Ukraine, August 26; UNIAN, August 30; proUA.com, September 1)