Zakaev and Chechen Parliament's Speaker Hold Talks in Oslo
Publication: Eurasia Daily Monitor Volume: 6 Issue: 142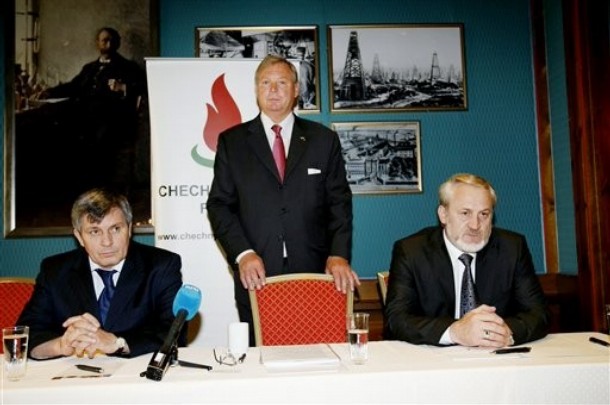 Kommersant reported today that the speaker of Chechnya's parliament, Dukvakha Abdurakhmanov, has held two days of talks in Oslo with Akhmed Zakaev, the London-based prime minister of the separatist Chechen Republic of Ichkeria (ChRI). According to the newspaper, yesterday's meeting between the two was closed to journalists and representatives of both sides refused to say specifically what the talks were about. But the newspaper quoted a source in Abdurakhmanov's entourage as saying that "during the two days in which the meetings took place there were intensified consultations about how to reach an inter-Chechen consensus." Kommersant reported that Abdurakhmanov and Zakaev were to hold a press conference at a hotel in Oslo today and issue a joint statement on the results of the talks, adding that "experts do not rule out that Akhmed Zakaev could announce his return to his homeland" (www.kommersant.ru, July 24).
Zakaev, who is wanted in Russia on terrorism charges, received political asylum in Britain in 2003. Later that year, a British judge rejected a Russian request to extradite Zakaev, ruling that it was politically motivated and that Zakaev risked being tortured in Russia if he was sent back.
RIA Novosti today quoted Abdurakhmanov as confirming that he had met with Zakaev. "We met with Zakaev on the orders of [Chechen] President [Ramzan] Kadyrov on the basis of the [Chechen] presidential program for consolidating Chechen society," Abdurakhmanov told the news agency in a telephone interview. According to RIA Novosti, the Chechen parliamentary speaker gave no other details (RIA Novosti, July 24). Kadyrov has repeatedly said that he would like to see Zakaev return to Chechnya.
Kommersant reported that Ivar Amundsen, director of the Chechnya Peace Forum, a Norwegian human rights group, served as the go-between for the talks in Olso. The newspaper noted that Amundsen has long been close to Zakaev, serving as "honorary consul of Ichkeria in Norway." The newspaper quoted Amundsen as saying yesterday that the meeting between Abdurakhmanov and Zakaev was "especially important because Kadyrov approved it, and that means that Moscow also approved it" (www.kommersant.ru, July 24).
Abdurakhmanov and Zakaev apparently met in Oslo earlier this month: Agence France-Presse reported on July 1 that the two were in the middle of talks in the Norwegian capital and quoted Amundsen as confirming that the meetings had taken place. "The tone of the meetings has been very positive, very constructive," Amundsen told AFP. He declined, however, to comment on specific issues discussed by the parties. According to the news agency, ChRI foreign minister Osman Ferzaouli was also taking part in the talks (AFP, July 1).
Kommersant today quoted Aleksei Malashenko of the Carnegie Moscow Center as saying that Abdurakhmanov was probably holding talks with Zakaev in order to convince him to return to Chechnya. "With the return of Mr. Zakaev, Ramzan Kadyrov will become the all-Chechen leader and, considering that the negotiations are being conducted by a politician as subtle as Mr. Abdurakhmanov, it is possible to say with certainty that the interests of both sides will be respected," Malashenko told the newspaper. He said it was possible that Zakaev would be offered a post either inside Chechnya or overseas. "What is important is not what post is offered to him, but that he is given the chance to save face," Malashenko told Kommersant (www.kommersant.ru, July 24).
The Kavkaz-Center website, which serves as a mouthpiece for the Islamist wing of the North Caucasus separatist movement and has rejected the Chechen Republic of Ichkeria in favor of the goal of a "Caucasus Emirate," posted an item today summarizing Kommersant's report on the talks between Dukvakha Abdurakhmanov and Akhmed Zakaev and the possibility that the latter may announce his return to Chechnya. However, the Kavkaz-Center report did not include any commentary.
Meanwhile, Kavkaz-Center ran a separate report today claiming that over the last two months, "the outflow of Kadyrov-ite policemen from the puppet punitive structures has sharply increased." According to the website, ten policemen quit the Achkhoi-Martan district police department just this week alone, and that at least 24 policemen had left that police department earlier. Citing Radio Free Europe/Radio Liberty's Chechen service, Kavkaz-Center reported that more than 50 policemen have quit the police department in Chechnya's Nadterechny district, the republic's most peaceful region while 30 policemen have quit the Naursk district police force. According to the website, police have also quit en masse in Grozny, Guderemes and Shali.
Kavkaz-Center claims the situation has become so critical that Kadyrov issued an order forbidding policemen from quitting, but police have circumvented this by paying their bosses up to 200,000 rubles (more than $6,400) to fire them. The website reported that a former long-serving Chechen policeman told Radio Free Europe/Radio Liberty's Chechen service that many of his colleagues who are reluctant to quit, fearing "repression" by their colleagues, are giving their salaries to their bosses and simply sitting at home rather than reporting for work.
"The Kadyrov-ite policemen are extremely unhappy with the fact that they are being used as cannon fodder in battles against the mujahideen at a time when numerous 'spetsnaz' and 'elite battalions' are doing nothing more than going on TV with self-advertisements," the Kavkaz-Center claimed. According to the website, the policemen have also seen cuts in pay and other benefits (www.kavkazcenter.com, July 24).