Zhanaozen's Economic Prospects Improve
Publication: Eurasia Daily Monitor Volume: 10 Issue: 135
By: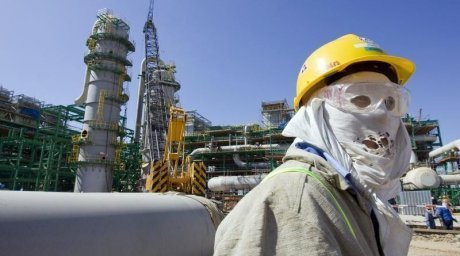 A strike by 200 workers at the Kashagan oil field on July 7–8 went almost unnoticed because the dispute was resolved in record time. When 200 employees of CAPE Industrial Services demanded severance payment for their ending employment, high-level officials from Atyrau in Western Kazakhstan immediately flew to the artificial island "D" in the Caspian Sea to settle the situation. Among them were the first deputy governor of Atyrau region, Gumar Dyussembayev, representatives of Atyrau Prosecutor's Office and experts from the State Labor Inspection. The employees returned to work assured that they would receive severance payments and the Prosecutor's Office would investigate claims that they had been pressured to voluntarily resign in violation of the Labor Code. Moreover, the regional administration pledged to help them find new jobs after construction works on island D are completed in August (TengriNews.kz, MoyGorod.kz, July 9).
This is not the first labor dispute in Kazakhstan that has been quickly settled following the events in Zhanaozen on December 16, 2011. A protracted labor dispute at UzenMunaiGaz in Zhanaozen turned violent that day, resulting in 16 deaths and almost one hundred injured when the police opened fire on rioting oil workers. Since then, the government seems careful not to allow labor conflicts to escalate, although unfavorable commodity prices have made the negotiations in some industries quite difficult. A strike at the copper mining company Kazakhmys in May 2012 ended quickly with a mutually accepted compromise, while a major dispute at the steel mill ArcelorMittal Temirtau lasted for two weeks in July 2012, but ended peacefully with a deal eventually (Interfax-Kazakhstan, July 16; Tengrinews.kz, July 18).
But the small strike at Kashagan in July 2013 demonstrated how labor conflicts are best resolved through a tri-partite mechanism—when the local authorities are included in the negotiations between employers and trade unions. This component was absent during the long-running dispute in Zhanaozen, which worsened when a number of oil workers were fired and went on a hunger strike. Moreover, the subsequent investigation uncovered staggering corruption within both UzenMunaiGas and the local government. Three oil company managers were convicted and sent to jail for seven or eight years, but the harshest sentence of ten years in jail for corruption and abuse of office was handed to Oraq Sarbopeev, the former mayor of Zhanaozen (Novosti-Kazakhstan, October 31, 2012; Interfax-Kazakhstan, May 26, 2012).
The government's lessons from the Zhanaozen events focused on four major areas: labor dispute resolution, curbing corruption, economic development of single-industry towns, and police re-evaluation and training. While human rights groups such as Amnesty International and local opposition parties are still criticizing the government for not allowing an international investigation into the Zhanaozen events (Zhas Alash Online, May 23; Amnesty International, July 11), the authorities have moved on several important initiatives to prevent future social unrest and labor conflicts. In May 2012, the government adopted a comprehensive development program for 27 single-industry towns in Kazakhstan. The program focuses on diversifying economic development, supporting small and medium enterprises and increasing participation of citizen in the decision-making process. In 2012, a total of 114 projects, worth $8.6 billion were implemented in 20 single-industry towns (Kazworldinfo.kz, May 22, 2012).
The city of Zhanaozen initially needed over $13 million for restoration of damaged or burned-down public and private property, including the city hall and KazMunaiGas building along with 36 banks, shops and residential buildings. Reconstruction work was completed within a month. KazMunaiGas established two oil service companies, creating over 2,000 jobs for laid off oil workers with their salaries unchanged. By the end of February 2012, all 1,986 of the dismissed oil workers were employed at the new companies (Interfax-Kazakhstan, March 12, 2012).
A two-year development plan for entrepreneurship included a business development center and financial support for local businesses through special commercial loan conditions. The municipal business incubator supports beginner-entrepreneurs through rent of equipped premises, consulting, accounting, legal and tax services. A total of 50 projects worth $7.4 million were approved and financed under the program. The government estimates that over 6,000 new jobs were created in the city, reducing the overall unemployment to 5.6 percent (Ministry of Foreign Affairs, July 10).
In February, the deputy chairman of KazMunaiGas, Magzum Mirzagaliyev, announced that an industrial park would be built in Zhanaozen. "The company has signed a range of agreements to create the industrial park in Zhanaozen, establish production of solar modules, [and] set up companies for production of different types of oil and gas equipment," Mirzagaliyev said (TengriNews.kz, February 15).
The overpopulated city of Zhanaozen needs new social infrastructure—schools, kindergartens, housing, medical clinics. As some of the planned facilities have opened in 2013, their number will grow to 26 by 2015. The most innovative development for Zhanaozen is the 20 green houses built within the last year with $850,000 in state investment. The greenhouses are vital for this semi-desert region, which has no accessible fresh water. Drinking water is delivered to Zhanaozen from a tributary of the Volga River in Russia via the 1,000-kilometer "Astrakhan-Mangyshlak" water pipeline. The greenhouses allow local citizen to buy affordable fresh produce, which has, until now, primarily been delivered from Southern Kazakhstan at much higher cost (Ministry of Regional Development, February 5).
Zhanaozen, however, is still tense with ten of its residents remaining behind bars for inciting the December 2011 riots. A total of 37 civilians from Zhanaozen and 12 from Shetpe were tried over the unrest. Most were given suspended sentences or amnestied, but 17 went to jail. On May 28, the Supreme Court of Kazakhstan ordered the release of six people convicted of organizing mass disturbances in the town of Zhanaozen. One person who participated in the protest in Shetpe on December 17 was released in January 2012 (Interfax-Kazakhstan, May 28). Six police officers are also serving prison sentences for "abuse of power or official authority, resulting in serious consequences, with the use of weapons" (Interfax-Kazakhstan; Tenginews.kz, May 28, 2012).