Zhou Yongkang's Trip Highlights Security Diplomacy
Publication: China Brief Volume: 12 Issue: 19
By: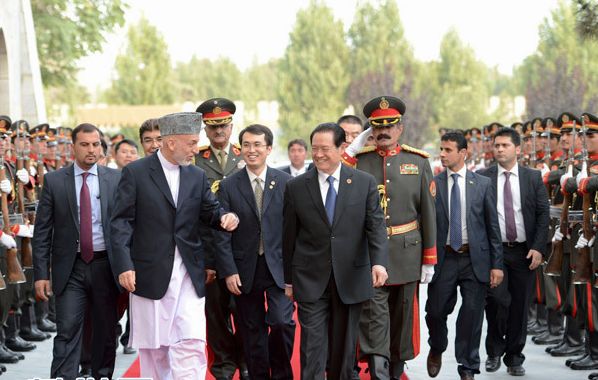 For a man once mistakenly thought to be on the sidelines, Zhou Yongkang had a busy September leading a security delegation to Singapore, Afghanistan and Turkmenistan ("Zhou Yongkang and the Tarnished Reputation of China's Police," China Brief, March 30). The delegation included Chinese Communist Party (CCP) International Liaison Department Director Wang Jiarui, Minister of State Security Geng Huichang, Vice Minister of Public Security Zhang Xinfeng (a leader in public security modernization) and Vice Foreign Minister Xie Hangsheng (Xinhua, September 21; China News Service, September 21). The Afghan leg was a surprise announcement for security reasons, but was the first trip by a Politburo Standing Committee member to that country since Liu Shaoqi in 1966 (Xinhua, September 24; China Daily, September 24). This trip highlighted Beijing's growing security liaison along China's periphery to help stabilize its development environment.
The delegation's first stop was Singapore for the third set of security meetings this year. Upon his arrival in Singapore, Zhou gave a speech at the airport lauding the Sino-Singaporean growth of mutual trust and economic ties since the establishment of diplomatic relations in 1990 (Xinhua, September 21). Zhou also delivered a lengthy speech at the Singapore-China Social Management Forum, where he said "social management is an essential activity in human society." According to Zhou, both the CCP and the People's Action Party face many of the same challenges in the current international situation for social management. Presumably, Zhou was referring to the challenge of maintaining a one-party system in a globalized environment (Legal Daily, September 24; Xinhua, September 22). Early last month, Singaporean senior minister emeritus Goh Chok Tong met with Zhou in Beijing where the two pledged to increase cooperation on social management. This probably also includes domestic surveillance technologies that both sides have developed, because Zhou drew attention to the high-tech cooperation on social management-related technologies (Xinhua, September 11). During the May meeting, the Chinese side was unusually specific about the benefits of the relationship. Zhou stated Beijing attaches great importance to the Sino-Singaporean security cooperation and hoped deepen cooperation in intelligence liaison and joint law enforcement investigations (Xinhua, May 8).
The next stop on the delegation's journey somewhat surprisingly was Afghanistan, where Zhou's delegation signed several agreements on further Chinese economic and security assistance during their four-hour stopover (China Daily, September 24; Xinhua, September 24, September 23). In Kabul, Zhou stated "China is willing to make due contributions to peace and stability in Afghanistan, which is at a critical transition period" (Xinhua, September 24). Although this may suggest Beijing may be signaling a policy shift and a newfound willingness to support the NATO-led stabilization efforts there, Zhou's commitment to train 300 Afghan police officers over the next four years and the Ministry of Public Health's donation of 100 ambulances seem like fingers in the dike (Xinhua, September 20). With the possibility of a natural gas pipeline crossing from Turkmenistan and a $4 billion investment in the Aynak copper mine, Beijing still seems stuck between its non-interference principle and the need to protect its interests (Xinhua, June 11; May 22, 2011).
The Turkmenistan leg of the trip most resembled a typical Chinese state visit abroad, including a variety of meetings with Turkmen officials and local Chinese businesspeople, including Turkmenistan-based employees of China National Petroleum Corporation (Xinhua, September 24). Expressing Beijing's views about the relationship, Zhou said "China and Turkmenistan historically have not had any problems, no contradictions exist" between the two sides. Zhou also encouraged greater law enforcement cooperation and information sharing against the shared concerns of the "Three Evils" (san gu shili)—terrorism, separatism and extremism—which also are a target of regional security cooperation under the aegis of the Shanghai Cooperation Organization (Xinhua, September 25).
The choice of a security-heavy delegation bolstered by the head of the CCP's diplomatic arm to meet with Ashgabat and Kabul shows the close relationship between diplomacy, resources and the growing need for Beijing to export security assistance. Chinese interests abroad probably have expanded more than Beijing's ability to track, manage and protect them. In the last five years, Zhou and State Councilor Meng Jianzhu, who covers political-legal affairs and leads the Ministry of Public Security, seem to have been more involved in diplomacy than their predecessors, suggesting Beijing is using their domestic security experiences and law enforcement expertise to support a positive development environment.
Arguably, one of China's signature diplomatic achievements last year was achieved by this duo, following the murder of 13 Chinese sailors on the Mekong River exactly one year ago. Last October saw a flurry of diplomatic activity and law enforcement liaison with the Burmese, Laotians and Thais headed by State Councilor Meng and Zhou to coordinate patrols for river traffic ("Mekong River Patrols in Full Swing but Challenges Remain," China Brief, February 21; "Mekong Murders Spur Beijing to Push New Security Cooperation," China Brief, November 11, 2011). That this security cooperation led to the arrest and extradition of the perpetrators to China in May shows that China's reach is extending and that it is not always the diplomats leading Beijing's foreign policy (Beijing News, May 11). As the U.S. and NATO presence and logistical tail draws down in Afghanistan and Central Asia, analysts should watch the travels of China's new security leadership.