Zurab Noghaideli's National Council Bandwagons With Russia
Publication: Eurasia Daily Monitor Volume: 7 Issue: 96
By: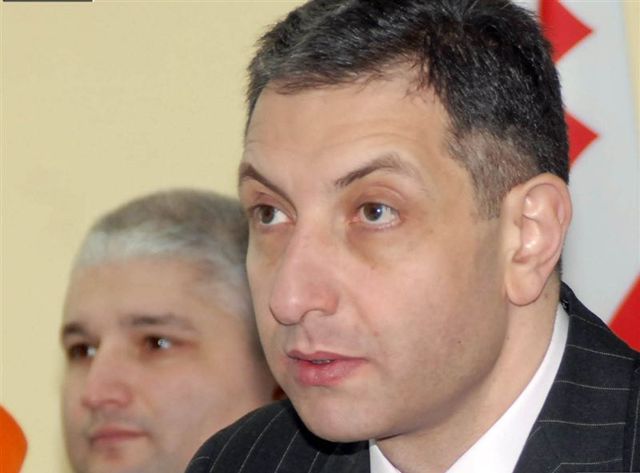 On May 13 in Tbilisi, the political bloc "National Council" announced its intention to open representative offices in Moscow and St. Petersburg. The declared goals are to maintain liaison with Russia's executive and legislative authorities and also with the Georgian diaspora in Russia (Civil Georgia, Interfax, May 13).The move is timed to the May 30 local elections in Georgia.
The National Council forms the Russian-oriented camp in a deeply factionalized opposition. Led by the former Prime Minister (2005-2007) Zurab Noghaideli, the National Council includes three small factions and also works with the former Parliamentary Chairwoman (2004-08) Nino Burjanadze. Only one of those factions (the Conservative Party) has an ideological hue, reflecting cultural and religious traditionalism, against the westernization trend associated with President Mikheil Saakashvili's government.
National Council leaders enjoy unimpeded access to Georgia's country-wide television channels. The group seems to lack a serious organizational base in the country. However, Russia looks set to invest in it. Noghaideli and Burjanadze have repeatedly been granted meetings in Moscow with Prime Minister, Vladimir Putin, and other Russian officials during recent months. Those meetings have been replete with references to "traditionally close" Russian-Georgian ties, "destroyed" by the current Georgian government and waiting to be restored by post-Saakashvili authorities.
The opening of National Council offices in Russia, if allowed, could be construed as quasi-recognition of alternative Georgian authorities-in-waiting. It would also confirm that Russia is positioning its supporters for a regime-change effort.
Georgia severed diplomatic relations with Russia after the August 2008 invasion and seizure of Georgian territories. For its part, Moscow openly challenges the Georgian president's and government's legitimacy. Moscow deals with Noghaideli's National Council to demonstrate Russia's interest in relations with "the Georgian people."
Noghaideli's group is being positioned to deal with "practical problems in the interest of ordinary Georgians" through its privileged access to Russia. It claims to intercede for alleviation of the consequences of frozen bilateral relations (the halt in air travel, Georgian agricultural exports to Russia, cultural and humanitarian ties). It also tries to be seen "dialoguing" for Georgian villagers' return to the Russian-controlled Kodori and Akhalgori (small areas in Abkhazia and South Ossetia, respectively, from which Georgians were forced out in 2008). Lack of progress on that whole range of issues is blamed on the Georgian government's attitude toward Russia (EDM, May 11).
Noghaideli and others in this group carefully frame their position in terms of "national interests," including Georgia's ultimate reunification with Abkhazia and South Ossetia in some form. As Noghaideli has from time to time suggested –most recently his May 14 news conference in Tbilisi–territorial reunification could only be initiated and promoted by Georgian politicians agreeable to Russia. This would involve a lengthy process, starting with a dialogue between Russia-friendly Georgian politicians and the Abkhaz and South Ossetian authorities. Dialogue could lead to the signing of agreements with Sukhumi and Tskhinvali, by a Russia-friendly Georgian government, under Russian guarantees. This could, supposedly, in turn, lead to reunification under some unspecified formula, presumably a confederative one. Noghaideli's National Council says that it would "never compromise on Georgia's independence;" and is confident that Russia could not "restore the Soviet Union" anyway (not annexing Georgia outright) (Interfax, Civil Georgia, May 14).
Two historical models can be seen recurring in this case, with variations reflecting circumstances of time and place.
One recognizable model is that of Moscow setting up "national committees" of its supporters, in anticipation of direct intervention or orchestrated turmoil in a targeted country. Historically, such national committees followed in tow of advancing Russian or Soviet armies (though Georgia allowed such a committee to operate partly inside the country in 1920 ahead of the advancing army). National committees of this type usually became the core of Moscow-oriented governments, if the operation was successful.
Like most of its historical predecessors, Noghaideli's National Council claims to speak for national independence and national interests at this stage. Its interpretation of the national interest involves reorienting Georgia from the West toward Russia. It regards, as does Moscow, the May 30 local elections as a chance to usher in a transition of power and reversal of the country's strategic orientation.
Georgia's current situation is also somewhat analogous to Germany 1945-90, with forcible partition of the country into Western-oriented and Russian-occupied areas. At times, Moscow hinted at the possibility of Germany's reintegration and de-occupation. This would have been conditional on West Germany abandoning its Western orientation, the reunified state adopting neutrality, and Russia-friendly political forces exercising a strong influence in a reunified country.
In Georgia's case, Moscow has from time to time hinted at allowing some vague semblance of reunification to become a topic for discussion, provided that Georgia abandons its Western orientation for "normalizing" relations with Russia. Speculative discussions on this issue after 2008 hark back to the "common state" idea of a decade earlier. That Russian proposal envisaged reintegrating a rump Georgia, Abkhazia, and South Ossetia in a nominal confederation of three state entities, with Russia "guaranteeing" the political and security arrangements. The resulting Russian protectorate would have blocked Georgia's integration with the West. At present, Noghaideli's National Council claims that Georgia may yet achieve some form of reunification by restoring close relations with Russia.
The National Council's electoral prospects are rated as low by other contestants and observers alike. Its chances can only improve if backed by massive Russian resources, and if Brussels and Washington are seen to consign Georgia to a grey zone between the West and Russia.