Chinese Military Aviation in the East China Sea – Database and Sources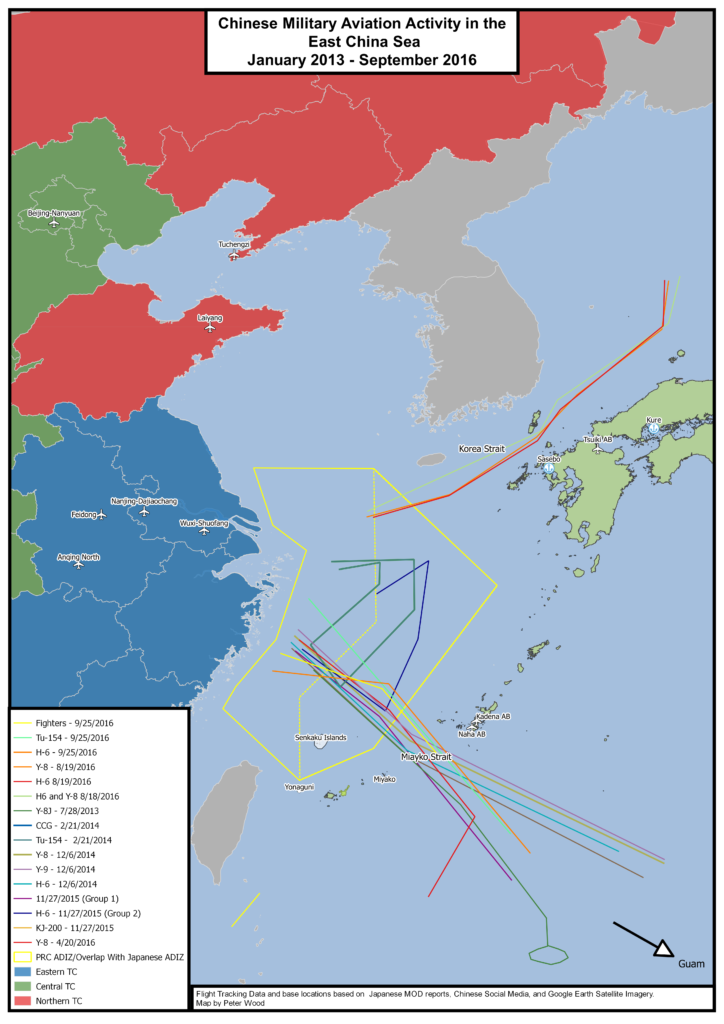 Chinese Air Interception Database – 10/20/2016 Peter Wood
Date
Type
Aircraft Tail Number – Affiliation
2013
January 5, 2013 [1]
Y-12
Coast Guard
January 11, 2013 [2]
Y-12
Coast Guard
January 15, 2013 [3]
Y-12
Coast Guard
February 28, 2013
Y-12
Coast Guard
July 24, 2013 [4]
Y-8J
9321 PLA Naval Aviation 2nd Division, 4th Air Regiment, Laiyang, Shandong, North Sea Fleet [5]
August 26, 2013
Y-12
Coast Guard – B-3826
September 8, 2013 [6]
H-6H (2)
81215 PLA Naval Aviation 6th Naval Aviation Division, Benniu/Danyang, East Sea Fleet
October 1, 2013 [7]
Y-12
Coast Guard
October 25, 2013
Y-8J (2),

H-6G (2)

H-6G: 81215 PLA Naval Aviation 6th Naval Aviation Division, Benniu/Danyang, Jiangsu, East Sea Fleet
October 26, 2013
Y-8J (2),

H-6G (2)

81218 PLA Naval Aviation 6th Naval Aviation Division, Benniu/Danyang, Jiangsu, East Sea Fleet
October 27, 2013 [8]
Y-8J Early Warning Aircraft (2), H-6G (2)
Y-8J: 9301, 9311: PLA Naval Aviation 2nd Division, 4th Air Regiment, Laiyang, Shandong, North Sea Fleet

H-6G: 81217 PLA Naval Aviation 6th Naval Aviation Division, Benniu/Danyang, Jiangsu, East Sea Fleet

November 16, 2013
Tu-154
November 17, 2013
Tu-154
B-4015 34th Division, 102nd Air Regiment, Beijing-Nanyuan, PLAAF HQ
China Announces Establishment of East China Sea Air Defense Identification Zone [9]
November 23, 2013 [10]
Tu-154, Y-8
B-4015: 34th Division, 102nd Air Regiment, Beijing-Nanyuan, PLAAF HQ

Y-8: 30011

2014
February 21, 2014 [11]
Tu-154, Y-12
B-4015: 34th Division, 102nd Air Regiment, Beijing-Nanyuan, PLAAF HQ, B-3826 China Coast Guard
March 9, 2014 [12]
Y-8 Electronic warfare aircraft, H-6H (2)
Y-8: 9351 PLA Naval Aviation 2nd Division, 4th Air Regiment, Laiyang, Shandong, North Sea Fleet
March 14, 2014 [13]
Tu-154
B-4015: 34th Division, 102nd Air Regiment, Beijing-Nanyuan, PLAAF HQ, Possible ASW role [14]
March 23, 2014 [15]
Y-12
China Coast Guard
May 24, 2014 [16]
Su-27
Intercepted Japanese planes near Senkakus. The article claims the jet was part of 7th Air Division, but the identification number suggests it is part of the 33rd air division based in Chongqing which is equipped with the fighters. *note the Russian-made R-77 AAMs
June 12, 2014 [17]
Tu-154
October 3, 2014 [18] [19]
Y-9
9221: PLA Naval Aviation 4th Air Regiment, Laiyang, Shandong, North Sea Fleet
December 6, 2014 [20]
Y-9, Y-8J (2), H-6G (2)
81213 PLA Naval Aviation 6th Naval Aviation Division, Benniu/Danyang, Jiangsu, East Sea Fleet
December 7, 2014 [21]
Y-9, Y-8J (2), H-6G (2)
81214 PLA Naval Aviation 6th Naval Aviation Division, Benniu/Danyang, Jiangsu, East Sea Fleet
December 10, 2014 [22]
Y-8J (2), Y-9, H-6 (2)
81213 PLA Naval Aviation 6th Naval Aviation Division, Benniu/Danyang, Jiangsu, East Sea Fleet
December 11, 2014 [23]
Y-8J (2), Y-9, H-6G (2)
 H-6G: 81214 PLA Naval Aviation 1st Naval Aviation Division, Benniu/Danyang, Jiangsu, East Sea Fleet
2015
February 14, 2015 [24]
Y-9
Y-9: 9241 PLA Naval Aviation 1st Independent Regiment, Laiyang, Shandong
February 15, 2015 [25]
Y-9
May 21, 2015 [26]
H-6K (2)
H-6Ks: 20110 PLAAF, 10th Bomber Division, Anqing North, Anhui
First Flight Through the Miyako Strait [27]
July 29, 2015 [28]
Y-9, Y-8J, H-6 (2)
H-6G: 81218 PLA Naval Aviation 6th Naval Aviation Division, Benniu/Danyang, Jiangsu, East Sea Fleet
July 30, 2015 [29]
Y-9, KJ-200, H-6G
H-6: 81218 PLA Naval Aviation 6th Naval Aviation Division, Benniu/Danyang, Jiangsu, East Sea Fleet
November 27, 2015 [30]
H-6K (4), H-6K (4), Tu-154, Y-8, KJ-200
H-6Ks: 20119, 20211, PLAAF, 10th Bomber Division, Anqing North, Anhui

B-4029: 34th Division, 102nd Air Regiment, Beijing-Nanyuan, PLAAF HQ, KJ-200: 33173 26th Special Mission Division 76th Early Warning regiment, Wuxi-Shuofang. Note that the presence of a KJ-200 on this particular mission likely indicates the presence of a unit commander acting as in-air coordinator. Under normal circumstances the commander remains in the base air traffic control tower. [31]

December 7, 2015
Y-8 (2), H-6 (2)
December 10, 2015
Y-8 (2), Y-9 (1), H-6 (2)
December 11, 2015
Y-8 (2), Y-9 (1), H-6 (2)
2016
January 31, 2016 [32]
Y-9, Y-8 Early Warning Aircraft
Korea Strait

Also entered KADIZ [33]

April 20, 2016 [34]
Y-8J
Miyako Strait
August 18, 2016 [35]
Y-8 Early Warning (9321), H-6G (81311)
August 19, 2016 [36]
Y-8 Early Warning (9321), 2 H-6G (81212, 81214)
Second day in a row Y-8 #9321 is photographed. Unclear whether the H-6Gs photographed on the second day was also part of the patrol on the 18th.
September 25, 2016 [37]
H-6 (4) (20015), Tu-154 (B-4015), Y-8 Intel (unclear, likely model , (2) Fighter Aircraft
Sources
It is unclear whether the aircraft are flying from Laiyang as part of the 4th Air Regiment or from Tuchengzi, Liaoning, as part of the 6th Air Regiment or both
Speculation: A JMSDF sub is noted appearing at Kure, its home base, between 3/14 and 3/18, (the available satellite shots) possibly indicating it was in the East China Sea during the period when the Tu-154 was active.
https://www.mod.go.jp/js/Press/press2014/press_pdf/p20141211_02.pdf; https://www.mod.go.jp/js/Press/press2015/press_pdf/p20150214_01.pdf
https://www.japantimes.co.jp/news/2015/05/22/national/politics-diplomacy/chinese-bombers-fly-miyako-strait-first-time-fighters-scrambled/#.VyZ5eHOECUk
Note previous H-6G flights in late 2014.
I am grateful to Ken Allen for this point.