The Rise of al-Shabaab: A Militant Leadership Monitor Special Report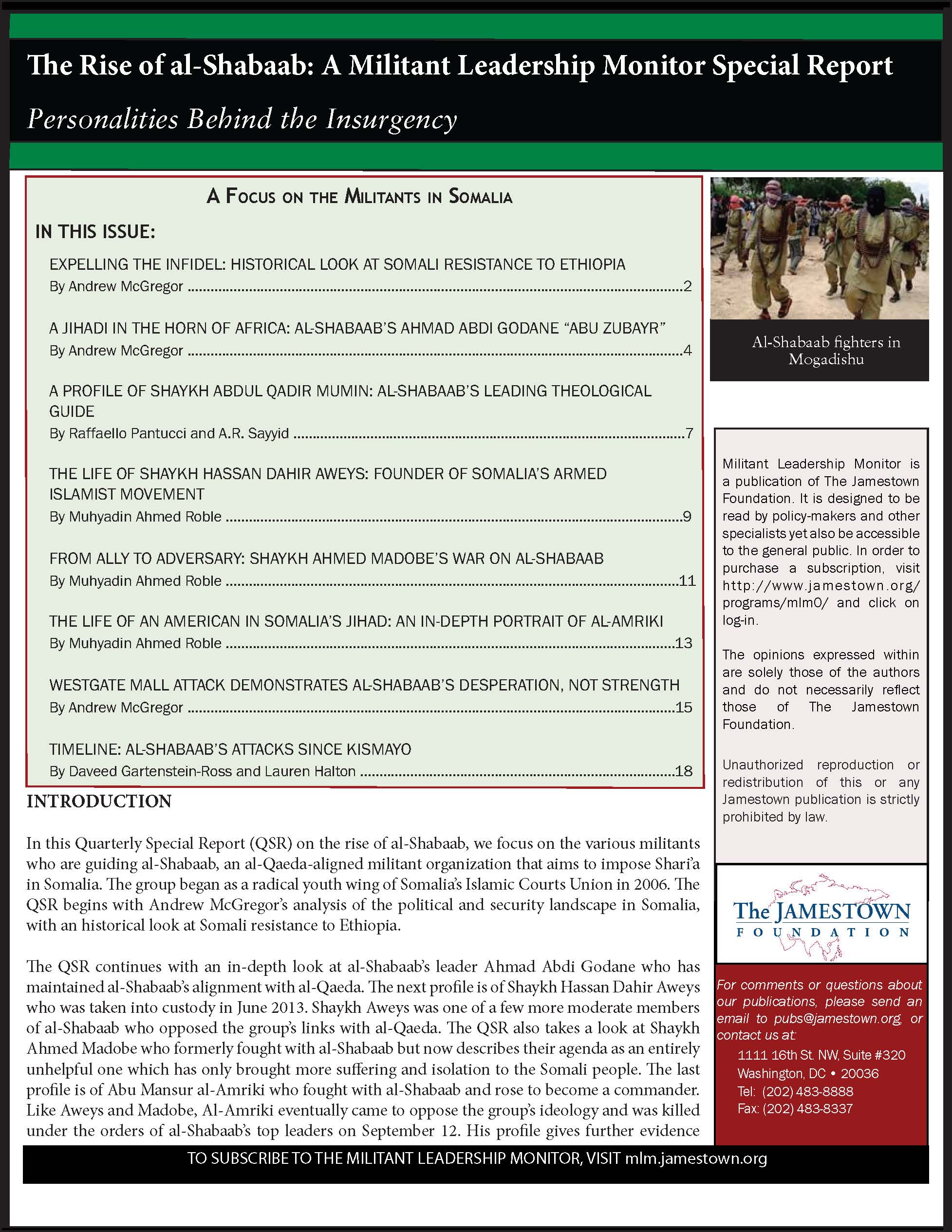 In this Quarterly Special Report (QSR) on the rise of al-Shabaab, we focus on the various militants who are guiding al-Shabaab, an al-Qaeda-aligned militant organization that aims to impose Shari'a in Somalia. The group began as a radical youth wing of Somalia's Islamic Courts Union in 2006. The QSR begins with Andrew McGregor's analysis of the political and security landscape in Somalia, with an historical look at Somali resistance to Ethiopia.
The QSR continues with an in-depth look at al-Shabaab's leader Ahmad Abdi Godane who has maintained al-Shabaab's alignment with al-Qaeda. Raffaello Pantucci and A.R. Sayyid provide a look at Shaykh Abdul Qadir Mumin, al-Shabaab's leading theological guide. The next profile is of Shaykh Hassan Dahir Aweys who was taken into custody in June 2013. Shaykh Aweys was one of a few more moderate members of al-Shabaab who opposed the group's links with al-Qaeda. The QSR also takes a look at Shaykh Ahmed Madobe who formerly fought with al-Shabaab but now describes their agenda as an entirely unhelpful one which has only brought more suffering and isolation to the Somali people. The next profile is of Abu Mansur al-Amriki who fought with al-Shabaab and rose to become a commander. Like Aweys and Madobe, Al-Amriki eventually came to oppose the group's ideology and was killed under the orders of al-Shabaab's top leaders on September 12. His profile gives further evidence to the long-running internal power struggle between al-Shabaab's leaders. The last profile is of Kenyan jihadist Abdukadir Muhammad Abdukadir (a.k.a. Ikrima al-Muhajir) who appears to be a major figure in the recruitment and facilitation of foreign fighters entering Somalia through Kenya.
The next article assesses al-Shabaab's deadly attack on Kenya's Westgate Mall on September 24, 2013. The attack was orchestrated in protest of Kenya's support for a new, autonomous administration in southern Somalia, which threatens to deprive Shabaab of operational mobility in one of its last strongholds. The analysis of the recent attack is followed by a timeline of al-Shabaab's activity since September 30, 2012. The timeline highlights attacks by al-Shabaab that show the group's increasing capability to carry out attacks.