BRIEFS
Publication: Terrorism Monitor Volume: 13 Issue: 10
By: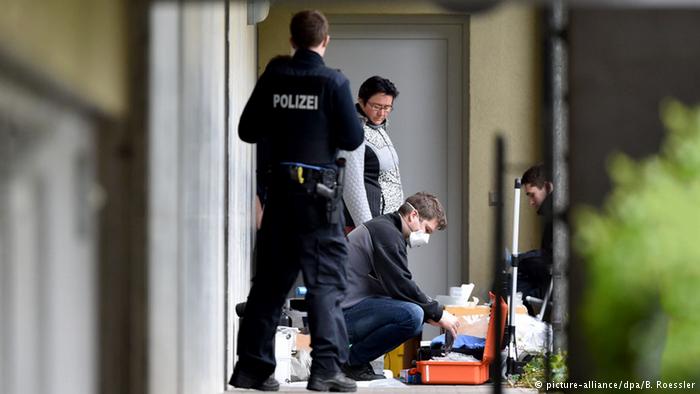 GERMANY THWARTS TERRORIST ATTACK, BUT JIHADIST THREAT CONTINUES TO GROW
James Brandon
On April 30, German police in northeastern Hesse state reportedly thwarted a terrorist attack against a bicycle race that was planned in the region on the following day (Deutsche Welle, May 1). The police arrested two suspects, a 35-year-old man of Turkish origin and his wife, and a search of their flat in Oberursel, near Frankfurt, revealed a completed pipe bomb, 100 rounds of 9-milimeter ammunition, three liters of hydrogen peroxide, a training projectile for a rocket-propelled grenade, parts of an assault rifle and assorted chemicals which could be used in bomb-making (Deutsche Welle, May 2). Their computers were also found to contain saved copies of violent Islamist videos. The police said they discovered the plot after the couple used false identities to purchase three liters of hydrogen peroxide from a shop in Frankfurt in March (purchases of over a certain amount of the chemical have to be reported to the police) (Der Spiegel, May 2). The couple are additionally believed to have links with the "Sauerland Group," a network of Islamist extremists based in western Germany, who were arrested in 2007 and subsequently jailed for plots to attack Frankfurt airport and targets associated with the U.S. military (Suddeutsche Zeitung, May 1).
The arrests underline that although Germany has never suffered a major Islamist terrorist attack, it continues to harbor a highly active hardline Islamist scene, which regularly produces militants. In early March, Germany's Federal Office for the Protection of the Constitution (Bundesamt für Verfassungsschutz—BfV), the main organ charged with investigating terrorist organizations and groups which may threaten the democratic order, estimated that around 680 German nationals have travelled to join jihadist groups abroad in recent years, principally in Syria and Iraq (Deutsche Welle, March 4). The BfV said that a third of these are believed to have returned to Germany, while around 85 had been killed. The BfV's president, Hans-Georg Maassen, warned that such "departures to war zones show no signs of abating." Unlike security agencies in other Western countries, such as the United States and the UK, where the state sometimes regards Salafists as potential allies against jihadism, the BfV openly regards the growth of hardline Salafism as conducive to the growth of violent jihadism. Maassen accordingly said that "the Islamist scene is growing without a pause," and assessed that, as a result, "the breeding ground for jihadis is consequently getting larger." The BfV also said that it estimated the number of Salafists in Germany as 7,300, a number that has doubled since 2011, a testament to the continuing and growing appeal of hardline Islamism to some German Muslims.
Illustrative of the BfV's concerns over the close relationship between German Salafists and jihadists is Denis Cuspert, a former rapper (a.k.a. "Deso Dogg"), who has since become one of the Islamic State's leading online propagandists under his jihadist name of "Abu Talha al-Almani." Cuspert's trajectory is common to many European jihadists, consisting of youthful involvement in crime, drugs and low-level violence, followed by a conversion to Salafist Islam in 2007 (Stern, April 15). Such cases and others, which demonstrate an individual's rapid transformation from convert to Salafist to jihadist, seem likely to reinforce the BfV's view that Salafism in Germany often effectively functions less as an antidote to extremism and more as a gateway drug, providing disenchanted Muslims with an ideological framework to rage against society, which ultimately leads some down the path to violent jihadism and the Islamic State.
TEXAS SHOOTING INCIDENT HIGHLIGHTS 'LONE WOLF' THREAT
James Brandon
The latest lone wolf attack linked to cartoons of Islam's Prophet Muhammad took place in the unassuming location of the Curtis Culwell Center in Garland, northeast of Dallas, Texas, on May 3. The attackers, Elton Simpson, a 30-year-old Muslim convert, and Nadir Soofi, his 34-year-old roommate, targeted an event billed as the "First Annual Muhammad Art Exhibit and Contest," which displayed various cartoons of Islam's prophet Muhammad. The event was organized by Pamela Geller, a well-known opponent of "Islamization," and featured Geert Wilders, a Dutch politician on several jihadist hit lists for his criticisms of aspects of Islam. The attack began when the gunmen, who both lived in Phoenix, drove up to the venue, exited their vehicle in front of a stationary police car and opened fire with automatic assault rifles. Within around 15 seconds, however, their assault was over, with both men shot dead by a private security guard hired by the event organizers (CNN, May 6). The only other casualty was a security officer shot in the ankle. The attackers failed to enter the venue, and none of the high-profile guests were at any time in danger.
Although information on the plot's genesis is still emerging, the basic sequence of events is clear. Simpson, the Muslim convert who is presumed to be the leader of the attack, had been drawn to jihadism for some years; in 2009, he apparently attempted to travel to Somalia for fight for al-Shabaab. His online communications over this planned trip led to his arrest by the FBI, although the agency was unable to prove in court that he intended to join the group (Washington Post, May 4). Soofi meanwhile, despite spending time in Pakistan as a child, appears to have drifted towards extremism more recently, beginning by wearing traditional Islamic clothes and becoming more overtly devout; his father, however, said he did not detect any signs of radicalization. Neither attacker appears to have trained abroad or had any substantive contacts with foreign jihadist groups, and the attack appears to have been mainly inspired online. The attack, therefore, fit into the pattern of other such recent "lone wolf" attacks, such as the fatal attack on the Charlie Hebdo magazine in Paris in January.
The May 3 Texas attack seems to have been prompted by Islamist online agitation over the planned event, which, even before the attack, had attracted considerable publicity. For instance, on April 23, a Twitter user called "Mujahid Miski," who is believed to be Mohamed Abdullahi Hassan, a U.S. jihadist in Somalia with al-Shabaab, tweeted that "the brothers from the Charlie Hebdo attack did their part. It's time for brothers in the #US to do their part," before providing an online link to coverage of the upcoming event by Breitbart (Foreign Policy, April 27). For the aspiring jihadists in Phoenix in search of a target, the event in Dallas must have seemed the ideal opportunity for just such as a Charlie Hebdo-style attack, containing an intoxicating mixture of Muhammad cartoons and high-profile "anti-Muslim" targets, such as Geller and Wilders. Shortly before carrying out their attack, the attackers, under the name "Shariah is Light," tweeted: "The bro with me and myself have given bay-ah [allegiance] to Amirul Mu'mineen. May Allah accept us as mujahideen. Make dua [prayers]". This was accompanied by the hashtag #texasattack, a deft move to ensure that their statement was picked up in the wake of the attack, which it duly was. The reference to Amirul Mu'mineen, the leader of the believers, is likely a reference to Abu Bakr al-Baghdadi, the leader of the Islamic State and its self-declared caliph.
These events underline well-known tropes of modern jihadism: the role of social media in inspiring attacks, the threat posed by self-radicalizing lone-wolves who self-align with foreign militant groups, the relatively rapid radicalization of individuals (such as Soofi) and jihadists' preoccupation with avenging perceived insults to Islam, particularly relating to cartoons of Muhammad. However, the events also show that lone wolves face severe operational limitations. For instance, while lone wolf gunmen can achieve occasional results against lightly-defended targets, such as the Charlie Hebdo cartoonists (who were protected by a single lightly-armed policeman), the Texas gunmen's rapid demise in a hail of gunfire outside the event venue in Garland without penetrating the venue or threatening their primary targets (despite the attackers wearing body armor) underlines that lone wolves rarely achieve their stated aims against any well-prepared target. Indeed, barring occasional successes such as the Charlie Hebdo attack, the lone wolf threat is often more theoretical than real. This is borne out by the similar failure of the February lone wolf attack on a cartoon-related event in the Danish capital Copenhagen; the attacker failed in his attack on his primary target, the cartoonist Lars Vilks, and instead carried out a secondary attack on a synagogue, killing a security guard, before being shot dead (The Local [Denmark], February 16). On the other hand, an advantage of lone wolf operations is that these are harder to prevent since they typically involve relatively minimal amounts of organization and online communication, which gives law enforcement agencies fewer opportunities to identify plotters in advance, even when individuals (as with Simpson) have clearly featured on the security services' radar. In addition, lone wolf attacks, even if unsuccessful, have an important psychological and propagandistic role. For instance, the latest attack shows that the groups like al-Shabaab and the Islamic State, even if not capable of directly conducting attacks against the U.S. homeland, remain capable of inspiring others to do so on their behalf.