BRIEFS
Publication: Terrorism Monitor Volume: 13 Issue: 3
By: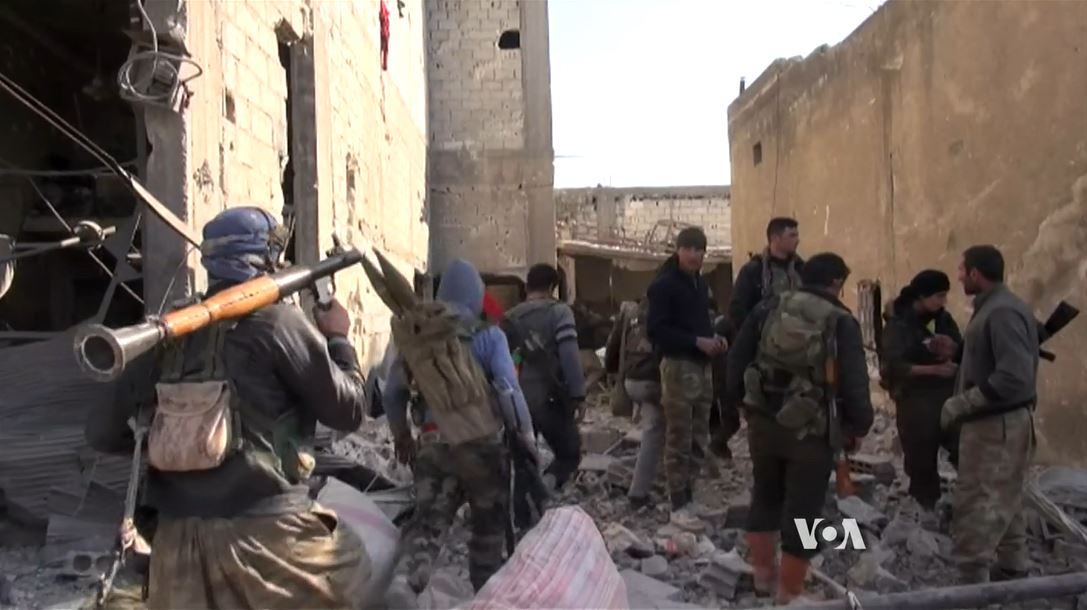 ISLAMIC STATE DEFEAT IN KOBANE HIGHLIGHTS LONG STRUGGLE AHEAD
James Brandon
The Islamic State endured one of its most significant and high-profile defeats to date in January when it was finally forced to withdraw from the Kurdish-majority Syrian town of Kobane (Ayn al-Arab in Arabic). Kurdish forces announced that they had taken complete control of the town on January 26, ending a siege which had begun in September (Rudaw, January 26). A statement issued by the Kurdish People's Protection Units (Yekîneyên Parastina Gel – YPG) declared the city to be "completely liberated" and that this "was the free will of the people and the will of humanity that ultimately succeeded in Kobane" before promising to "ultimately liberate Kobane Canton" as well. [1] Meanwhile, a video issued online by the pro-Islamic State Aamaq News Agency on the same day showed Islamic State fighters on the edge of town, admitting in Arabic that "we retreated a bit from Ayn al-Islam [Kobane] because of the bombardment and the killing of some brothers," adding of coalition airstrikes: "They bombarded everything, even motorcycles; they have not left a building standing" (Daily Star [Beirut], February 2). The independent, UK-based Syrian Observatory for Human Rights said that more than 1,000 Islamic State militants had been killed the battle for Kobane (Rudaw, January 26).
Despite this, the defeat of the Islamic State in Kobane ironically illustrates the difficulties involved in defeating the group elsewhere. Kobane was a majority-Kurdish town, meaning that the Islamic State's mainly Arab fighters lacked a natural local support base. By contrast, in other locations, particularly in their strongholds around Raqqa and Deir el-Zor in Syria, and in Anbar and Nineweh governorates in Iraq, the Islamic State enjoys significant support from local Arab Sunni tribes who feel alienated from these countries' Shi'a-dominated governments and who can consequently see the Islamic State as a protective and empowering force. Similarly, Kobane's position abutting the border with Turkey meant that Kurdish fighters could generally evacuate their wounded and bring in fresh fighters and equipment, even allowing for occasional obstructionism by Turkey; the Islamic State was operating at a considerable distance from its own logistics hubs, with the long access roads to Kobane exposing its fighters to frequent airstrikes. Similarly, the Islamic State has used the Kurdish and coalition focus on Kobane to entrench itself more strongly elsewhere, for instance, constructing a network of trenches in Raqqa.
The challenges involved in combating the Islamic State have been highlighted in other areas during the past month. For instance, on January 27, the Iraqi Shi'a Badr militia announced that all urban areas of Diyala province had been "liberated" from the Islamic State; this, however, was immediately accompanied by claims by Iraq's Sunni vice-president, Osama al-Nujaifi, of numerous crimes and abuses committed by Shi'a militias against Sunni civilians in the region (al-Sharq al-Awsat, January 27). Such claims, whether true or not, are likely to give further credence to Islamic State assertions, in both Syria and Iraq, that the organization is protecting Sunnis from Iran-backed Shi'a militias. Similar problems face Kurdish forces seeking to retake ethnically mixed areas around Kirkuk in Iraq. Following Islamic State attacks on areas around the city in the last week of January, a senior official of the Kurdistan Democratic Party (KDP), Kamal Kirkuk, who had fought on the frontlines, said "some of the local Arabs" had been supportive of the Islamic State while "some Arabs were shooting at the Peshmerga forces from behind" during Kurdish counter-attacks (Rudaw, February 4). This underlines the paradox that those forces best able to counter the Islamic State, namely Kurdish armed groups and various Iranian-backed militias, are also those most liable to drive Sunni Arabs into the arms of the Islamic State.
In this context, Iraqi government plans to create a "national guard" force and to foster an anti-Islamic State alliance among Arab Sunni tribes, with the eventual aim of retaking Mosul and other areas, seem unlikely to bear fruit in the immediate future (al-Arabiya, February 3; al-Sharq al-Awsat, January 27, February 3). At the same time, however, as shown by failure of the Islamic State's predecessor, the Islamic State in Iraq, during the 2006-2010 period, the group is potentially vulnerable not only to external pressure, but to the consequences of its own extremist ideology. As demonstrated by the recent, filmed immolation of a captured Jordanian Air Force pilot, the Islamic State's actions now seem increasingly focused on appealing to its own extremist Salafi-Jihadist followers, acting out its ideological fixation with creating a pseudo-medieval state and undertaking spectacular acts of gruesomely choreographed violence to terrify its enemies. Such a focus on ideological fidelity at the expense of state-building, along with its abandonment of its previous attempts to win over disillusioned moderate Sunnis, may yet prove to be the cause of the group's ultimate undoing.
Note
1. "For the Press and Public Opinion," People's Defense Units – General Command, January 26, 2015, https://www.facebook.com/PeoplesDefenseUnits/posts/400249066766984:0.
MILITANT ATTACKS IN EGYPT GROW MORE AMBITIOUS AS TARGETING PATTERNS CHANGE
James Brandon
A series of both large and small-scale attacks in Europe during the last fortnight have underlined the continuing activity of a range of jihadist groups in the country. The most dramatic attacks occurred in Sinai on January 29 when four coordinated attacks involving car bombs and mortar fire killed 32 Egyptian soldiers and policemen, mostly in al-Arish, the provincial capital of North Sinai. The attacks, among the most deadly in several years, were later claimed by Ansar Bayt al-Maqdis (Supporters of Jerusalem) (al-Ahram, January 30). The assault prompted the Egyptian President Abd al-Fatah al-Sisi to cut short his visit to Ethiopia and return home, where he created a unified military command for the Sinai region to better tackle Islamist violence there (Ma'an News Agency, January 30). The attacks approximately coincided with the January 25 anniversary of the 2011 uprising against former president Hosni Mubarak (al-Ahram, January 30). Ansar Bayt al-Maqdis has operated under the name of "Wilayat Sinai" since the group's leaders pledged allegiance to the Islamic State in November; wilayat (province) indicates the group sees itself as a regional wing of the Islamic State, although evidence of practical links between the group remain scant. The attacks, however, suggest the group remains bold and ambitious and that it is determined to challenge the Egyptian security forces directly.
While the Sinai is home to the country's bloodiest Islamist insurgency, further small-scale attacks have continued elsewhere in recent weeks, most notably in the capital Cairo. On January 23 and 25, two bombs exploded in the Alf Maskan area of eastern Cairo, targeting the police on both occasions and injuring several people (al-Ahram, January 23; January 25). Ajnad Misr, another Egyptian jihadist organization, later claimed responsibility for the attacks against what it described as "criminal agencies" (Daily News Egypt, January 26). Shortly afterwards, on January 26, a homemade bomb was discovered and defused in City Stars, one of Cairo's largest malls and located in the upscale Maadi area (al-Ahram, January 26). On February 3, two further small bombs were discovered at Cairo's international airport and defused by the security forces (al-Ahram, February 3). On February 5, one person was killed in Menoufia, a town north of Cairo, in a KFC restaurant when unknown attackers on a motorbike threw a Molotov cocktail and then opened fired (al-Arabiya, February 5). As these recent incidents in and around the capital indicate, as well as targeting the security forces, many recent attacks in Cairo have focused on civilian targets associated with Egypt's elite and also with Western influences. This contrasts with Sinai, where the vast majority of attacks have targeted the government and the security forces. It is too early to say, however, if this represents a substantive shift in targeting patterns.
Complicating analysis of recent events is that, while many attacks in and around Cairo are undoubtedly conducted by jihadist movements such as Ajnad Misr, this is not always the case. For instance, on February 2, the branch of an Emirati bank in the Cairo suburb of Giza was attacked and set alight by masked attackers (Daily News Egypt, February 4). The attack was later claimed by a group called the "Popular Resistance of Giza," which posted a video of the attack on its Facebook page. The video, called "Under the Ashes," accused the bank of "financing massacres of the Egyptian people." [1] Although this group's exact identity is unclear, the largely secular and "revolutionary" language on its Facebook page and its focus on corporate targets suggests it may be related to one of the far-left or anarchist groups that have played a variety of roles in the Egyptian revolution, both in the toppling of Mubarak and in demonstrations against the subsequent Muslim Brotherhood government. [2] This indicates that violent opposition to the Egyptian government is not necessarily confined to Islamist groups. With the exception of Sinai, where the scale of militancy has to some extent undermined the government's control of parts of the region, the recent attacks in and around Cairo are only a minor irritant to the government and pose no serious threat to its control. That said, over the longer term, this constant stream of almost daily low-level attacks threatens to undermine al-Sisi's self-chosen image as a force for law, order and stability, one of the key pillars of his de facto legitimacy, particularly if the attacks, which are currently distinctly low-tech, become more sophisticated and lethal in the coming months.
Notes
1. The video can be seen here: https://www.facebook.com/video.php?v=1540989212819767&set=vb.1524711591114196&type=2&theater.