Insani Joy Samla's Arrest and the Annihilation of Abu Sayyaf's Courier Network in the Philippines
Publication: Militant Leadership Monitor Volume: 14 Issue: 4
By: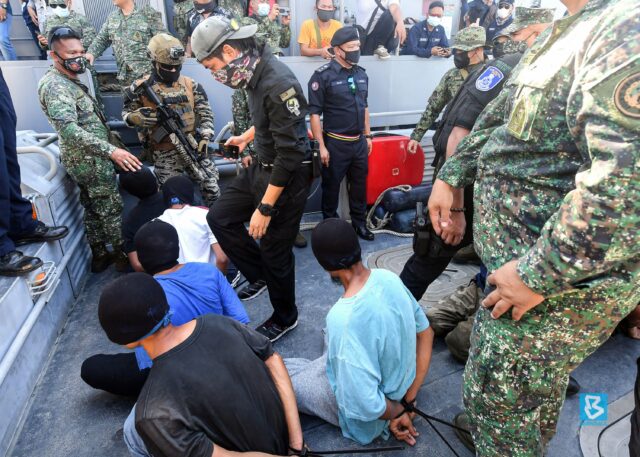 On March 2, Abu Sayyaf courier Insani Joy Samla was arrested by Philippine security officers on the island of Basilan near Mindanao (akhbaralaan.net, March 2). His arrest disrupted the remaining linkages between Abu Sayyaf's increasingly small and dispersed cells across Mindanao, which have been degraded as a result of the surrender of many militants and a series of successful counter-terrorism operations. However, his arrest will also undermine the legacy of one of the country's longest lasting jihadist families (manilatimes.net, January 24).
Samla is the uncle of former pro-Islamic State (IS) Abu Sayyaf leader Isnon Hapilon, who was killed during the battle of Marawi in 2017. In this battle, Hapilon's fighters occupied Marawi for several months, as seen in several video releases by IS at the time (philstar.com, October 16, 2017). Samla, however, escaped that battle and, according to the Chief of Operations of Western Mindanao Police Command (Wesmincom), he "served as a carrier of food, medical supplies, and ammunition for the Abu Sayyaf bandits stationed in Basilan province" (pna.gov.ph, March 1). After his recent arrest, he was taken to Isabela City, de jure capital of Basilan province, where he will be detained until he stands trial.
Samla is unlikely to find much sympathy at trial, due to his involvement in multiple murders and attempted killings in Isabela City in May 2017 (manilatimes.net, January 24). This occurred during the final week of the siege of Marawi and suggests that those murders were revenge attacks by Samla in the aftermath of the jihadist defeat. Yet, from 2017 until his arrest he had been conducting courier work for Abu Sayyaf cells, which were scattered in southern Mindanao after they lost in Marawi.
Samla's arrest weakens Abu Sayyaf's courier network in Mindanao. Another Abu Sayyaf financial courier, Nursita Mahalli Malud (also known as Kirsita Ismael), the second wife of Abu Sayyaf commander, Mundi Sawadjaan, was arrested a year before Samla in Jolo (gmanetwork.com, March 6, 2022). She reportedly specialized in transferring finances between Sawadjaan and other commanders in Mindanao. Malud was further in charge of obtaining medical supplies and bomb components for Abu Sayyaf, which means she likely had interacted with Samla (philstar.com, March 6, 2022). With the arrest of her and Samla, Abu Sayyaf's logistics network for food, medical supplies, ammunition, and finances have all been severed.
Prior to Samla and Malud, another key Abu Sayyaf courier had been arrested in 2015. This courier, Edeliza Ulep (also known as Gina Perez), was an Australian national, rather than a Filipino/Filipina (mindanaogoldstardaily.com, August 14, 2015). She had been a courier involved with obtaining ransom money for former Australian soldier, Warren Rodwell, who was kidnapped by Abu Sayyaf for 18 months until he was ransomed for roughly $100,000 in 2013 (smh.com.au, October 10, 2014). Her arrest coincided with reduced Abu Sayyaf abductions over the next decade.
Notable also about these three couriers is that two of them—Malud and Ulep—were women. Other women have been suicide bombers in Abu Sayyaf. Thus, the group is one example of a number of jihadist groups that employ women in more than "domestic" roles. And, as evidenced by the arrest of Malud, Ulep, and Samla, couriers' impact on the ability of Abu Sayyaf to sustain itself amidst army offensives was significant. Their absence from the battlefields and logistics routes is coincides with more limited Abu Sayyaf operations.