IS FREED TALIBAN CO-FOUNDER MULLAH ABDUL GHANI BARADAR THE KEY TO PEACE?
Publication: Militant Leadership Monitor Volume: 9 Issue: 11
By: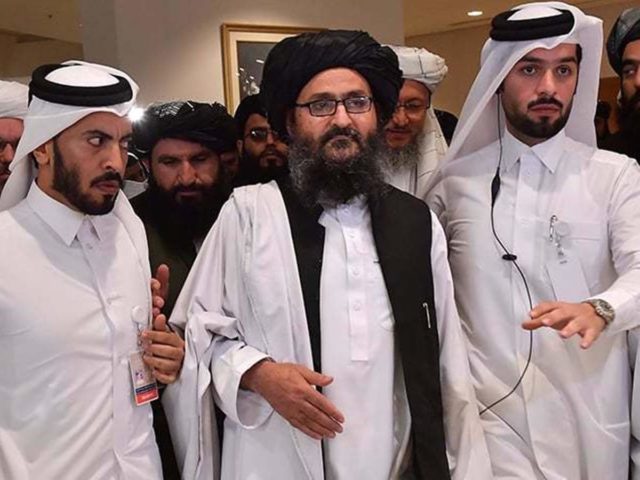 After almost nine years of incarceration in a Pakistani jail, Abdul Ghani Baradar Akhund (Akhund being an honorific for Islamic clerics and Baradar being a name fondly given to Abdul Ghani by fellow Taliban leaders)—popularly known as Mullah Baradar—was released on October 22. Mullah Baradar is one of the most influential moderate faces of the Afghan Taliban movement. His release is a part of the Qatar-U.S.-Pakistan-led tripartite effort to revive peace talks with the Taliban in Afghanistan (The News, October 22). Widespread skepticism over the timing of his release notwithstanding, the so-called Taliban Emirate welcomed Mullah Baradar's freedom in a statement on their official website (Al Emarah/Voice of Jihad, October 25). Following Mullah Baradar's release, other Taliban leaders—such as Mullah Abdul Samad Sani, Mullah Samad Khan and Salahuddin—were also released from Pakistani prisons, a grand gesture largely symbolic to show Pakistan's seriousness about Afghan peace.
Why has Abdul Ghani Baradar remained an important Taliban figurehead even after being out of power for so many years? Arguably, it is because he is one of the four co-founders of the Taliban and a spiritual figurehead who toiled to establish the Taliban movement in the region, alongside the deceased supreme leader Mullah Muhammad Omar. At the time of his arrest in February 2010, he was the deputy chief of the Taliban in Afghanistan. In 2003, he was appointed the Mullah Omar's deputy along with another powerful Taliban leader, Mullah Ubaidullah Akhund. Baradar, (literally, "brother") was earlier scheduled to be released by Pakistani authorities to negotiate with the Afghan Taliban, but his safe passage faced numerous problems due to situations on the ground and pre-conditions imposed by the Kabul administration.
Not much is known about Baradar's childhood or his formative years as a Taliban commander. According to the U.N. and Interpol, however, Mullah Baradar is about 50 years old (born in 1968) and hails from Deh Rahwod district in southern Afghanistan's Oruzgan Province. He belongs to the Pashtun tribe of the Popalzai (UNSC List 1988, Generated November 20; Interpol.int, Accessed November 20 ).
A cursory look at Mullah Baradar's career inside the Taliban movement suggests that a strong but silent section of Taliban leaders are keen on—or at least favorable towards—reconciliations in Afghanistan in order to end the decades-long conflict. Baradar now represents the political side of the Taliban rather than the militant Taliban faction. During the Taliban's reign (1996-2001), he served as the governor of Herat and Nimruz provinces. His name was mentioned as "Deputy Minister of Defense under the Taliban regime" in the UNSC list of individuals and entities belonging to or associated with the Taliban (UNSC List 1988, generated November 20). He also headed military units under Taliban rule in Kabul and Kandahar (Dunya News, September 11, 2013). Despite being an able military commander who fought many battles against the Soviet invaders in the 1980s and led offensives against the United States post-2001, he only rose to prominence after taking charge of the Taliban's Rahbari Shura. Widely known as the Quetta Shura, it is the highest decision-making body based in Pakistan (in exile) and active since 2003. He succeeded Mullah Obaidullah after the latter's arrest in Pakistan in 2007.
Though rumors have been rife in the press since early October, this spate of high-profile releases of Taliban leaders is being seen as a result of high-level negotiations between visiting Qatari government representatives and the Pakistani government. U.S. influence behind the development is unambiguously visible, with the Special Envoy for Afghanistan Zalmay Khalilzad visiting Pakistan, Afghanistan, and the Taliban's Qatar offices between October 4 and 10 in order to meet all of the stakeholders involved in the peace process. The purpose is to impel the stalled process of reconciliation in Afghanistan. It is likely that Khalilzad—the Afghan-born, former U.S. Ambassador to Afghanistan—had requested the Pakistani government to release Mullah Baradar and other senior Taliban leaders in order to facilitate the peace process. It is now expected that Mullah Baradar—after safe passage—will use his clout and authority with various hardline Taliban factions in order to find an agreeable political solution or settlement to the Afghan conflict through negotiation and dialogue.
World powers including the United States and Russia are of the opinion that the Taliban is not losing any ground in Afghanistan and the situation remains the same as before. General Joseph Dunford,  the Chairman of the U.S. Joint Chiefs of Staff, recently reiterated this fact. Still, he said that "we do believe the Taliban know that at some point they do have to reconcile." (Tolo News, November 19, 2018).
The most concerning aspect now is that given the Taliban is not losing, what will prompt Baradar, a battle-hardened Taliban leader, to push for a negotiation or come to an understanding with Western powers or the Afghan government? While questions over the timing of Baradar's release and his potential to bring about reconciliation will be answered at some point, his willingness to exert influence over a new breed of Taliban commanders (e.g. current Taliban deputy leaders Mullah Muhammad Yaqoob and Sirajuddin Haqqani), and more importantly, his physical health will play a vital role. Whether or not he can successfully bridge the gap between the different Taliban factions and drive them to the negotiating table is another matter, which only time will answer.