Zuena Nakhumicha: The Trials and Tribulations of Tanzania's 'Black Widow'
Publication: Militant Leadership Monitor Volume: 14 Issue: 9
By: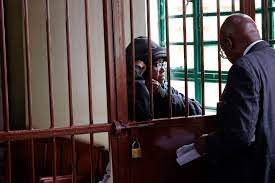 Zuena Nakhumicha was once a Tanzanian banker, but has been arrested for her suspected ties to terrorists, with a wide web of links in Kenya. She was captured in a border town between Tanzania and Zambia on July 27, and has since claimed in court that the media's labeling of her as the new "Black Widow" makes it impossible for her to face a fair trial (The Nation, August 21). Nevertheless, Nakhumicha was charged with facilitating the actions of terrorist cells throughout East Africa. This includes networks in Somalia, Ethiopia, Kenya, and Tanzania, suggesting that the charges against her are serious—and that the Tanzanian authorities are unlikely to relent in their prosecution of her case (The Nation, August 14).
Nakhumicha's moniker is a reference to the "White Widow," British citizen Samantha Lewthwaite, who recruited Kenyans and other foreign fighters into al-Qaeda-affiliate al-Shabaab. The "Black Widow," in contrast, is allied with Islamic State (IS). Specifically, Nakhumicha leveraged her regional connections to recruit fighters for IS's province in Somalia's Puntland region. Meanwhile, Lewthwaite has managed to evade authorities ever since she became an internationally known suspect for her contributions to al-Shabaab's Westgate Mall massacre in Nairobi, Kenya in 2013. In 2022, she reportedly fled from Somalia to Yemen, where she is believed to have remained—and married her fourth jihadist husband (Garowe Online, January 16, 2022).
What made Nakhumicha unique was her ability to leverage her position as a banker (at two banks, before her resignation in mid-2021) to support IS's funding and logistics networks in East Africa and obtain travel documents for recruits (Hiiraan Online, August 13). The next step in prosecuting Nakhumicha will be the investigation of her travel logs based on her cell phone movements in Tanzania and Zambia (The Standard, August 25). This may help authorities identify those with whom she interacted and whose travel to Somalia she helped facilitate.
Nakhumicha's case is bound to attract significant attention—not only because she is a woman in a jihadist field otherwise dominated by men, but also because of her white-collar job in the banking community, which makes her a somewhat atypical jihadist financier. In addition, her case underlines how much weaker IS's presence in Somalia is (with only several hundred fighters) when compared to al-Shabaab. Nevertheless, Somalia still continues to be a funding and logistics hub for IS. Prior to his death earlier this year in a US air strike, Bilal al-Sudani, for example, had also been a key Somalia-based funder and logistician behind IS operations from East Africa to Afghanistan (Al Jazeera, January 27).
While IS in Somalia may not be IS's most active province in terms of militant activity, it remains an epicenter for the organization's global funding and logistics networks. If the allegations against Nakhumicha prove true, it would show that Somalia continues to play this role for IS, even after al-Sudani's death. The unique profile of Nakhumicha suggests that IS in Somalia is branching out and seeking to utilize operatives who are less likely to be detected than hardened jihadist veterans like al-Sudani.