China Defense & Security 2011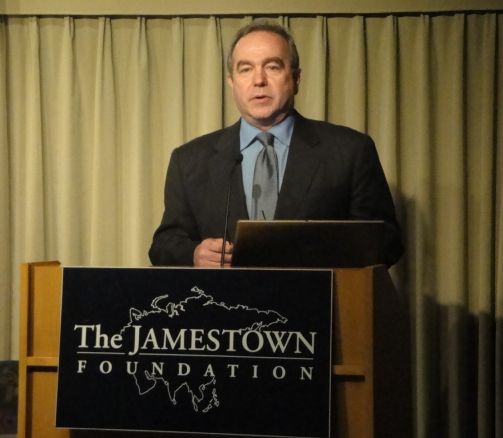 Thursday, February 10, 2011
Root Conference Room
Carnegie Endowment for International Peace
1779 Massachusetts Avenue Northwest
Washington D.C., DC 20036-2109
*Click here to watch Panel II*
** Click here to order a DVD of this event **
Note: The DVD does not feature the "off the record" remarks by Assistant Secretary of State for East Asian and Pacific Affairs

REGISTRATION:
8:30 A.M. – 9:00 A.M.
OPENING REMARKS:

9:00 A.M. – 9:15 A.M
"MILITARY POWER IN CHINA'S GRAND STRATEGY"
Arthur Waldron
Lauder Professor of International Relations, University of Pennsylvania
PANEL ONE:
9:15 A.M. – 10:30 A.M.
CHINA'S RISE & GLOBAL SECURITY
Moderator:
L.C. Russell Hsiao
Editor, China Brief
Presenters:
"Beijing's Quasi-Superpower Diplomacy & Expanding Core Interests"
Willy Lam
Senior Fellow, The Jamestown Foundation
"China's Rise in the Changing Strategic Landscape"
Michael Green
Senior Adviser and Japan Chair, CSIS
Associate Professor, Georgetown University
"Military Balance and Cross-Strait Relations"
Shuai Hua-Ming
Legislator, Foreign Affairs and Defense Committee
Republic of China (Taiwan)
COFFEE BREAK:
10:30 A.M. – 10:45 A.M.

PANEL TWO:
10:45 A.M. – 12:00 P.M.
THE FUTURE OF CHINA'S DEFENSE & SECURITY
Moderator:
RADM Michael McDevitt, USN (Ret.)
Vice President, Center for Naval Analyses
"Science & Technology in China's Defense Modernization"
Tai Ming Cheung
Associate Research Scientist, IGCC
"Information Warfare and China's Cyber-warfare Capabilities"

James Mulvenon
Vice-President of Defense Group, Inc.'s Intelligence Division and Director of DGI¹s Center for Intelligence Research and Analysis
"Advances in China's Space Program"
Dean Cheng
Research Fellow, Heritage Foundation
LUNCHEON AND KEYNOTE ADDRESS
12:00 PM – 1:15 PM
The Honorable Kurt Campbell
Assistant Secretary of State
Bureau of East Asian and Pacific Affairs
Q & A

PANEL THREE:
1:15 PM – 2:30 PM
FORCE STRUCTURE & MISSIONS
Moderator:
Ambassador Stapleton Roy
Director, Kissinger Institute on China and the United States, Woodrow Wilson International Center for Scholars
Presenters:
"The Chinese Armed Forces' Structure and Evolving Missions"
Dennis Blasko
Former Military Intelligence Officer and Foreign Area Officer specializing in China
"The Ten Pillars of the PLAAF"
Kenneth Allen
Senior Research Analyst, DGI's Center for Intelligence Research
"Second Artillery Corps"
Mark Stokes
Executive Director, Project 2049 Institute
COFFEE BREAK:
2:30 P.M. – 2:45 P.M.
PANEL FOUR:
2:45 P.M. – 4:00 P.M
MILITARY MODERNIZATION & STRATEGIC THINKING
Moderator:
Richard C. Bush III
Director of the Center for Northeast Asian Policy Studies, Brookings Institution
Presenters:
"Strategic Thinking in China's Naval Modernization"
Dan Blumenthal
Resident Fellow, American Enterprise Institute
"China's Anti-Access/Area Denial Capabilities"
Andrew Erickson
Associate Professor, U.S. Naval War College
"The PLAN's Evolving Naval Doctrine & Strategy"
Nan Li
Associate Professor, U.S. Naval War College
CONCLUSION:
4:00 P.M.
Participant Biographies
Kurt Campbell
The Honorable Kurt Campbell became the Assistant Secretary of State for East Asian and Pacific Affairs in June 2009. Previously, he was the CEO and Co-Founder of the Center for a New American Security (CNAS) and concurrently served as the director of the Aspen Strategy Group and chairman of the Editorial Board of the Washington Quarterly. He was the founder of StratAsia, a strategic advisory firm, and was the senior vice president, director of the International Security Program, and Henry A. Kissinger Chair in National Security Policy at the Center for Strategic and International Studies. He was also associate professor of public policy and international relations at the John F. Kennedy School of Government and assistant director of the Center for Science and International Affairs at Harvard University.
Arthur Waldron
Dr. Arthur Waldron is the Lauder Professor of International Relations in the Department of History at the University of Pennsylvania. His specialties are the history of China and Eurasia, and the history of war and violence. At Penn he is an associate of ISTAR—the Institute for Strategic Threat Assessment and Response—and has been associated with the Solomon Asch Institute for the Study of Ethnopolitical Conflict. He serves on the boards of the Jamestown Foundation and of Freedom House, and is a member of the Council on Foreign Relations. Professor Waldron is also a regular consultant to government, having served on the Congressionally mandated US-China Economic and Security Review Commission, and testifies regularly to both House and Senate committees. He has also served as an American representative in "track two" meetings involving Korea, China, Taiwan, Japan, and Russia.
Willy Lam
Dr. Willy Wo-Lap Lam is a Senior Fellow at The Jamestown Foundation. He has worked in senior editorial positions in international media including Asiaweek newsmagazine, South China Morning Post, and the Asia-Pacific Headquarters of CNN. He is the author of five books on China, including the recently published "Chinese Politics in the Hu Jintao Era: New Leaders, New Challenges." Lam is an Adjunct Professor of China studies at Akita International University, Japan, and at the Chinese University of Hong Kong.
Michael Green
Dr. Michael Green is a senior adviser and holds the Japan Chair at CSIS, as well as being an associate professor of international relations at Georgetown University. He previously served as special assistant to the president for national security affairs and senior director for Asian affairs at the National Security Council (NSC), from January 2004 to December 2005, after joining the NSC in April 2001 as director of Asian affairs with responsibility for Japan, Korea, and Australia/New Zealand. His current research and writing is focused on Asian regional architecture, Japanese politics, U.S. foreign policy history, the Korean peninsula, Tibet, Burma, and U.S.-India relations.
Shuai Hua-Ming
Lt-Gen (Ret.) Shuai Hua-Ming retired from the Republic of China (Taiwan) Army in January 2001, with more than 34 years of service under his belt. In the mid-1990's, Gen Shuai participated in countless strategic talks as part of the US arms sale program to Taiwan. He was one of the key staff handling the missile crisis in March 1996. Prior to retirement, he was heavily involved in ROC military restructuring, a complicated task necessitated by the modernization of the country's armed forces. He was instrumental in drafting the Law of National Defense and the Organic Law for the Ministry of National Defense, enacted and amended respectively by the Legislative Yuan in 2000.He has been serving as Legislator since 2005 and is a member of its Foreign Affairs and Defense Committee.
L.C. Russell Hsiao
Mr. L.C. Russell Hsiao is the Editor of China Brief. Mr. Hsiao received his B.A in International Studies from the American University's School of International Service and the University Honors Program. His areas of concentration are cross-Strait relations, East Asia democratization, Chinese and Taiwanese foreign policy and U.S. foreign policy toward East Asia. He has worked and studied extensively in East Asia, which include spending a semester at Yonsei University in Seoul, South Korea. He also frequently travels around the region for research and regularly participates in track II diplomatic dialogues in the Asia-Pacific region as a member of the Young Leaders' Program of the Honolulu based think tank Pacific Forum CSIS. He previously conducted research at the Asian Studies Center at The Heritage Foundation where he worked closely with leading Asia analysts on U.S. foreign policy toward East Asia. Most recently, Mr. Hsiao worked at the Taiwan Foundation for Democracy (TFD), a leading grant making and research institute based in Taipei, where he did programming and research on institution building, civil society development, and democratization in Asia. He served as assistant coordinator of the World Forum for Democratization in Asia (WFDA).
Stapleton Roy
Ambassador Stapelton Roy joined The Asia Foundation's board of trustees in 2001. He became Director of the Kissinger Institute on China and the United States at the Woodrow Wilson International Center for Scholars in 2008. Prior to this position, he was the managing director of Kissinger Associates, Inc., a strategic consulting firm, since 2001 when he retired from the Foreign Service after a career spanning 45 years with the U.S. Department of State. He has spent much of his career in East Asia, where his assignments included Bangkok, Hong Kong, Taipei, Beijing, Singapore, and Jakarta. He is a three time ambassador, acting as the top U.S. envoy in Singapore (1984-1986), the People's Republic of China (1991-1995), and Indonesia (1996-1999). In 1996 he was promoted to the rank of career ambassador, the highest rank in the Foreign Service. Ambassador Roy's final post with the State Department was as assistant secretary for Intelligence and Research. He is a director of Conoco Phillips and Freeport McMoRan Copper & Gold and chairman of the United States Asia Pacific Council.
Kenneth Allen
Kenneth W. Allen is a Senior China Analyst at Defense Group Inc. (DGI). He is a retired U.S. Air Force officer, whose extensive service abroad includes a tour in China as the Assistant Air Attaché. Prior to this, he was a Senior Analyst at the CNA Corporation, Senior Associate at the Henry L. Stimson Center, Executive Vice President of the US-Taiwan Business Council, and served 21 years in the U.S. Air Force, including assignments in Taiwan, Berlin, Japan, Hawaii, China, and Washington DC. He was inducted into the Defense Attaché Hall of Fame in 1997. He has written several books and articles on China's military, including China's Air Force Enters the 21st Century, PLA Air Force: Lessons Learned 1949-2002, and China's Foreign Military Relations. He received a BA from the University of California at Davis, a BA from the University of Maryland in Asian Studies, and an MA from Boston University in International Relations.
Dennis Blasko
Lt-Col (Ret.) Dennis J. Blasko served 23 years in the U.S. Army as a Military Intelligence Officer and Foreign Area Officer specializing in China. Mr. Blasko was an army attaché in Beijing from 1992-1995 and in Hong Kong from 1995-1996. He served in infantry units in Germany, Italy, and Korea and in Washington at the Defense Intelligence Agency, Headquarters Department of the Army (Office of Special Operations), and the National Defense University War Gaming and Simulation Center.
Mark Stokes
Lt-Col (Ret.) Mark Stokes is the Executive Director of the Project 2049 Institute. Previously, he was the founder and president of Quantum Pacific Enterprises, an international consulting firm, and vice president and Taiwan country manager for Raytheon International. He has served as executive vice president of Laifu Trading Company, a subsidiary of the Rehfeldt Group; a senior associate at the Center for Strategic and International Studies; and member of the Board of Governors of the American Chamber of Commerce in Taiwan. A 20-year U.S. Air Force veteran, Stokes also served as team chief and senior country director for the People's Republic of China, Taiwan and Mongolia in the Office of the Assistant Secretary of Defense for International Security Affairs. He holds a B.A. from Texas A&M University, and graduate degrees in International Relations and Asian Studies from Boston University and the Naval Postgraduate School. He is a fluent Mandarin speaker.
Richard C. Bush III
Dr. Richard Bush's two-decade public service career spans Congress, the intelligence community and the U.S. State Department. He currently focuses on China-Taiwan relations, U.S.-China relations, the Korean peninsula and Japan's security. He is the author of, among other works, The Perils of Proximity: China-Japan Security Relations, A War Like No Other: The Truth About China's Challenge to America, Untying the Knot: Making Peace in the Taiwan Strait , and At Cross Purposes: U.S.-Taiwan Relations Since 1942.
Dan Blumenthal
Mr. Dan Blumenthal is a Resident Fellow at the American Enterprise Institute. He is the current commissioner and former vice chairman of the U.S.-China Economic and Security Review Commission, where he directs efforts to monitor, investigate, and provide recommendations on the national security implications of the economic relationship between the two countries. Previously, he was senior director for China, Taiwan, and Mongolia in the Secretary of Defense's Office of International Security Affairs and practiced law in New York prior to his government service. At AEI, in addition to his work on the national security implications of U.S.-Sino relations, he coordinates the Tocqueville on China project, which examines the underlying civic culture of post-Mao China. Mr. Blumenthal also contributes to AEI's Asian Outlook series and is a research associate with the National Asia Research Program.
Andrew Erickson
Dr. Andrew S. Erickson is an Associate Professor in the Strategic Research Department at the U.S. Naval War College and a founding member of the department's China Maritime Studies Institute (CMSI). He is a Fellow in the Princeton-Harvard China and the World Program, an Associate in Research at Harvard University's Fairbank Center for Chinese Studies, and a Fellow in the National Committee on U.S.-China Relations' Public Intellectuals Program.
Dean Cheng
Mr. Dean Cheng is a Research Fellow in the Asian Studies Center at the Heritage Foundation. Dean brings detailed knowledge of China's military and space capabilities to bear as The Heritage Foundation's research fellow on Chinese political and security affairs. He specializes in China's military and foreign policy, in particular its relationship with the rest of Asia and with the United States. Cheng has written extensively on China's military doctrine, technological implications of its space program and "dual use" issues associated with the communist nation's industrial and scientific infrastructure. He previously worked for 13 years as a senior analyst, first with Science Applications International Corp. (SAIC), the Fortune 500 specialist in defense and homeland security, and then with the China Studies division of the Center for Naval Analyses, the federally funded research institute.
Michael McDevitt
RADM (Ret.) Michael McDevitt is the Vice President and Director of CNA Strategic Studies, a division of CNA – a not-for-profit federally funded research center in Washington, DC. CNA Strategic Studies conducts research and analyses that focus on strategy, political-military issues and regional security studies. During his navy career, Rear Admiral McDevitt held four at-sea commands; including an aircraft carrier battlegroup. He was the Director of the East Asia Policy office for the Secretary of Defense during the George H.W. Bush Administration. He also served for two years as the Director for Strategy, War Plans and Policy (J-5) for US CINCPAC. Rear Admiral McDevitt concluded his 34 year active duty career as the Commandant of the National War College in Washington, DC.
Tai Ming Cheung
Dr. Tai Ming Cheung is an associate research scientist at IGCC. He is in charge of the institute's Minerva project "The Evolving Relationship Between Technology and National Security in China: Innovation, Defense Transformation, and China's Place in the Global Technology Order." This five-year research and training program examining China's efforts to become a world-class science and technology power is funded by the U.S. Department of Defense.
Cheung is a long-time analyst of Chinese and East Asian defense and national security affairs. He was based in Asia from the mid-1980s to 2002 covering political, economic and strategic developments in greater China. He was also a journalist and political and business risk consultant in northeast Asia. He received his Ph.D. from the War Studies Department at King's College, London University in 2006. His latest book, Fortifying China: The Struggle to Build a Modern Defense Economy, was published by Cornell University Press in 2009. He is an assistant adjunct professor at the School of International Relations and Pacific Studies (IR/PS) at UC San Diego, where he teaches courses on Asian security, Chinese security and technology, and Chinese politics.
James Mulvenon
Dr. James Mulvenon is Vice-President of Defense Group, Inc.¹s Intelligence Division and Director of DGI¹s Center for Intelligence Research and Analysis. At CIRA, Dr. Mulvenon runs teams of nearly twenty cleared Chinese, Russian, Arabic, Pashto, Urdu, and Dari/Farsi linguist-analysts performing open-source research for the US Government. A specialist on the Chinese military and cyber warfare, Dr. Mulvenon's research focuses on Chinese C4ISR (command, control, communications, computers, intelligence, and reconnaissance), defense research/development/acquisition organizations and policy, strategic weapons programs (computer network operations and nuclear warfare), cryptography, and the military and civilian implications of the information revolution in China.
Nan Li
Dr. Nan Li is an associate professor at the Strategic Research Department of the U.S. Naval War College and a member of its China Maritime Studies Institute. He has published extensively on Chinese security and military policy. His writings have appeared in China Quarterly, Security Studies, China Journal, Armed Forces & Society, Issues and Studies, Asian Security, U.S. Naval War College Review, U.S. Naval Institute Proceedings, and many others. He has contributed to edited volumes from RAND Corporation, National Defense University Press, Clarendon Press, M.E. Sharpe, U.S. Army War College, and National Bureau of Asian Research. He has also published a monograph with the U.S. Institute of Peace. He is the editor of Chinese Civil-Military Relations (Routledge, 2006). His most recent publication is Civil-Military Relations in the Post-Deng Era: Implications for Crisis Management and Naval Modernization (U.S. Naval War College Press, 2010). Nan Li received a Ph.D in political science from the Johns Hopkins University.
*To Register for the Feburary 10 Conference please visit our Registration Website.*
**Members of the Friends of Jamestown Program will receive a 50% discount on conference admission.**