Warming Japan-Taiwan Ties: Implications for East Asia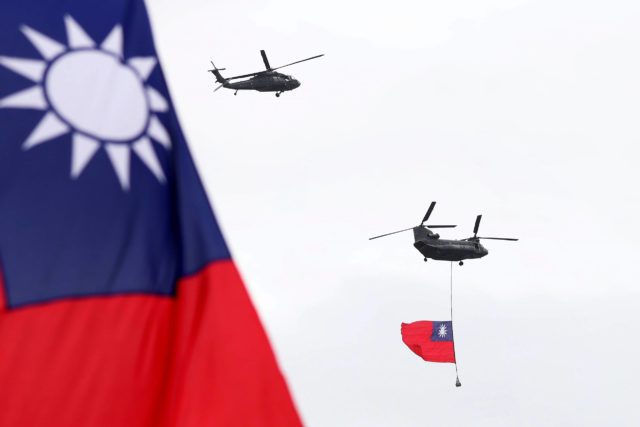 On September 29, the Jamestown Foundation held a virtual webinar on "Warming Japan-Taiwan Ties: Implications for East Asia."
Like its American ally, Japan's policy toward Taiwan is characterized by ambiguity. Official relations ended with Japan's recognition of the People's Republic of China in 1972, but Tokyo has maintained robust unofficial ties with Taipei ever since. However, in contrast to the United States, Japan has traditionally been reticent to criticize China for putting pressure on Taiwan, and has desisted from making arms sales to Taiwan.
Japan is unlikely to abandon ambiguity in its relations with Taiwan, but there are some recent indicators that denote important shifts in Tokyo's approach. These include increased direct engagement by Japanese leaders with their Taiwanese counterparts, and greater willingness to explicitly link Taiwan's status with Japan's own security. For example, in August, two politicians from Japan's leading Liberal Democratic Party (LDP) with foreign and defense policy leadership roles held discussions with their counterparts in Taiwan's Democratic People's Party (DPP). In July, Japan's Deputy Foreign Minister Taro Aso stated that Tokyo would interpret a Chinese move on Taiwan as a threat to Japan's survival. Unsurprisingly, China has responded angrily to these developments. For example, in response to the aforementioned August "2+2" talks, a Chinese foreign ministry spokesperson urged "Japan to stop interfering in China's internal affairs and not send wrong signals to Taiwan secessionists."
---
Featuring
David R. Stilwell 
Former Assistant Secretary of State for East Asian and Pacific Affairs
Abraham Denmark 
Director, Asia Program, Wilson Center 
Yuki Tatsumi
Senior Fellow and Co-Director, East Asia, Japan, Stimson Center 
Russell Hsiao 
Executive Director, Global Taiwan Institute; Senior Fellow, The Jamestown Foundation 
Welcome and Introduction 
Glen E. Howard
President, The Jamestown Foundation

Moderator
John S. Van Oudenaren
China Brief Editor-in-Chief, The Jamestown Foundation
---
 Participant Biographies 
David R. Stilwell served as the Assistant Secretary of State for the Bureau of East Asian and Pacific Affairs between 2019-2021. Prior to his appointment as Assistant Secretary, he served in the Air Force for 35 years, beginning as an enlisted Korean linguist in 1980, and retiring in 2015 with the rank of Brigadier General as the Asia advisor to the Chairman of the Joint Chiefs of Staff. He served multiple tours of duty in Japan and Korea as a linguist, a fighter pilot, and a commander. He also served as the Defense Attaché at the U.S. Embassy in Beijing, People's Republic of China from 2011-2013. Mr. Stilwell directed the China Strategic Focus Group at U.S. Indo-Pacific Command in Hawaii from 2017- 2019 and was an Adjunct Senior Fellow at the East West Center in Honolulu from 2016-2019. He earned a B.S. in History from the U.S. Air Force Academy (1987), and a Master's Degree in Asian Studies and Chinese language from the University of Hawaii at Manoa (1988). He is a 2009 graduate of the Executive Leadership program at the Darden School, University of Virginia. He was awarded the Department of Defense Superior Service Award in 2015. He speaks Korean, Chinese and limited Japanese.
***
Abraham Denmark is Director of the Asia Program at the Woodrow Wilson International Center for Scholars, where he leads the Center's research on the geopolitical dynamics of the Indo-Pacific region. He is also an Adjunct Associate Professor at Georgetown University. Mr. Denmark is the author of U.S. Strategy in the Asian Century: Empowering Allies and Partners (Columbia University Press).  He has testified multiple times before the U.S. Senate and House of Representatives, and his commentary has been featured in several major media outlets, including Foreign Affairs, the Atlantic, the New York Times, and the Washington Post. Mr. Denmark previously served as Deputy Assistant Secretary of Defense for East Asia, where he advised the Secretary of Defense and other senior U.S. government leaders on a broad set of security issues related to East Asia, including the development and implementation of U.S. defense strategies, plans, policies, statements, and activities in the region.  In this role, Mr. Denmark strengthened U.S. military posture in the region, oversaw U.S. military-to-military relations with China, and managed DoD responses to multiples North Korean provocations. Before joining the Pentagon, Mr. Denmark was a Senior Vice President at the National Bureau of Asian Research, where he was the co-editor of the landmark Strategic Asia book series.  He also held analytic positions at the Center for a New American Security and in the U.S. Intelligence Community. In January 2017, Mr. Denmark received the Secretary of Defense Medal for Outstanding Public Service.  He has also received the order of the Resplendent Banner from the Republic of China (Taiwan), and was made an Honorary Rear Admiral in the Navy of the Republic of Korea.  He has been named a 21st Century Leader by the National Committee on American Foreign Policy, and is a member of the National Committee on U.S.-China Relations and the Council on Foreign Relations. Mr. Denmark received an M.A. from the University of Denver Korbel School for International Studies, and a B.A. with Honors from the University of Northern Colorado.  He is pursuing a Ph.D. at Kings College London, writing a dissertation on the history of great power competition in the strategic periphery.
***
Yuki Tatsumi is a Senior Fellow and Co-Director of the East Asia Program and Director of the Japan Program at the Stimson Center. Before joining Stimson, Ms. Tatsumi worked as a research associate at the Center for Strategic and International Studies (CSIS) and as the special assistant for political affairs at the Embassy of Japan in Washington. Ms. Tatsumi's most recent publications include Balancing Between Nuclear Deterrence and Disarmament: Views from the Next Generation (ed.; Stimson Center, 2018) Lost in Translation? U.S. Defense Innovation and Northeast Asia (Stimson Center, 2017). She is also the editor of four earlier volumes of the Views from the Next Generation series: Peacebuilding and Japan (Stimson Center, 2017), Japan as a Peace Enabler (Stimson Center, 2016), Japan's Global Diplomacy (Stimson Center, 2015), and Japan's Foreign Policy Challenges in East Asia (Stimson Center, 2014). She is author of Opportunity out of Necessity: The Impact of U.S. Defense Budget Cuts on the U.S.-Japan Alliance (Stimson Center, 2013), a co-author of Global Security Watch: Japan (Praeger, 2010), an author of Japan's National Security Policy Infrastructure: Can Tokyo Meet Washington's Expectations? (Stimson Center, 2008), and an editor/contributing author of U.S.-Japan-Australia Security Cooperation: Prospects and Challenges (Stimson Center, 2015), The New Nuclear Agenda: Prospects for US-Japan Cooperation (Stimson Center, 2012), North Korea: Challenge for the US-Japan Alliance (Stimson Center, 2010), Strategic Yet Strained: US force realignment in Japan and its impact of Okinawa (Stimson Center, 2008), and Japan's New Defense Establishment: Institutions, Capabilities and Implications (Stimson Center, 2007). In September 2006, Ms. Tatsumi testified before the House Committee on International Relations. She is a recipient of the 2009 Yasuhiro Nakasone Incentive Award. In 2012 she was awarded the Letter of Appreciation from the Ministry of National Policy of Japan for her contribution in advancing mutual understanding between the United States and Japan. A native of Tokyo, Ms. Tatsumi holds a B.A. in liberal arts from the International Christian University in Tokyo, Japan and an M.A. in international economics and Asian studies from the Paul H. Nitze School of Advanced International Studies (SAIS) at Johns Hopkins University in Washington.
***
Russell Hsiao is the executive director of Global Taiwan Institute, a senior fellow at The Jamestown Foundation, and adjunct fellow at Pacific Forum. He is a former Penn Kemble fellow at the National Endowment for Democracy and visiting scholar at the University of Tokyo's Institute for Advanced Studies on Asia. He previously served as a senior research fellow at The Project 2049 Institute and national security fellow at the Foundation for Defense of Democracies. Prior to those positions he was the editor of China Brief at The Jamestown Foundation from October 2007- to July 2011 and a special associate in the International Cooperation Department at the Taiwan Foundation for Democracy. While in law school, he clerked within the Office of the Chairman at the Federal Communications Commission and the Interagency Trade Enforcement Center at the Office of the U.S. Trade Representative. Mr. Hsiao received his J.D. and certificate from the Law and Technology Institute at the Catholic University of America's Columbus School of Law where he served as the editor-in-chief of the Catholic University's Journal of Law and Technology. He received a B.A. in international studies from the American University's School of International Service and the University Honors Program.