Gazprom Versus Moldova: Lessons in Energy Vulnerability and the Search for a Way Out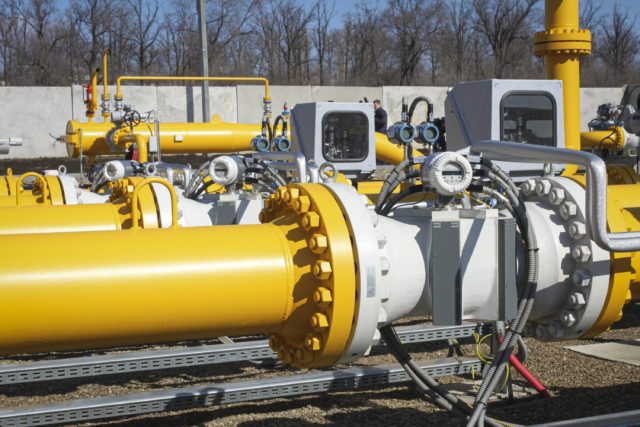 On November 16, The Jamestown Foundation held a virtual webinar, Gazprom Versus Moldova: Lessons in Energy Vulnerability and the Search for a Way Out.
Gazprom recently provoked a natural gas supply crisis in Moldova with international reverberations. The state-owned Russian gas giant acted at the Kremlin's behest to destabilize Moldova's new, Western-oriented authorities and extract political concessions from them. The gas supply agreements signed on October 29 are a temporary solution on Russian terms, preserving Gazprom's monopoly. Coordinated with it, Russia's state-owned conglomerate Inter-RAO UES quasi-monopolizes Moldova's electricity supplies from its Transnistrian plant operating with Gazprom's gas. The artificially induced supply crisis exemplifies Russia's use of its dominant positions in energy supply and transportation as instruments of power politics.
The panel, made up of energy security experts from both sides of the Atlantic, discussed the future of Moldova's relationship with Gazprom and Russia through the lenses of the energy crisis in Europe, Moscow's regional goals, and the political situation inside Moldova.
Featuring
"Moldova's Energy Security: Turning Challenges Into Opportunities"
Sergiu Tofilat 
Former advisor to President Maia Sandu on energy affairs
"The Moldovan Gas Crisis in the Context of European Gas Supply Shortages and Russian Gas Policies"
Frank Umbach
Head of Research, European Cluster for  Climate, Energy and Resource Security, University of Bonn, Germany.
"Moldova's New Leadership: Western-Oriented, Gazprom-Dependent"
Vladimir Socor
Senior Fellow, The Jamestown Foundation
Moderator
Margarita Assenova
Senior Fellow, The Jamestown Foundation
Participant Biographies
Margarita Assenova is a Senior Fellow at The Jamestown Foundation. She is a regular contributor to the Jamestown publication Eurasia Daily Monitor on political and energy security developments in Europe and Eurasia. She is also  Course Chair (contractor) for Eastern European and Caucasus Advanced Area Studies at the Foreign Service Institute, U.S. Department of State. Assenova is a recipient of the John Knight Professional Journalism Fellowship at Stanford University for her reporting on nationalism in the Balkans. Her latest books include Eurasian Disunion: Russia's Vulnerable Flanks (The Jamestown Foundation, 2016), a critical study on Russian subversion in Europe, Eurasia and Central Asia, co-authored with Janusz Bugajski, and the edited volume Azerbaijan and the New Energy Geopolitics of Southeastern Europe  (The Jamestown Foundation, 2015). She also authored the reports "Nord Stream 2: Myths, Reality, and the Way Forward" (CEPA, 2018) and "Bulgaria's Ambitions for a Balkan Gas Hub" (Jamestown Foundation, 2018).
Vladimir Socor is a Senior Fellow of the Washington-based Jamestown Foundation and its flagship publication, Eurasia Daily Monitor (1995 to date), where he writes analytical articles on a daily basis. An internationally recognized expert on the former Soviet-ruled countries in Eastern Europe, the South Caucasus, and Central Asia, he covers Russian and Western policies, focusing on energy, regional security issues, Russian foreign affairs, secessionist conflicts, and NATO policies and programs. Mr. Socor is a frequent speaker at U.S. and European policy conferences and think-tank institutions; as well as a regular guest lecturer at the NATO Defense College and at Harvard University's National Security Program's Black Sea Program. He is also a frequent contributor to edited volumes. Mr. Socor was previously an analyst with the Radio Free Europe/Radio Liberty Research Institute (1983-1994). He is a Romanian-born citizen of the United States based in Munich, Germany.
Sergiu Tofilat served as Moldovan President Maia Sandu's advisor on energy policies until May 2021. Before his time in the Moldovan government, he was a chairperson of Watchdog, a highly reputable think tank organization in Moldova that focuses on public policies related to energy security, banking, public finance, electoral legislation, and combating propaganda. Recognized as Chisinau's leading authority on energy affairs (natural gas and electricity), he has authored a number of studies on these topics with local think-tanks.
Frank Umbach is the Head of Research at the European Cluster for Climate Energy and Resource Security (EUCERS)/Center for Advanced Security, Strategic and Integration Studies (CASSIS) at the University of Bonn. He holds lectureship positions at the University of Bonn, the College of Europe in Natolin in Poland, and Nanyan Technological University (NTU) in Singapore where he teaches EU energy foreign policy. Umbach is also a consultant for NATO, giving regular presentations at high-level NATO conferences and seminars. Previously, he has served as an energy security consultant for the German Ministries of Foreign Affairs and Defense Policies, the European Commission and European Parliament, the U.S. State and Energy Departments, and the Lithuanian Government.  He has authored more than 500 publications that have appeared in some 30 countries worldwide, is the Contract Author of the Geopolitical Intelligence Service (GIS), Liechtenstein, and co-Editor of the monthly intelligence reports of Energy and Geopolitics (E&G), Berlin.