Watch the Video: The China-Russia Strategic Partnership in a Time of Turmoil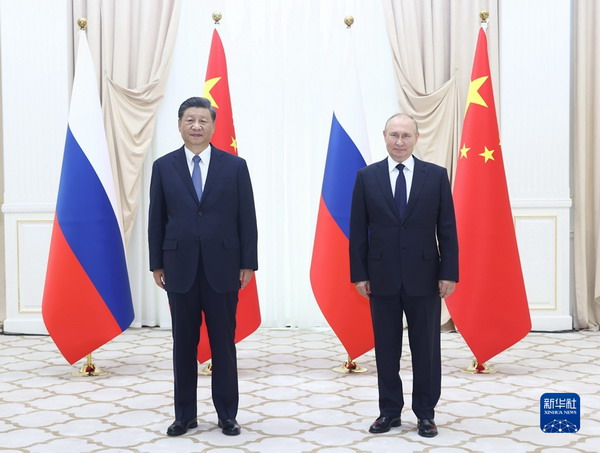 The Jamestown Foundation was proud to host a webinar on "The China-Russia Strategic Partnership in a Time of Turmoil" on Friday, January 27.
Over the past several decades, Beijing and Moscow, bitter rivals throughout much of the Cold War, have developed a close strategic alignment. Deepening China-Russia ties are driven in large part by shared antipathy toward the United States and its allies, which both the Chinese Communist Party and the Kremlin perceive as presenting a multifaceted threat with military, economic, technological and ideological dimensions. For China, the importance of the relationship with Russia is underscored by its high-level designation in the official hierarchy of strategic partnerships. During President Xi Jinping's June 2019 state visit to Russia, the relationship was upgraded to a "comprehensive strategic partnership of coordination for a new era."
Last year, when Russian President Vladimir Putin visited Beijing for the 2022 Winter Olympics, China and Russia issued a joint statement on "International Relations Entering a New Era and Global Sustainable Development," which declared their bilateral friendship had "no limits" or "forbidden" areas of cooperation. However, the Russia-Ukraine War has both complicated and increased the asymmetry in the relationship. China has lent limited diplomatic and economic support to Russia but has also repeatedly called for a cessation of hostilities and peace talks. Moreover, Beijing has demonstrated concern that the externalities of the Russia-Ukraine conflict, such as volatility in global commodity markets and worsened relations with Europe, are damaging its interests.
The Jamestown Foundation is pleased to host several leading experts to examine the current state of the China-Russia partnership and consider the outlook for the relationship in 2023 and beyond.
---
Featuring 
Pavel Baev
Nonresident senior fellow, Center on the United States and Europe, The Brookings Institution; Research Professor. Peace Research Institute Oslo (PRIO) 
Meia Nouwens
Senior Fellow for Chinese Security and Defence Policy, International Institute for Strategic Studies
Sergey Sukhankin
Senior Fellow, The Jamestown Foundation; Advisor, Gulf State Analytics
Moderator
John S. Van Oudenaren
Editor-in-Chief, China Brief; China Program Manager, The Jamestown Foundation
---
Speaker Biographies 
Pavel K. Baev  is a nonresident senior fellow in the Center on the United States and Europe at The Brookings Institution and a research professor at the Peace Research Institute Oslo (PRIO). He specializes in Russian military reform, Russia's conflict management in the Caucasus and Central Asia, and energy interests in Russia's foreign and security policies, as well as Russia's relations with Europe and NATO.
Baev graduated from the Moscow State University in 1979 with a master's degree in political geography, and worked in a research institute in the former USSR Ministry of Defense. After receiving a doctorate in international relations from the Institute for the U.S. and Canadian Studies, Moscow in 1988, he worked with the Institute of Europe in Moscow until October 1992, when he joined PRIO. From 1995 to 2001 he was a co-editor of Security Dialogue, a quarterly policy-oriented journal produced at PRIO. From 2000 to 2004, Pavel was the head of the Foreign and Security Policies program. He held the NATO Democratic Institutions Fellowship from 1994 to 1996.
Baev is the author of several books, including "The Russian Army in a Time of Troubles" (SAGE, 1996) and "Russian Energy Policy and Military Power: Putin's Quest for Greatness" (Routledge, 2008). Some of his most recent reports include "The limits of authoritarian compatibility: Xi's China and Putin's Russia," Brookings Institution, 2020; "The Iranian Revolution at Forty" (with Suzanne Maloney et al), Brookings Institution, 2020; "Transformation of Russian Strategic Culture: Impacts from Local Wars and Global Confrontation," French Institute of International Relations, 2020; "Russia's Syrian Predicament Grows Unmanageable," PONARS Eurasia Memo, 2020; "New Perspectives on the Black Sea Theater in Russian Strategic Culture," George C. Marshall European Center for Security Studies, 2019; "Russian Nuclear Modernization and Putin's Wonder-Missiles: Real Issues and False Posturing," French Institute of International Relations, 2019; and "An ambiguous partnership: The serpentine trajectory of Turkish-Russian relations in the era of Erdoğan and Putin" (with Kemal Kirişci), Brookings Institution, 2017.
Meia Nouwens is a Senior Fellow for Chinese Security and Defence Policy at the International Institute for Strategic Studies (IISS). Her expertise lies in Chinese cross-service defense analysis, as well as China's regional strategic affairs and international relations. Prior to commencing at IISS, she worked for the European External Action Service's representation in Taipei. She holds four years of experience in security and defense as a private sector consultant focusing on conflict resolution and post-conflict reconstruction. Nouwens holds a BA Honours in International Relations and Political Science from Macquarie University, a Masters of International Relations and Diplomacy from Leiden University in conjunction with the Clingendael Institute, and an MPhil in Modern Chinese Studies from the University of Oxford and Peking University.
Sergey Sukhankin is a Senior Fellow at The Jamestown Foundation, and an Advisor at Gulf State Analytics (Washington, D.C.). He received his PhD in Contemporary Political and Social History from the Autonomous University of Barcelona. His areas of interest include Kaliningrad and the Baltic Sea region, Russian information and cyber security, A2/AD and its interpretation in Russia, the Arctic region, and the development of Russian private military companies since the outbreak of the Syrian Civil War. He has consulted or briefed with CSIS (Canada), DIA (USA), and the European Parliament. His project discussing the activities of Russian PMCs, "War by Other Means," informed the United Nations General Assembly report entitled "Use of Mercenaries as a Means of Violating Human Rights and Impeding the Exercise of the Right of Peoples to Self-Determination." His current project for The Jamestown Foundation "Guardians of the Belt and Road" examines the role of private security companies in safeguarding China's overseas interests.
---