Press Release – In Memoriam: Donald Rumsfeld, 1932–2021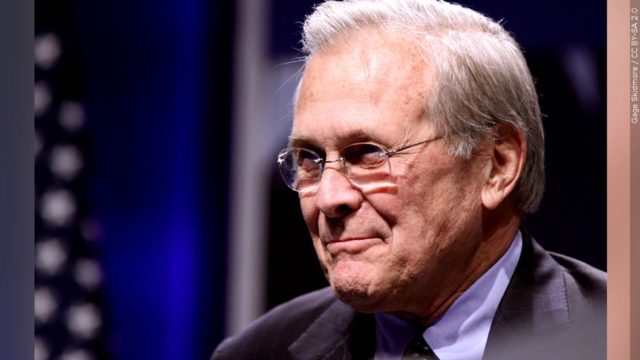 With deep sadness, The Jamestown Foundation marks the passing of Donald Rumsfeld, the 13th and 21st Secretary of Defense under the administrations of Gerald Ford and George W. Bush.
Jamestown President Glen Howard noted that Secretary Rumsfeld maintained a long-time affiliation with the foundation, serving as a member of our Board of Advisors from 1989 to 2001. He was also a close personal friend of Jamestown founder and fellow Chicagoan William W. Geimer. According to Mr. Howard, Secretary Rumsfeld  provided insight and guidance to the organization during a time of remarkable change following the end of the Cold War. Whether working inside or outside of the government, Secretary Rumsfeld was a stellar example of dedication to public service. On behalf of The Jamestown Foundation, Mr. Howard  expresses our deepest condolences to the Rumsfeld family during this difficult time.
Secretary Rumsfeld was a major influence on American domestic and foreign policy for nearly 60 years. After graduating from Princeton University in 1954, he served for three years in the Navy as a naval aviator and flight instructor. Following his service, Rumsfeld was elected to the House of Representatives at the age of 30 in 1962, beginning a long career in politics. He would eventually serve in the Nixon administration as the US Ambassador to NATO, from 1973-74, before serving as the 13th Secretary of Defense under the Ford administration, from 1975-77. After leaving the Pentagon, Rumsfeld began a successful business career as CEO, president and then chairman of a major prescription drug manufacturer. He remained involved in government service, serving as Special Envoy to the Middle East from 1983-84 under President Ronald Reagan.Secretary Rumsfeld was appointed to the position of Secretary of Defense for a second time under the George W. Bush administration. In his return to the Pentagon, Secretary Rumsfeld oversaw the military's response to the 9/11 attacks, including the invasion of the Afghanistan and the toppling of the Taliban regime. He was a proponent of the invasion of Iraq and the overthrow of the regime of Saddam Hussein.

Secretary Rumsfeld was the recipient of multiple awards throughout his life, including the Presidential Medal of Freedom.
*     *     *
Founded in 1984, The Jamestown Foundation is an independent, non-partisan research institution dedicated to providing timely information concerning critical political and strategic developments in China, Russia, Eurasia and the world of terrorism. Jamestown produces three periodic publications: Eurasia Daily Monitor, Terrorism Monitor and China Brief. Jamestown research and analysis is available to the public free-of-charge via Jamestown's website, www.jamestown.org.