Press Release — Former Assistant Secretary of State for East Asian and Pacific Affairs David R. Stilwell Joins Jamestown Board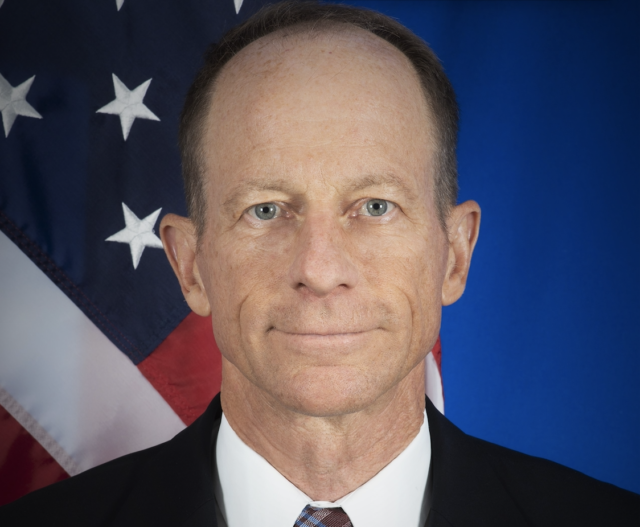 The Jamestown Foundation is proud to announce the addition of former Assistant Secretary of State for the Bureau of East Asian and Pacific Affairs (EAP) David R. Stilwell to its Board of Directors.
Jamestown President Glen Howard expressed his excitement at Assistant Secretary Stilwell's decision to join the board as an important moment that exemplifies Jamestown's increased focus on the Indo-Pacific region: "His addition adds even more senior-level policy expertise to our board. Jamestown will draw on David Stilwell's unique combination of diplomatic and military experience at the highest levels of the U.S. Department of State and Joint Chiefs of Staff. This will provide Jamestown with greater insight into the security challenges faced by the United States and its allies from the Himalayas to the Western Pacific."
David R. Stilwell is a seasoned leader in the foreign policy world, serving not only as the Assistant Secretary for EAP between 2019 and 2021 but also as the Asia Advisor to the Chairman of the Joint Chiefs of Staff during his time in the Air Force. His experience as both a civilian and military leader engaged with the major diplomatic and security challenges facing the United States in the Asia-Pacific region prepares him well to advise on the complexity of this crucial part of the world and its strategic importance to the United States.
Stilwell was a member of the Air Force for 35 years and served multiple tours in Korea and Japan as a linguist, a fighter pilot, and a commander. He enlisted in 1980 and retired in 2015 with the rank of Brigadier General. During this time, he served as the Defense Attaché at the U.S. Embassy in Beijing from 2011 to 2013 and directed the China Strategic Focus Group at U.S. Indo-Pacific Command in Hawaii from 2017 to 2019.
As the Assistant Secretary for EAP, Stilwell was a strong advocate for dealing with the People's Republic of China from a position of strength. In his role as the top U.S. diplomat for Asia, he also actively fostered relationships with traditional allies as well as members of ASEAN—establishing Peace Corps in Vietnam, updating South China Sea policy to support Manila's successful defense of its and other ASEAN claimant's EEZs, and establishing a Mekong downstream water rights conference.
*     *     *
Founded in 1984, The Jamestown Foundation is an independent, non-partisan research institution dedicated to providing timely information concerning critical political and strategic developments in China, Russia, Eurasia and the world of terrorism. Jamestown produces three periodic publications: 
Eurasia Daily Monitor
, 
Terrorism Monitor
 and 
China Brief
. Jamestown research and analysis is available to the public free-of-charge via Jamestown's website, 
www.jamestown.org
.