PRESS RELEASE—Russian Defense Ministry 'Promotes' Jamestown's Work on State Collapse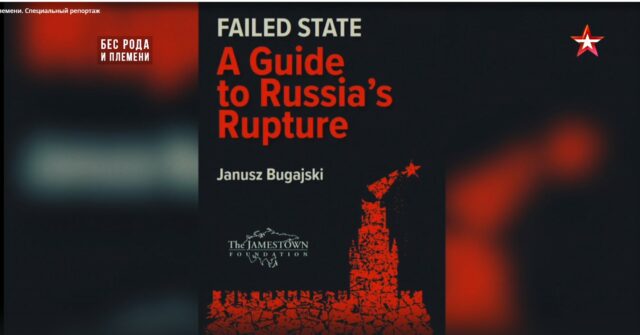 Washington, DC—On  August 6, the Russian Defense Ministry's television channel, Zvezda, dedicated a 30-minute segment, "What is the Strategy for the Dismemberment of Russia?", to attacking Jamestown Senior Fellow Janusz Bugajski's most recent book, Failed State: A Guide to Russia's Rupture. Much of the program focused on attempting to discredit Bugajski's work and reveal his alleged agenda to destroy Russia. The program even goes so far as to characterize Bugajski's and other analysts' work as the latest recurrence of "Nazi policies."
Ironically, rather than delegitimize the work of Bugajski and others, Moscow's assaults on Jamestown's analysts have backfired in providing free and expanded coverage of their work throughout Russia and its near abroad. With the Zvezda television program, the Russian Defense Ministry in fact attracted far more attention to Failed State than ever before.
Beyond attacks on Bugajski's work and expertise, the Kremlin has targeted a number of other Jamestown commentators. Earlier this year, Senior Fellow Margarita Assenova was placed on a sanctions list by the Kremlin. Just this week, Distinguished Senior Fellow Paul Goble was banned by Moscow from staying in the country. In Jamestown's Eurasia Daily Monitor, Paul Goble shared his feelings on such bans: "As 'the real father' of the League of Free Nations of Russia and its calls for the decolonization of Russia, as well as now being subject, by order of the Russian Ministry of Foreign Affairs, to a lifetime ban from staying in Russia, I can testify that I take pride in this and have received messages of congratulations from far and near. How could it be otherwise as I received my ban along with distinguished American scholar on Central Asia [and strong supporter of Jamestown], S. Frederick Starr."
At The Jamestown Foundation, we share Goble's pride in providing objective, actionable analysis of the regions and subjects our analysts' cover. As Moscow's attacks on our experts escalate, it is clear that Jamestown's work is having a major impact in government and the wider policymaking community. We greatly appreciate your continued support of Jamestown's mission and programming.
***
Hard copies of Failed State are available for pre-order on the Jamestown website or through our distributor, Lynne Rienner Publishers. A free PDF version is already available here.
---
Your Support Is Vital To The Jamestown Foundation
The Jamestown Foundation is an independent, nonpartisan organization supported by tax-deductible contributions from corporations, foundations and individuals.
We provide our supporters with a unique array of specialized publications and research, regarded throughout the world as indispensable sources of information and insight by government officials, the academic community, journalists and businessmen.
If you find our information and analysis useful, please do your part and make a contribution now. Both general support and program contributions are welcome. Donations from individuals like you are essential to our continued operations. You can make a tax-deductible donation by using your Visa, Mastercard, Discover, or American Express.
---
---
Founded in 1984, The Jamestown Foundation is an independent, non-partisan research institution dedicated to providing timely information concerning critical political and strategic developments in China, Russia, Eurasia and the world of terrorism. Jamestown produces three periodic publications: Eurasia Daily Monitor, Terrorism Monitor and China Brief. Jamestown research and analysis is available to the public free-of-charge via Jamestown's website, www.jamestown.org.