A Challenge for Pakistan: Saudi Arabia's New Counterterrorism Cooperation with India
Publication: Terrorism Monitor Volume: 10 Issue: 15
By: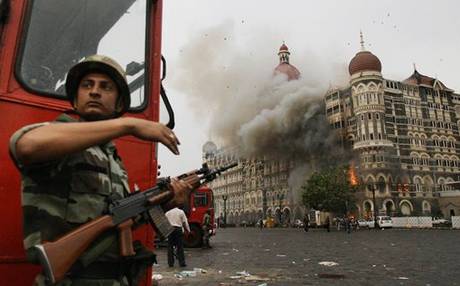 At a time when questions are being raised about Saudi Arabia's tacit support for the global Salafist movement, recent developments have displayed the Kingdom's new-found seriousness in fighting terrorism, especially that emanating from South Asia. These developments include the deportation of a top Lashkar- e-Taiba (LeT) operative and the detention of a wanted Indian Mujahideen (IM) suspect.
After a long period in custody, Saudi authorities deported Syed Zabihuddin Ansari (a.k.a. Abu Jundal) to India on June 22. Ansari is a top ranking Indian operative in the LeT and one of the key conspirators in the November, 2008 Mumbai terrorist attacks. The deportation itself brings a much needed breakthrough in the otherwise slow-paced Mumbai terror attack investigation.
Ansari was holed up in Saudi Arabia since 2010 after fleeing Pakistan, possibly with the help of his Pakistani handlers. To the embarrassment of Pakistan's government, Ansari's Pakistani passport indicates that it was issued in January 2009 from Karachi in the name of Riyasat Ali, a resident of Muridke, Pakistan. Ansari also holds two Pakistani identity cards that enable him to enter Pakistan without a visa.
In response to an Interpol alert, Saudi security agencies announced in mid-May that suspected IM operative Fasih Mehmood was detained in Jubail for his involvement in subversive activities in India (Times of India [New Delhi], July 4). Fasih, an engineer by profession, is wanted in India for his alleged involvement in the Chinnaswamy Stadium blasts in Bangalore (April 17, 2010) and the shooting of a tourist bus at Old Delhi's Jama Masjid (September 19, 2010). Indian agencies are presently seeking Fasih's deportation through diplomatic channels, though there have been some regulatory bottlenecks delaying his extradition (IBN Live, July 12; Deccan Chronicle [Hyderabad], July 18).
The visible shift in Indo-Saudi bilateral ties in the diplomatic sphere can be traced to the January 2006 Memorandum of Understanding on combating terrorism (part of the larger "Delhi Declaration") signed by then Indian Home Minister Shivraj Patil and Saudi Foreign Minister Prince Sa'ud al-Faizal bin Abdul Aziz al-Sa'ud (Press Trust of India [New Delhi], January 25, 2006). The much needed extradition treaty was finally signed in late February 2010, furthering bilateral security cooperation under the auspices of the March, 2010 Riyadh Declaration (Times of India, March 1, 2010).
Riding in this new wave of counterterrorism cooperation from Saudi Arabia, India is attempting to target other Indian terrorist fugitives currently holed up in Saudi Arabia and the Gulf region, including former leaders of the Students Islamic Movement of India (SIMI) and LeT operatives such as C.A.M. Basheer and Abu Haroon.
The arrest and deportation of Ansari, who was sent by his LeT handlers to Saudi Arabia on a mission to mobilize resources for the next big attack against India, certainly signals a new phase of Indo-Saudi anti-terrorism cooperation, even though it took months of diplomatic negotiations (with the United States playing an active role) to persuade Saudi authorities to overcome their long standing pro-Pakistan policies. Indeed, the latest policy shift goes against the Kingdom's old ally Pakistan in many ways. Ansari now becomes the third living proof of Pakistan's complicity in the Mumbai attacks, along with Ajmal Kasab and David Headley. It also sends a strong message to Pakistan that the Kingdom is no longer a safe haven or staging point for Islamic extremists who use the country to exploit both Salafist sympathizers and the South Asian diaspora to raise funds and to scout talent for jihad.
India is concerned about Saudi Arabia's largesse towards the Islamic madrassas and charity organizations that have contributed to Salafist-Jihadi extremism in South Asian countries. Saudi Arabia has also been at the center of controversy over its support for Kashmir-centric charities and LeT fronts like Jama'at-ud-Dawa (JuD) in the name of health and educational aid. Even Saudi Arabia's legitimate banking institutions are now being closely watched by authorities in the United States, India and Bangladesh for facilitating transactions and hosting accounts of Indian-centric Pakistan-based terrorist groups and charities.
However, the change of heart on the part of the Saudi authorities is not directly related to U.S. pressure. Saudi Arabia well understands the dynamics of the changing geopolitical atmosphere in the Arab world and India's growing clout in the world stage. It also appreciates the fact that terrorism is a double-edged sword, especially following the August 2009 suicide attack on Prince Muhammad bin Nayef in Jeddah (al-Jazeera [Doha], August 28, 2009).
Ansari's deportation to India is the first of its kind by Saudi Arabia, though some observers in India fear it will also be the last. India expects the deportation of IM's Fasih Mehmood in the near future once Saudi officials have confirmed he is an Indian national. However, even if these are steps in the right direction, Saudi authorities have conveyed to their Indian counterparts that while they may be prepared to extradite Indian nationals to India, they wouldn't necessarily act against Pakistan nationals wanted for terrorist acts in India. India clearly cannot take Saudi cooperation for granted and will still need to work closely with Saudi authorities to ensure future cooperation.
A change is nonetheless visible in the Saudi attitude towards India as it reciprocates India's willingness to stand by the Kingdom in matters of trade and security. However, it is premature to expect Saudi Arabia to change its approach towards Pakistan vis-à-vis India. In the light of existing conditions, India might work in tandem with Saudi authorities to further a crackdown on the financial institutions and wealthy Saudi individuals who have channeled billions of petro-dollars under the name of Da'wa contributions to fund jihad across South Asian countries such as Bangladesh, Maldives or India.
Animesh Roul is the Executive Director of Research at the New Delhi-based Society for the Study of Peace and Conflict (SSPC).